Wrecks, Black Flags, O My!
By Rick Anges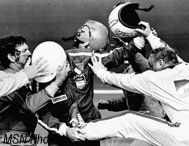 The aggression that is being displayed on the tracks of NASCAR absolutely disgusts the purist race fan these days. Most of these people want an instant Black Flag for the person or persons that show this. Throw the Bumbs out!

The punishment cannot be severe enough for the people who just want to watch a good race, methodical passing, scientific pit stops, the physics of the racecars, and the mathematics of fuel mileage. It all should come together like a Broadway Musical right?

In the end all the competitors should be shaking hands and enjoying Yoo-Hoos congratulating the winner for a wonderful job on the track.

What sport are you watching??

Flash back to February 18th 1979. For the first time NASCAR racing was being broadcast to its biggest audience. The race had been actually been pretty boring for the most part and a lot of the purist sports fans that were tuned in were wondering what the point was to what was being flashed on their screens. No homeruns, no goals, no last second interceptions or other things that make a sport a sport.

Then it happened. After taking the white flag Donnie Allison and Cale Yarborough answered those questions. Coming out of turn two they made contact, what happened next was what brought this sport to its current popularity and acceptance in the Main Stream sports world.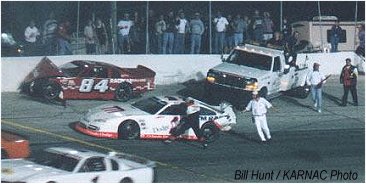 A scene form the 2000 Governors Cup


"He crashed me, Its as simple as that", Yarborough says to this very day some 27 years later. "I was going to pass him and win the race, but he turned left and crashed me. So, hell, I crashed him back. If I wasnt going to get back around, he wasn't either."

After the crash and Richard Petty adding another Daytona feather to that famous cowboy hat in front of an international television audience the cameras returned to the crash site, what was seen turned what was probably the first and last live broadcast of what was deemed by the sports world as a filler on Wide World of Sports to the headline act.

Bobby Allison and Cale Yarborough were rolling around on the ground throwing punches.

Nobody knew it then, but that was the race that got everything going. Said Dick Berggren an MRN announcer that day, "It was the first water cooler race, the first time people had stood around the water coolers and talked about seeing a race on TV the day before. It took a while, years maybe, to realize how important it was."

Several days after the race NASCAR President Bill France was asked if he planned to fine the two drivers involved.

"Fine them?" France said, "Hell boy I might give them a raise!"

You see this is the true essence of Stock Car racing. This is what brings out the rabid fans week after week that spend their hard earned dollars on sponsors products.

Sure tabs should be kept on the over aggressors and like any sport should be dealt with accordingly. But to make the fines and penalties so severe that drivers are no longer willing to put it on the line for fear of all the hard work going down the drain with a Black Flag?

If this were to happen then we would be watching follow the leader. A simple game that would become so boring that ESPN3 wouldnt cover it. And this effect would trickle down to the small tracks. Those potential Davy Allisons go in different directions instead of behind the wheel.

The people who support the local racing venues and racers will not get the same thrill of seeing their name on the side of the local favorite car or on a billboard at the speedway.

NASCAR has its faults just like and big sports organizations but what makes it stand out is its product and the athletes the perform it to perfection.

There are many who will say the sport has evolved and that there is no longer any place for this type of behavior, but they are dead wrong. What is forgotten when people get so intense about these thing forget what it is all about, entertainment. When you entertain someone they will be back. If you dont they will find something else to do. From what I see whats working on the big stage is working on the small ones too. Someone must know what he or she is doing.

[Editor's Note: John Berti has an article on Southern Short Track, with a different point of view:Wreck a guy, you go home! What is your opinion? ]

Have an opinion on this story? Post a message on our Message Board!
or send a letter to the editor!
---