by Robin Smith Meiser
It can't be true, it just can't! But it is, the man who we all thought was invincible is gone. As Michael Waltrip was praising the Earnhardt family for their support of him after winning the Daytona 500, doctors at Halifax Medical Center in Daytona were pronouncing Dale Earnhardt, Sr. dead from head trauma he suffered in a last lap wreck during the February 18 race.

The one word that we have all heard in the dark hours since The Iron Man's death is "irony". That word does not even begin to describe the events that unfolded in today's running of the Daytona 500. No one could have written a book or a screenplay that would have been more unbelievable than what happened today.

Anyone who has followed Winston Cup racing can recite Dale Earnhardt, Sr.'s history, whether you liked him or not. He commanded and earned your respect. There was only one Iron Man and there will never be anyone quite like him again. No one has ever been more competitive on the NASCAR circuit than he was. That was one of the ironies of today.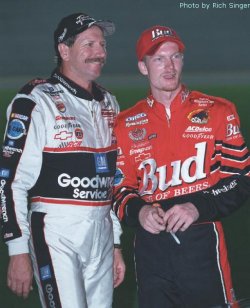 It was evident he could have taken his second Daytona 500 today. However, for the first time in anyone's memory, including his racing colleagues who are mourning his loss tonight, The Intimidator kicked back and let someone else win. Lap after lap, he held off Sterling Marlin while good friend Michael Waltrip, led the race and his son, Dale, Jr. followed right on his bumper. He owned the two cars in front of him and was watching two of "his boys" going for the checkered flag. You can see him with that roguish smile on his face as they came through Turn 3 in front of him, sprawled down in the seat thoroughly enjoyed the spectacle in front of him, saying "may the best man win.".

Michael Waltrip won the race with his brother Darrell cheering him on along with millions of race fans that were watching Fox Sports first live Winston Cup broadcast in 2001. Little E, as Dale, Jr. is called by the racing family, was right behind him. In the back of the screen, as they came around to take the checkers, television viewers could see Dale Earnhardt, Sr. taking a wild ride after being tapped by Marlin. Also collected in the accident was Kenny Schrader. Just behind Earnhardt was Rusty Wallace, one of Earnhardt's early protégées, a man who may possibly be alive today because Earnhardt helped save his life a few years back after a bad accident at Bristol.

Darrell Waltrip brought us all back to reality as he was crying tears of joy for his little brother's first Winston Cup win in 463 starts. He said something about I sure hope Dale's all right. Suddenly, a shot of Dale, Jr. running up pit row flashed on the screen but you never saw the wreck scene itself. Several minutes later when Kenny Schrader came out of the infield care center, a somberness fell over the celebration. There was just something not quite right about the way Kenny was acting but you couldn't put your finger on what it was. Next you heard the commentators say that Dale had been extricated from the car and was being taken immediately to Halifax Medical Center.

It was then that I felt it, the prickly hairs on the back of your neck that rise when something isn't right. Never in 19 years of watching Dale Earnhardt Sr. race can I ever recall him " extricated" from a racecar. Helped out by safety personnel, yes, but never extricated. Meanwhile, Michael Waltrip was celebrating his triumph but there was not an Earnhardt to be seen in Victory Circle. Another indication of something being not quite right. The ambulance making its way out of the pits to the hospital, there was just something so sinister about.

Nascar Online said a few minutes after Fox Sports signed off that Earnhardt was unconscious and in serious condition. There was a glimmer of hope in that, there is a big difference between serious and critical condition, or so we all thought. You felt a little better and went back to watching Sunday TV until special reports started coming in. I was on the phone with my best friend, who is a die-hard Earnhardt fan for over a decade when we got the news of his passing. The grief shot through me like a knife and I must confess I was one of those people who respected rather than liked Dale.

My best friend lost her hero, as did millions of other people throughout the race world. I know that loss, I lost my hero when past Winston Cup Champion Alan Kulwicki died in a plane crash in 1993. Racing has never been the same to me since then. Racing will never be the same for any of us after today. The greatest racecar driver who will ever be has left us.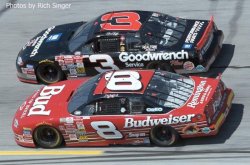 He must have been a truly good person though because think about it, how many of us will be lucky enough to die instantly doing what we love best and the last sight we see is two people we love dearly going on to triumph because of a sacrifice you made to get them there.

-Robin Meiser


Have an opinion on this story? Post a message on our Message Board!
or send a letter to the editor!
---