Jeff Choquette And Dick Anderson Team Up
For Governor's Cup Cup Success

By Jack Smith

Jeff Choquette rode out the early storm, got himself into position late in the race and drove away from Travis Cope and Tim Russell to capture his second Governors Cup title. The combination that won the Cecil Williams Memorial, car owner and crew chief Dick Anderson with wheel man Choquette, was again convincing at New Smyrna Speedway on this cool Saturday night.


Choquette with car owner Dick Anderson

Dick Anderson added his name on Florida prestigious Governors Cup in both 1988 and 1989. This night nobody was any happier than Anderson as he celebrated his first time as car owner winning the Cup race.

The duo spoke last week on "Inside Florida Racing" with a lot of confidence going into the race, confidence in each other and confidence in the number 92 super late model. That confidence it turns out was not misplaced.

The Governors Cup field surprised more than a few observers this year. A field of 33 cars came to run in the 200 lap annual event, with 31 able to take the green flag. Chris Staggs of Clermont, Fl blew a motor on Friday and Dustin Skinner whacked the wall hard in turn four on his qualifying run, both unable to start.

FASCAR's Sunoco Sunbelt Series 2007 Champion Tim Russell set fast time and sat on the pole with Travis Cope on the outside. B.J. McLeod and Sam Watts made up the second row with Jeff Choquette and last years winner Jeff Scofield in the third. Wayne Anderson, with an uncharacteristic eight place qualifying effort started next to Fain Skinner.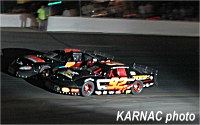 In the opening laps Cope jumped out front on the first lap but Choquette and Scofield had all the attention as the two ran side by side around the blistering fast high banked half-mile.

The first of 12 cautions came out on the 8th lap, at which point the gremlins than seem to all too often ride near the #78 of McLeod came into play. He retired behind the wall on lap 8 with an oil pump failure.

Four laps later Scofield, who had won the battle with Choquette and now running in third, was gone with motor problems.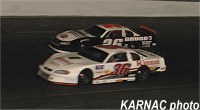 Travis Cope, Bronson, Fl, led the first 75 laps when Russell inherited the lead with the leading competitors making their pit stops. Clermont's Patrick Conrad took over the lead when Russell pitted just past the half-way mark. With around 60 laps left Choquette took over when Conrad went in for gas and tires.

Cope and Russell worked their way into second and third and stayed close but Choquette seemed to get stronger as the race shortened. On lap 193 restart after the final caution, Choquette blew down the front straight well ahead of the other cars, got a four car length lead and was never challenged in the remaining laps.

Speaking in the New Smyrna Speedway winner's circle Choquette acknowledged h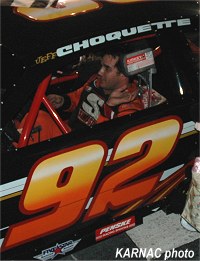 is car owner, "He knows what its like to win this race, he's done it twice and I just feel honored to tie him and to do it in his car is an honor." Choquette has had quite a year including the ASA Late Model Southern Division Championship. Next stop for the 92 team: Five Flags Speedway and the Snowball Derby in two weeks.

Travis Cope, one of the drivers in the awesome group of "young guns" dominating the Florida Super Late Model scene in the last few years, said, "I did everything I could." Cope's first trip to the big stage for Florida's Super Late Models was last year, where he ran 26th in 32 car field.

Veterans David Rogers and Martin Pierce both left early with mechanical issues.

Full race reports and updates on all the drivers, photo galleries covering the race, the pre-race and post-race festivities including audio interviews available here on KARNAC.com later Sunday, including coverage of Florida Mini Stock Challenge Series.

Jeff Choquette will be a guest on "Inside Florida Racing" Monday night 7-9 PM, along with Scott and Becky Jackman to discuss the Florida Mini Stock Challenge Series and more for 2008 season.

OFFICIAL RESULTS NEW SMYRNA SPEEDWAY NOVEMBER 17, 2007
42ND ANNUAL GOVERNOR'S CUP 200

1. #92 Jeff Choquette, Loxatachee
2. #26 Travis Cope, Bronson
3. # 36 Tim Russell, Longwood
4. #84 Wayne Anderson, Wildwood
5. #59 Dwayne Dempsey, St. Petesburg
6. #88 Justin Larson, Safety Harbor
7. #4x Ricky Carmichael, Tallahassee
8. #2 Patrick Conrad, Clermont
9. #64 Joe Winchell, Dade City
10. #12 Corey Freed, Orlando
11. #80 Brian Finney, Merritt Island
12. #40 Brock Burns, Winter Haven
13. #74 Jay Middleton, Gainesville
14. #73 Sam Watts, Winter Springs
15. #22 Dusty Cornelius, Cocoa
16. #4 Blake Lehr, Orlando
17. #1 Fain Skinner, Live Oak
18. #58 John Coffman, Live Oak
19. # 61 Jimmy Cope, Pinellas Park
20. #00 Robert Yoho, Pinellas Park
21. #9 Kurt Jett, Orange Park
22. #5x Jerry Artuso, Sault Ste Marie
23. #39 Ryan Sieg, Tucker, GA
24. #14 Travis Towell, Sanford
25. #30 Ricky Moxley, West Palm Beach
26. #75 Martin Pierce, Huntsville, AL
27. #7 Vince Keeler, Sebastian
28. #11 David Rogers, Orlando
29. #60 Richard Douglas, Christmas
30. #07 Jeff Scofield, Plant City
31. #78 BJ McLeod, Watchula
32. 56 Chris Staggs, Clermont DNS
33. 5 Dustin Skinner, Port Orange DNS