Hialeah Celebrates Tax-Day with RACING!
This Saturday Jack Smith and I will be going to Hialeah Speedway to see the rebirth of a place filled with racing history. Not very often to you get to see a place like this come back from the great odds that were levied against it. But do to the acts of fans and racers alike this family picked up the ashes and fought the impossible odds to breath life back into the beloved speedway. When I started reading about the tax problems and other things they were up against from posts on our message board I began recalling the great tracks that have fallen by the way side like SARA-MANA being torn down in the early 70's being turned into a trailer park and Golden Gate which is now a flea market. Would Hialeah be the next Super Walmart? Not for a while it wouldn't!!!!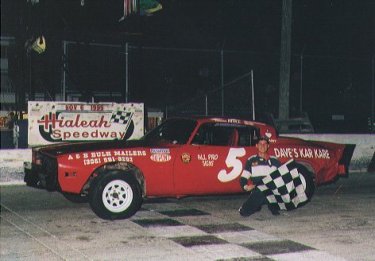 Mike Powers started a drive to save his beloved track that absolutely caught fire. An escrow account was set up and low and behold through consistent dedication the dream was realized and now what was a lost cause is a rebirth racing resumes this weekend April 15th (how ironic for it to be open on tax deadline day!!!) >;o) With the formation of the South Florida Racing Alliance, new deals made on the payment of taxes and a man like Mike Powers being the driving force this place so rich with racing history will have many more checkered flags flown over its finish line!..... on my way to Hialeah..........Rick Anges
Hialeah Fires 'Powers' Back To Life!



Have an opinion on this story? Post a message on our Message Board!
or send a letter to the editor!
---