Yesterday I Lost The Only Job I Ever Really Loved
by Bill Green "From Behind The MIC!"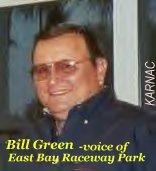 Tampa, FL (March 17th, 2005) Yesterday, East Bay Raceway Park owners Al Varnadore and Todd Hutto released me from my announcing duties at East Bay Raceway Park. I guess it's a nicer way of saying your fired, but it still hurts. Not that I, nor East Bay won't be able to continue without each other, it just the pain of loosing an old friend I guess that makes it seem so surreal.

In my few years as an announcer, only 8, many others have 20 or 30 years of history behind them. I've learned that while racing is a family sport and a track will become your family very quickly when you work there, business is business and no one is immune from termination. I'm sure I'll land on my feet in some racing position, maybe even right at East Bay because it will be hard to leave her.

I'm good enough at what I can do to hope for the best as an announcer and writer in motorsports, add in the broadcast certification and talk radio experience and I'm probably a very good employee to have at my current price. So I want to Thank so many of my racing friends that have stayed in touch over the years, as I've move from Sunshine Speedway and Radio to East Bay and now on to who knows where. Your a special bunch of people and deserve the best in racing entertainment. I hope these sort of changes are what you want and brings many of you back to racing, even if it's just to check on the state of the sport in 2005.

As for my sponsors in the media, what can I say. You've all been wonderful. From the North River News in Manatee County to the Observer in Hillsborough, Keel's-N-Wheels in Sarasota, Whowon.com, the St. Pete Times, Lakeland Ledger, First Coast News, On Line Tampa Bay, Florida Motorsports Magazine, Hoseheads.com, Luvracin.com, National Speed Sport News, Motor Sports Weekly and of course Karnac.com, they have all carried my work over the years. For free, I might add. I Thank You and East Bay Thanks you for the countless months of free advertising along the way.

You'll hear from me again, when and from where I'm not sure. Guess I'll have more time for my kids for a while and that is worth something right there.

Love to all!

We'll see You at The RACES!

Have an opinion on this story? Post a message on our Message Board!
or send a letter to the editor!
---