Storm-tattered Speedway Down, But Not Out
By Claude Lewis

Charley causes half million in damage, but owner hopes to have things back on track by this fall

LeRoy Davidson looked out at the bare slab of concrete that once housed the grandstand bleachers at Charlotte County Speedway and cracked "When we open, it will be standing room only."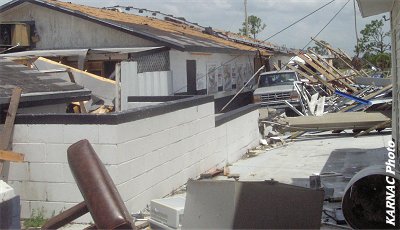 A little humor can help break the monotony of another painstakingly slow day of piecing it all back together following a natural disaster.
Located in southeast Punta Gorda in the Airport Industrial Park, Charlotte County Speedway was out and out slammed hard by Hurricane Charley.

Davidson, the stock car race track's owner and promoter, estimates it will take at least $500,000 to get things back the way they were before the Category 4 cyclone hit home on August 13.

Besides the loss of bleachers that once seated 3,000 fans, many other areas of the track also took a severe beating. Three concrete light towers were toppled. Several others are leaning. The fixtures atop are gone. The press box/scoring tower is no more, disintegrated by the 150 mph winds that ripped through the area. The flag stand was picked up and flipped over. The scoreboard has been ripped from its foundation. The fences are also in ill repair.

Although trying to keep his head up, Davidson is taking the destruction pretty hard. He built the track with his own hands in the late '80s. The first race at the 3/8-mile semi-banked paved oval was in late 1990.

Now 14 years later, he will rebuild much of it piece by piece, God-willing.

Davidson is always willing to put in the sweat equity. He believes other tracks, racers, mechanics and fans will fall in line.

He'll also need insurance money and help from FEMA (Federal Emergency Management Agency).

Another important issue is his lease from the Airport Authority. Davidson only has 3 1/2 years left in his current lease. He wants at least a 10-year extension if he is willing to sink $500,000 back into the track to get it up and running.

An hour in a walk-in cooler

Davidson can be found at or in the vicinity of Charlotte County Speedway for roughly 350 days out of the calendar year.

As fate would have it, he was on a rare trip out of state when Charley struck. He was visiting his 90-year old mother in his hometown of Findlay, Ohio.

He flew out of Fort Myers on Wednesday, Aug. 11, along with wife Connie and teenage daughter Tabitha.

"I knew there was a storm down there but I really didn't think anything of it," Davidson recalled. "I thought it would go somewhere else like it usually does."

By Friday morning, Davidson knew the storm might be a threat to family members living in Port Charlotte.

"I got a call from my daughter Wendy asking me what they should do," Davidson said. "I told her the track is probably the safest place since the building is made up rock and concrete block."

Wendy, her daughter Amanda, joined Davidson's sister Mary, her husband Ben, their son Ben Jr., and family friends Ray Bisbee and his sisters Hannah and Heidi.

The eight headed to Punta Gorda, not knowing that would be the place Charley decided to go.

Huddled together, the eight knew they were in trouble when the bleachers, press box were picked apart by the wind, and finally when the roof of the office started blowing away.

"I was on the phone with Wendy," Davidson recalled. "When she told me that the roof was going, I told them they should all get in the walk-in cooler."

In the cooler they went. It wasn't easy considering Ben Sr. is paralyzed and in a wheelchair. There were also three dogs crammed into the cooler. Ben Jr. ventured out a couple of times to catch some of the destruction on a videocam. When things got out of hand, he got back in and battened down the hatches.

"We got in when the bleachers made a hole in a roof," said Mary, who is a part owner along with her brother LeRoy. "It felt kind of secure, but it was dark."

"I was worried about something falling in front of the door and that they wouldn't be able to get out," Davidson said. "I finally got through and the police checked on them. Everyone was OK. Thinking about it, they would have been safer staying in Port Charlotte, but nobody knew that at the time."

Davidson's family told him about the damage to the track facility. He was able to catch a flight back to Fort Myers Saturday night.

The aftermath

Davidson wasn't really surprised when he got out to the track Sunday morning. The reports he received from his family were accurate. Seeing it first-hand was indeed emotional.




Debris field grows daily as track cleanup progresses.



"They had to be powerful winds to do the things it did," Davidson said.

Davidson has already started to repair the roof on the office/concession building. Donna and Jerry Gilbert have been out at the track nearly every day. A group of 40 volunteers came out last Saturday and cleaned up tons of debris.

The mess now sits in two piles by Piper Road.

Davidson said the help came mostly from out of town.

"The Outlaw Modified folks -- the Sands, Brighams, Endees -- they probably had more people here than anybody. Wilson Excavating of Sarasota brought three front loaders. We worked from 9 a.m. Saturday to 3 p.m. Sunday. We got all the trash out."

There will be more Saturday workshops. Davidson lists mending the fences, replacing the flagstand and cutting the now tall grass as priorities.

Old friend Bob Mitton, who did original electrical work on the track, is coming down from St. Petersburg to see what he can do with the lights.

Inside the track are hundreds of boats and RVs. Insurance companies have set up camp, using the infield and pit area as a staging areas for damaged boats and RVs being towed in from all parts.

Davidson said they would be gone in a few months, especially if the track is up and ready to race again.

The future

Anyone who knows Davidson will tell you he is a fighter. He was ousted from the speedway in a power coup in the late '90s only to victoriously return in 2002.

This latest blow hasn't wavered his determination.

"I've heard people saying that we aren't going to rebuild it," Davidson said. "There has been some negative talk."

Davidson believes some of the negativity has filtered down from DeSoto Speedway.

"Three tracks have called and asked if they could do anything -- Sunshine Speedway, Hialeah Speedway and East Bay Speedway," Davidson said. "Sunshine is closing down in November. When DeSoto found out, they called it Christmas in July. Now it's Christmas in August. DeSoto is celebrating we're down. They can celebrate all they want. We'll be opening again."

Davidson optimistically points to Nov. 1 as a target date to have a race.

Red tape and other unforeseen problems could push that back.

The fall stock car racing season was scheduled to begin this coming Saturday, Sept. 4. Thousands of fans would have been at the track, cheering on their favorite drivers and enjoying the thrills and spills of door-to-door competition.

Instead, the track will be dark.

"People need to get their own lives back together first," Davidson said. "Then they'll get the itch to go back racing."

Hopefully, Charlotte County Speedway will be ready to answer the call.


Have an opinion on this story? Post a message on our Message Board!
or send a letter to the editor!
---