Super Late Models Continue To Evolve
By Jack Smith
KARNAC.com

On the Super Late Model scene in 2004 look for even better races, more co-operation between sanctions and tracks, and not to put too heavy a spin on it, more co-operation problems.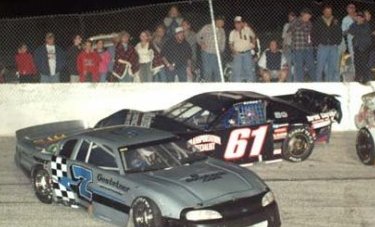 This Saturday (January 31) at the Pete Orr Memorial Orange Blossom 125 officials from the All American Challenge Series, Sunbelt Super Late Model Series, and Florida Pro Series, along with other invited tracks Citrus County Speedway and Ocala Speedway, will be on hand with their tools of the trade acting as "referees".

What does that mean?

Over the last two years, Florida Pro Series owner/promoter Bert Ashelman and FASCAR (Sunbelt Series) promoter Don Nerone have been working together to bring the common template of the The A-B-C Body Program to Florida as part of a nationwide trend.

Here is an excerpt from a press release issued earlier this year on the subject of the A-B-C program:

"In the fall of 2002, representatives of Five Star Race Car Bodies (Five Star), Aluminum Racing Products (ARP), Sunoco Super Series and Southern All Stars met in Indianapolis to discuss important issues regarding bodies used in template late model racing. Since then, numerous meetings have taken place to organize the rules, approve the 2004 body designs and establish the A-B-C program. More recently, southern leaders Don Nerone and Bert Ashleman have come on board as part of the guiding committee and lend their support to a concept that is long overdue: A nationwide standard for template late model bodies.

According to Sunoco Super Series founder R. J. Scott, "The future of template late model racing was in serious jeopardy. The body companies were doing what they were in business to do, build better and faster bodies. The question was, 'Where would it all end?' Each year the cars got more like spaceships and less like stock cars, and there was no end in sight. At the same time, race organizers had different sets of rules, so racers from the north couldn't go south and racers from the south couldn't go north. The rules were all over the place. It was time for some serious organization."

You can read the entire release here.

Ashelman told KARNAC earlier this week, "We want to see if we can get this stuff on the same page."

The Florida Pro Series promoter said "One of the benefits of a single type of Super Late Model is to create a situation where drivers from other areas of the country can come race in Florida."

"It's a common template kind of a deal", Ashelman said, "and we are working our way towards it, we are not going to have a complete A-B-C Body deal for 2004 but we are working on it".

It would seem that New Smyrna Speedway should get a boost in car count for the 2005 World Series of Asphalt Stock Car Racing as a direct result of the changes,and car counts would increase in 2005 and beyond.

In 2004 the All American Challenge Series (AACS), which is not a traveling series will run 18 races at the Bradenton DeSoto Speedway, FASCAR will sanction 12 events at six different venues, at least as the schedule now reads, and Florida Pro currently has 9 races set at 5 tracks with perhaps three more dates to be added. Then there is Ocala Speedway and Citrus County Speedway each with their own versions of a Super Late Model program.

In this case more is not necessarily better as date conflicts between tracks can often lead to fan confusion keeping up with which of their favorite drivers will be at what track. Earlier this year the owners all met for a scheduling conference at Lakeland's USA International Speedway. Much was accomplished but co-operation did not work out to be as good as it seemed it would. Schedules were released to the public and in some cases were pulled back in for corrections almost as soon as they were released.

Beginning in March the three big series have a combined 35 races scheduled through November. After the FPS gets their TBA dates settled that will mean 4 Super Late Model Races per month.

Many race fans feel this is too many and many racers we talk to say it makes it tough to decide where to go.

Will this many races weaken the talent pool so that we have 18 car fields with three serious race cars and 15 'fillers'?

It happened more than once in 2003. Many race fans would rather pay to see 30 'junkers' beat each other up three wide for 25 laps than watch 12 super late models run what amounts to hot laps in a single file train for 100 laps.

See they started 18, 15 wrecked themselves in the first 25 laps trying to win the race. Somebody, like a race director needs to tell these guys that it is a 125 lap race, because too many of them don't seem to remember that as they fly three wide into turn one on lap 6.

But that is something for another column, maybe one John Barker will write.

It would seem likely that the new body rules will strengthen the Super Late Model car counts over time. But it won't handle the scheduling nightmare. Like we pointed out after the owners got together to "iron out" the 2004 schedules, as soon as you have a rain out or two, the entire process goes out the window and it is every man for himself.

Where is that old man named Solomon when you need him?



Have an opinion on this story? Post a message on our Message Board!
or send a letter to the editor!
---