Is It LOVE or MONEY For Dan Benoit?
By Rebecca Richards
-KARNAC.com




Engines rumbling in the background, wiping his hands with a shop rag, Dan Benoit of Ft. Myers, watches his yellow 1977 # 74 Camaro Enduro roll out of the pits at Charlotte County Speedway after he checks it over prior to the race. A part of his normal routine for this remarkable racer and car builder, he has to make sure that everything is to his satisfaction.

Down to earth and honest, Dan Benoit races in an asphalt Enduro series for fun and as serious business and in the Sportsman Series. He said, "Having fun, and beating the other guys is the fun of it, ...it's stress ...a lot of laps, a lot of wear and tear on the car...engine, transmission and the out side of the car from other racers' banging into you, and your body.

When I get out of the car, my arms hurt. Out there, it's survival, you want to make it to the end and try to stay on the lead lap." He's proud of his 19 out of 21 feature win record too, he admits modestly. Dan claimed his first feature win in 1993 in the B-Tigers division at Plattsburg, NY. That was 18 feature wins earlier. Now fans can watch Dan race the yellow, #74 Dan and Son's Free Junk Car Removal, Full Scale Builder's, and Meems and Pop's sponsored 1977 Camaro race around Charlotte County Speedway, his home track, and DeSoto, Volusia, Jacksonville and Jack's Speedways.

Dan is quick to give credit to the people who make his race team successful. He says he couldn't do it without his team; wife, Kim, father-in-law, Bill Sawyer, Meems and Pops and his three sons. Kim and Dan met when her Dad, Bill Sawyer hired Dan to build a race car.

"I didn't even know racing existed before I met Dan!" she said, "The first time I went was in 1992 and I was pretty amazed actually. I didn't know what any of the flags meant or anything about them." Now Kim is as addicted to the sport as Dan and the couple's three sons.

What makes an Enduro race so different from other classes is the "endurance" aspect. The car has to be built sturdy and the engine able to handle the high speeds, heat and duration. For the racer it's a constant battle of upper body stamina, concentration, coping with the heat and clear thinking for 100 to 250 laps.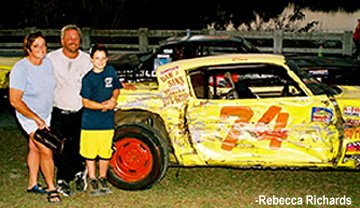 "An Enduro race is just green and red, no yellows. You have to have a good car to make it to the end. These cars sometimes look like junk but they have to be built tough to make 250 laps, and you don't want to come in and pit," Benoit said with a laugh, continuing, "A flat tire really makes you mad. You get down four laps and your chances of winning are over." "You can go to five and six races and win some serious money," stated Benoit. "The most I've ever won was a $5,000 race followed by a $3,000 to win event. I haven't won the ten grand yet, but I think I can do it," laughs Dan.

The serious side of Enduro racing is the victory though. A $20,000, $10,000, or $5,000 to win race event is becoming more popular, and attracting more Enduro racers' eyes besides Dan's.

A $10,000 to win Enduro race can easily draw 70 to 90 cars. Out of those cars according to Dan, 50 will be racing for the $10,000, not beating, banging you, and trying to put you out. "They want to win that money too. If you can take a car and beat it for 200 laps and win $10,000 even $5,000, it's a lot of fun, " he said. Dan's race season is usually through the winter which leaves time for he and wife, Kim's three sons to race.

Danny, 13, and Codey, 10 both race at Charlotte County Speedway in 1985 Dodge Chargers in the new kid's club. Youngest son, Billy, 7, races around on the family's home dirt track on their property. Kim may not have had a clue in 1992 about anything to do with racing, but over 10 years, after marrying a racer, and three sons whom love to race later, Kim Benoit is well versed in the sport!

-E-mail Rebecca Richards at rebecca@karnac.org

Have an opinion on this story? Post a message on our Message Board!
or send a letter to the editor!
---