Columbia, We Won't Forget You
by Jane Smith

This has nothing to do with racing and yet everything. Since I live on Merritt Island, home of Kennedy Space Center and the shuttle program, yesterday was a day that everyone here was looking forward to.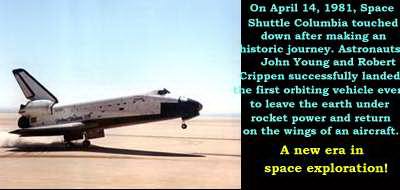 After weeks of dark skies and frigid weather, Saturday was picture perfect, so much so, that no plans were made to land the shuttle anywhere else but Kennedy Space Center.

Sixteen minutes before the sonic booms were to hit our fair area, the shuttle just disappeared. People lined the roads across from the VAB just to get a glimpse of that big white bird coming home from space. But this time it was not to be, this time she did not come home.

January 27, 1967, we lost three men in a fire on the Apollo program. They had no way to escape the capsule they were in and they burned to death right there in front of the space workers. Men tried to get them out but the capsule was too hot and they were burned. Three good men lost in seconds.

Then on January 28, 1986, 73 seconds after liftoff and the command to "throttle up", Challenger blew up with seven astronauts on board. The Space Coast was deva- stated and so was the Space program.

Now it is 2003 and on February 1 just 16 minutes from landing at their home, Kennedy Space Center, Columbia blows up. Brevard County was the first to know since it is the home of the Space program. Everywhere, people were crying in disbelief that this could happen again.

Coming home from a mission has never been a questionable fact, they just came home. Now sitting on tons of liquid air waiting to get blasted off the pad, that is a different story. But coming home was always safe.

Some say these five men and two women are not heros but they are. When the racing family lost Dale Earnhardt, they mourned and he was their hero. Now the Space family has lost seven and they mourn and these are our heros.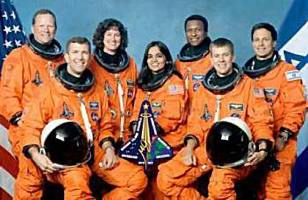 Not anyone can race a car and not just anyone can go into space, the unknown. It takes someone special who is willing to take that risk for the betterment of mankind.

Not only did seven astronauts die yesterday but a number of rats, fish, ants and experiments that we will never have the results from. Some results were down- loaded and are safe, others were lost forever.

There are those that hate us, rejoicing in the streets that we have lost our shuttle and lost our astronauts. But they do not realize that the American spirit cannot be broken by tragedy but strengthened. We will go back into space, we will make life better for all mankind and we have seven new heros now that we won't forget.

Since 1989, I have seen every shuttle that has gone up and heard every shuttle that has landed back in Florida. I have many friends and neighbors who work aerospace just as I have and I know how close a family they are also.

As I sit across the river from the VAB and look to the skies, I pray that God welcomed his newest angels with love, no pain and no fear. I pray for their families, their children they leave behind and for all the space program family. We will not forget you just as we have not forgotten the ones who have gone before you and we thank you for taking that step into the unknown to make our world a better place.

Michael Anderson, David Brown, Kalpana Chawla, Laurel Clark, Rick Husband, William McCool and Ilan Ramon - God's angels and our heros. Rest in peace.

Have an opinion on this story? Post a message on our Message Board!
or send a letter to the editor!
---