Only a few more days and it is Thanksgiving. A time for family, love, alot of good food and memories of the heart and what we are thankful for. For alot of the Florida racing family, this has been a hard year with all the family members we have lost. But still, we are thankful for alot.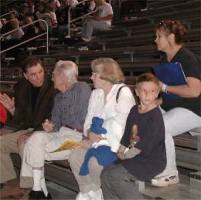 Jane Smith with her family and State Senator Bill Posey



Sometimes we let life get us down because we forget what is and isn't important. We are important, each one of us. We need each other to be complete and yet we can be very hateful to people we don't even know.

This year my dad went thru prostate cancer. I am more than thankful that he is still here, still part of our lives. He was the Grand Marshal of the Governor's Cup this year and my family got to see the man that made me who I am. Who blessed me with his talents, who gave me a heart that is soft and loving, who showed me the real beauty in life and just how unselfish love really is.

I am very thankful for all the people who have given Alex time and love. He just soaks it all in and this love that is so freely given to him, will help shape him into the man he will be someday. Being different is not easy, not having a father is very hard but for one little boy, he has more love than anyone I know. He can do and be whatever he wants because of you and your faith and belief in him and not making him feel different.

CaroL, Sharon, OSF, Carol N., Owen, Kimberli, Jean, Billie have been a blessing in my life. Warm, loving, giving, and caring. Carol, the most misunderstood person around and yet has a heart of gold. OSF, a teddy bear - barks loud but gentle and loving under- neath. So many friends to be thankful for.

Most of all I am thankful that I got to know Pete Orr. Pete was a good man and a good friend. Pete and I would run into each other at all sorts of tracks and never once did he not speak or smile. He left a permanent footprint on many and he will never be forgotten.

This Thanksgiving, be thankful. Thankful for our family, thankful that we are a family. Remember that friendships do last forever.

HAPPY THANKSGIVING FAMILY

Have an opinion on this story? Post a message on our Message Board!
or send a letter to the editor!
---