Clyde Hart Remembered July 4, 2002
By Jane Smith

July 4th means alot of things like fireworks, family bbq's, beach day, swim day, and race day. This year July 4th will mean a lot more to many people since the September 11th attack on the United States.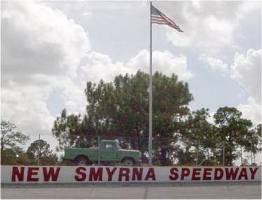 It will show the world that the United States is free, that no one or no thing can change that. Cities all around the United States are planning huge July 4th celebrations and we in Florida are doing the same.

This year New Smyrna Speedway will hold their fourth annual Clyde Hart Memorial 125's on July 4th. There will be a 125 lap Sunbelt Super Late Model race, a 125 lap Goodyear Challenge Series Late Model race plus the 50 lap Pro Open Wheel Modified race.

It will be a day full of some great racing but it will also be a day to remember the man who started that great racing at both New Smyrna Speedway and Orlando SpeedWorld.

Clyde Hart loved racing. Whether it was a race field of 2 cars or 38 cars, it was racing. I can remember seeing Mr. Hart in the pits at both Orlando SpeedWorld and New Smyrna Speedway.

He would smile and greet his racers and their crews. He would also do his best to fulfill dreams as he did for me once back in the mid 90's.

My family went to the races every Friday and Saturday night. As all kids do, my daughter picked one racer that she just had to meet.

When we went to New Smyrna, we always had to sit in the grandstands directly across from his pits so she could watch the crew work on his car.

When she saw that this man had t-shirts with his name and number on them, that was it. She had to have one. So I wrote the track and told them about my daughter and guess what, she met her driver.

Clyde Hart himself took us to meet this driver and fulfill her dream. Clyde told me that every Saturday night they called my name until they found me so he could give my daughter her dream.

Once a year, the old green truck that belonged to Clyde comes off the hill at New Smyrna Speedway. Once again it proudly goes around the track that meant so much to Clyde Hart.

And then it goes back on the hill where it stays so Clyde can watch over the track that meant so much to him.

Although he is gone now, his spirit remains and July 4th, you can be sure that Clyde will be in the heart of many at New Smyrna Speedway.

On July 4th no matter what you do or where you go, remember that God blessed America and God gave us people like Clyde Hart, Leo Musgrave, and countless others that paved the way for the fans and drivers of short track stock car racing.

As we celebrate our country's freedom, we also celebrate the people who have given us our freedom.

God has blessed America. And on July 4th, we Americans celebrate those blessings by honoring the men and women who have given us just some of those blessings.

On July 4th, fans, racers, and crews will honor Clyde Hart for the many years he gave short track racers his time, his energy, and his caring and shared his dreams with us.

Gates open at New Smyrna Speedway at noon, practice begins at 1 PM. Qualifying starts at five for all three racing divisions and racing begins at 7:30 PM.

Grandstand admission is $20 for adults, $15 for seniors and students and all children under 11 are free. The speedway is located 10 miles south of Daytona Beach, between I-4 & I-95. Call 386-427-4129 for more information.

Related link: New Smyrna Speedway

-Jane Smith

Have an opinion on this story? Post a message on our Message Board!
or send a letter to the editor!
---