A Saturday Night At DeSoto Speedway
By Carol Wicks

I have been to Desoto Speedway before but only as a racing spectator. I paid little attention to the details of management or operations. This time I observed both!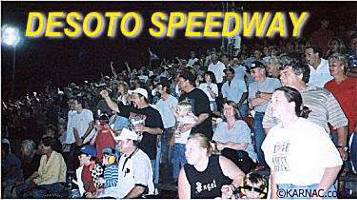 I found the track to be the best around for the type of racing I enjoy. You can see the cars from any angle no matter where you sit. The last time I was at the Bradenton speedway I sat under the scorer's box on the general admission side. This time I sat in the pit area.

The infield is open and if a driver loses control he has a safe place to go at least on one side. There are no obstructions. Also on the infield are their safety vehicles, which included an ambulance, fire truck, and several types of rescue and tow trucks. That was really impressive to me because anyone who knows me knows I am most concerned with the safety and well being of all drivers. Everything else is secondary.

The people I met seemed to know their jobs and everyone greeted me with a friendly smile. I bought a chicken dinner with fries to share with my baby and the food was good. The lemonade was GREAT but a little expensive for what was mostly a large cup of ice. It was $4.00!

I tried to sit up on the bleachers but felt it was too dangerous for a 2 year old so opted to sit in the first row and keep him within 5 feet of me at all times and never let him get near the fence. I really believe that people have to take some responsibility for their own actions and not make their stupidity a liability to the business.

The races were well organized and everything moved along nicely. I had heard it took them forever to remove wrecks from the track so when a wreck happened during the late model race I thought it would be a perfect time to go to the ladies room. Guess what? As soon as I got there I heard the cars racing.

GRR...this is the only place I found to be dissatisfactory. The ladies room was quite nasty. I realize it was late and it is the fault of the fans for being slobs but at CCS we have a lady who sits at the rest rooms and keeps them immaculate all night long. They smell clean too.

The only other gripe I had was that the announcer seemed to be gloating over the fact that CCS was having problems. I would never be happy to know Desoto Speedway was in trouble. How could a real race fan want that to happen? We should be working together to make it fun and profitable for both tracks by alternate schedules. One week the OWM drivers come to our track and the next to theirs. That way both tracks get a good car count and something to give the fans! (Just my opinion.)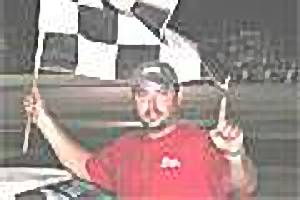 All in all, the track made our drivers feel very welcomed and went out of their way to allow them a fun night of racing. I appreciate that because these guys went through a lot to get up there after finding CCS shut down. One of our Road Warriors even won a track record! Chris Oncken won the race and I think the fastest time in his class. We are proud of Chris.

In closing, I rate Desoto Speedway a very professionally run track with the driver's safety a prime issue and the fans enjoyment also a priority. It was a very enjoyable night and if I don't make it up there often it is because I am Charlotte County Speedway's number one fan, my car is a relic, and where I go, the baby goes and I can't afford for both of us to pay the pit pass fee.

Thank you to all the people who made it a fun night for us. I would like to especially thank Mary Jane McLeod for her hospitality and friendship. Her hubby even set me up with a safe and convenient parking place so it would be easier for me to get around with the baby.

So in closing, I am now DESOTO SPEEDWAYS #2 FAN!

Carol Wicks


P.S. When Jack Smith of KARNAC asked me to write a short evaluation of my opinion of Desoto Speedway in Bradenton, I told him I would be happy to oblige but only if he publishes what, in my opinion, I believe to be true. I think it made some people at Desoto nervous to have Carol Wicks, who is Charlotte County Speedway's # 1 Fan evaluate, their track.

Have an opinion on this story? Post a message on our Message Board!
or send a letter to the editor!
---