Please Visit Florida Stock Car Racing Sponsors!

| | |
| --- | --- |
| Thursday, December 19, 2002 | |
Sarasota Ford's Salute To Racing 2003 Features Ernie Irvan
Daredevil Motorcyclist Sky Lungston To Make Special Appearance
By J. Arnold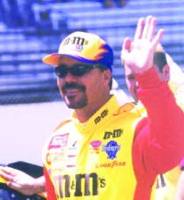 Sarasota Ford's Salute To Racing scheduled for January 18th and 19th at Sarasota Fairgrounds is guaranteed to excite and inspire racers and fans alike for the season ahead. We are pleased to announce 1991 Daytona 500 champion Ernie Irvan will be the special guest at Sarasota Ford's Salute To Racing 2003.

Ernie will sign autographs and spectators will have an opportunity to qualify for a chance to race our celebrity guest in Bradenton Lawn & Fun's Celebrity Go-Kart Challenge. Fans also have the opportunity to attend the Second Annual Checkered Flag Dinner with Ernie Irvan, sponsored by T & W Trailers and Cheap Diecast.com.

The dinner, along with an auction will be held Saturday night, January 18th, to benefit the March of Dimes in their goal of providing babies with a healthy start in life. Ernie Irvan Will Be The Special Guest At Sarasota Ford's Salute To Racing 2003 In 1987,

Ernie made his Winston Cup debut and saw his first Winston Cup victory on August 25,, 1990, in Bristol, TN.

In 1991, Ernie won the Daytona 500, the sport's most prestigious race. Irvan was a dominant contender for the championship through the first twenty Winston Cup events of 1994. He trailed by only 27 points in the standings when during a morning practice session in Michigan, Ernie's right front tire deflated, sending him 170 mph into the turn two wall.

The racer received critical injuries, leaving him with only a ten percent chance of survival. He clung to life the first two days, then improved and began the long rehabilitation process. By September 1995, Irvan was cleared for competition.

In his first Winston Cup event since the accident, he finished in sixth place. He earned a front row berth beside Dale Jarrett in the 1996 Daytona 500 and won the 125-mile qualifying race for the event. He went on that year to score victories at New Hampshire and Richmond. Irvan retired reluctantly in 1999 after crashing again in Michigan.

Ernie completed his Winston Cup career with 15 victories, 22 poles, 68 top 5s,124 top 10s and over 11 million in earnings. Ernie and his wife, Kim have two children, Jordan and Jered. The Irvans are partners in the operation of a Paso-Fino training center adjacent to their home in Mooresville, NC. He is also a partner with Mark Simo on a NASCAR Craftsman Truck team, driven by Boris Said.

Since its inception six years ago, Salute To Racing has grown into one of Florida's premiere motorsports events featuring something for every racing enthusiast. The event showcases the wide spectrum of racing, from NASCAR, IRL, CART, IHRA and NHRA, to Sprints, Midgets, Funny Cars, Motorcross, Drag Bikes, Go-Karts, Swamp Buggies and whatever other activity where speed rules!

NEW FOR SALUTE TO RACING 2003 will be a special appearance by Daredevil Motorcyclist Sky Lungston, lower admission prices thanks to our title sponsor, Sarasota Ford, BMX King of the Hill bicycle racing and jumping expo, Go-Ped racing and safety clinic. CART and the St. Pete Grand Prix will be on hand to promote their upcoming race in February.

The North American Society of Grass Racers and Sod Slingers will run a full points race on Saturday the 18th
Also, NASGRASS and Bradenton Lawn & Fun's First Annual "RUN WHAT YOU BRUNG" Novice Lawn Mower Race will be held on Sunday the 19th where novice racers will run what they brung and compete for prizes and trophies in all classes.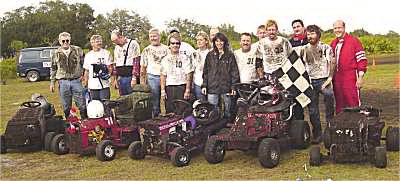 All drivers wishing to participate must register before January 10th, at Bradenton Lawn & Fun in Bradenton. For more racing information, call Bill Cryer at 941-792-1122.

POPULAR FAVORITES RETURNING FOR 2003 are 100s of racers, racing exhibits and displays, T&W Trailers' Pit Stop Challenge, Hooters' Jet Funny Car, Pepi's Jet Dragster Showdown, monster truck rides, a custom car and truck show, an automotive and collectable swap meet and games and rides for the kids. Also, fans can get a feel for driving on the NASCAR circuit in the NASCAR simulator and exhibits.

Once again, the Sarasota Fairgrounds will be the host location for Salute To Racing, Saturday and Sunday, January 18th and 19th, 2003. The gates will be open from 10 am until 6 pm both days. General admission this year will be $5.00 for adults, $3.00 for children 6 through 12, and children under six get in free. There is plenty of free parking. For more information, call 941-351-2411.

RELATED LINKS:
Salute to Racing 2001 - Photo Gallery Part One
Salute to Racing 2001 - Photo Gallery Part Two
Salute to Racing 2002 - Photo Gallery
Salute to Racing 2003 Web site


Have an opinion on this story? Post a message on our Message Board!
<news@karnac.org>or send a letter to the editor!
---
Click Here for links to all 2002 News Articles
Copyright© Future Enterprises 1997-2002 KARNAC.com is electronically published by Future Enterprises. The KARNAC© name, logo and trademarks are owned by and used with the permission of Future Enterprises of Florida. Reproduction or republishing in whole or part for inclusion in any work is strictly prohibited without prior written permission of the electronic publisher. Information may, however, be printed for the sole purpose of contacting our advertisers.