Pit Stop!





LISTEN TO LIVE INTERVIEWS WITH THE STARS OF FLORIDA RACING!!
CLICK HERE
Columns

O'Reilly Southern All Star Dirt Racing Series Fast Facts, Talladega


A Simple "Thanks" Will Help


My Hope for 2008


Short Track Racing is Going to the Dogs


The Big Showdown That Never Happened


Avoiding the Summertime Rainouts


Is Racing Clean And Sober?


Is Florida Speedway Co-operation All That Important?


"Bathroom Wall" Revisited


Wrecks, Black Flags, O My!



Got News?

Advertisement
[an error occurred while processing this directive]

IT'S TIME TO RACE!!
OUTLAWS TREAT THE FANS AT CCS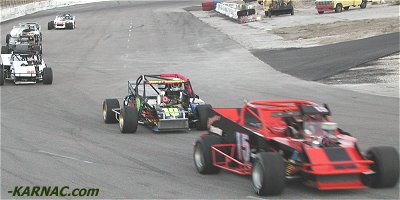 Making their last appearance at Charlotte County Speedway for 2003 Florida's fastest four cylinders the OUTLAW MODIFIEDS treated the fans to candy and fast furious action Saturday night.

Starting the nights feature action the OUTLAW'S put on a hard act to follow as they ran 25 laps of racing excitement-bringing 24cars to the track.

Ted Hoversen of Key West last year's series Champion started on the pole and led the field from the second lap after taking the lead from Dan Curl of Florida City in the 52 car.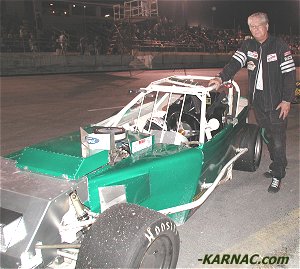 The field didn't just play follow the leader though as Ted had several cars come up through the field to challenge him for the lead.

Randy Sands of Tavernier in the 8 car who started sixth challenged Ted from lap 4 through lap 9 where attempting to get a run off of turn 2 found the marbles in the upper groove and slid down the back straight wall.

Next to challenge Ted was Robbie Bean of Miami driving Harold Perry's 56 car who started 14th and had made some great moves through the field.

Ted Hoversen 5
Raymond Jones 41
Robby Bean 56
Billy Campbell 11
Lance Hoversen 55
Phillip Brigham 7
Cliff Steinmann 23
Bobby Dayton 90
Dan Curl 52
John Gilbert 77
Carlos Puig 2
Mike Bean 28
Patrick Brigham 71
Bruno Millett 69
Christy Boyett 94
Kelly Curl 25
Randy Sands 8
Robert Campbell 10
Fred Matson 18
Harry Weiner 66
Doug Hopper 15
Mike Endee 29
Pete Cracolici 2
Destiny Swinson 0

Have an opinion on this story? Post a message on our Message Board!
news@karnac.org or send a letter to the editor!
---



[an error occurred while processing this directive]