Pit Stop!





LISTEN TO LIVE INTERVIEWS WITH THE STARS OF FLORIDA RACING!!
CLICK HERE
Columns

O'Reilly Southern All Star Dirt Racing Series Fast Facts, Talladega


A Simple "Thanks" Will Help


My Hope for 2008


Short Track Racing is Going to the Dogs


The Big Showdown That Never Happened


Avoiding the Summertime Rainouts


Is Racing Clean And Sober?


Is Florida Speedway Co-operation All That Important?


"Bathroom Wall" Revisited


Wrecks, Black Flags, O My!



Got News?

Advertisement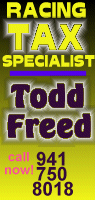 IT'S TIME TO RACE!!
Gray Wins Night One for "Fall Brawl" at Putnam County Speedway
Satsuma/Palatka, FL - Defending United Sprint Car Series champion, Terry Gray from Bartlett, Tennessee drove his Goodson Farms/Wendy's black #10 Maxim sprint car to his eighth USCS ( www.uscsracing.com ) main event win of the season Friday night at Bob Potter's Putnam County Speedway. Gray emotionally dedicated his win in victory lane to members of two USCS teams that were involved earlier in the week in a tragic helicopter crash that included his crew chief Donnie "Red" Taylor, and to Kenny Adams' team members, Donn Goodson. and to the memory of the late Billy Harter.

After starting on the pole, Gray relinquished the point to Kenny Adams from Malabar, Florida on lap one and watched Adams methodically stretch his lead to over half a straightaway on the track that he has so thoroughly dominated when not on tour with the USCS. Just as everyone turned their attention to the four car battle for the third position that 1997 USCS National Champion, Red Stauffer fom Winter Park, Florida was holding down, Gray changed his line around the track and went high and found a groove of rubber on the track surface. He caught Adams on lap twenty and made an outside pass on him as the duo exited turn four and led the last three laps to victory.

Stauffer who lost his rear brake pads early in the race, held off Johnny Gilbertson from Dover, Florida until lap twenty three when Gilbertson drove under Stauffer in turn one after a restart. Simultaneously Adams retired to the pits with engine problems moving "Johnny G" up into second place. Stauffer "free wheeled" home in third, Greg Wilson from Benton Ridge, Ohio rallied from a ninth place start to finish fourth and Jim Raptis from Marietta, Georgia who was involved a lap one turn one six car tangle drove a damaged car home fifth.

Lee Scrape from Orange Park, Florida who was also involved in the lap one melee finished sixth after going to the rear. His Dad, Otto Scrape from Jacksonville followed in seventh, Tom Winegardner from Pierson, Florida was eighth, Randy Helton from Palmetto, Georgia was ninth and Jimmy Kite from Stockbridge, Georgia also in the big wreck, rounded out the top ten.

The event's Huggins Cams "Hard charger" award went to Aubrey Black who drove Johnny Williamson's yellow #4 Just 4 Fun Special from twenty fourth starting position to twelfth. Black who is fourth in the USCS National point standings drove in from Lookout Mountain, Georgia to drive Chris Hill's regular ride, but, didn't get to hot lap or run the heat race because of mechanical problems caused by a push truck. Randy Helton also passed ten cars in the main event and two other drivers Daryl Smith and Jim Raptis improved their positions by nine cars in the A-main as well. The KSE Racing Products "Outstanding Driving Performance" award went to Raptis
who started fourteenth and landed in the top five. Ryan Meyers who fought engine problems for the entire race received the Hart Racing "top rookie" selection for the event.

On Saturday night, the USCS drivers return to the speedwy for round two of the Fall Brawl at Putnam County Speedway. Saturday night's 35 lap main event pays $2500 to win with bonuses possible. For ticket info and directions cal the Putnam County Speedway at 386-649-5210.

Fast Time - Randy Helton, Palmetto, GA 15.48 seconds

Heat #1 - Tom Winegarner, Lee Scrape, Otto Scrape, Tom Winegardner, Jr., Terry Witherspoon, Danny Martin, Jr., Randy Helton, R.J. Johnson.

Heat #2
WINNER = Terry Gray, Jeremy Scott, Roland Johnson, Red Stauffer, Jim Raptis, Matt Stegeman, Dayrl Smith, Mike Love.

Heat #3
WINNER =.Kenny Adams, Greg Wilson, Jimmy Kite, Wes Scrape, Johnny Gilbertson, Jerry Jones, Ryan Meyers, Aubrey Black.

A main event (25 laps) - Putnam County Speedway (10/24///03) WINNER = #10 Terry Gray 2nd -Johnny Gilbertson, 3rd - #2 Red Stauffer , 4th - #20 Greg Wilson, 5th - #77 Jim Raptis, , 6th - #42 Lee Scrape, 7th - Wee 3 Otto Scrape, 8th - #11 Tom Winegardner, #21 9th - #27 Randy Helton 10th - -#45 Jimmy Kite, 11th - #81 Jim MacKenzie, 12th -4y -Aubrey Black 13th - #56r Ryan Meyers, 14th -#19 Jerry Jones, 15th - #7 Mike Love, 16th - #4a Kenny Adams, 17th - #11t Tom Winegardner, Jr., 18th - #43 Terry Witherspoon, 19th - #66 Wes Scrape, 20th - #76 Jeremy Scott, , 21st - #00 Danny Martin, Jr. , 22nd - #10s Matt Stegeman,
23rd - 72 Roland Johnson, 24th - #71 R.J. Johnson.

USCS info: www.uscsracing.com 770-313-3477


Have an opinion on this story? Post a message on our Message Board!
news@karnac.org or send a letter to the editor!
---