Pit Stop!





LISTEN TO LIVE INTERVIEWS WITH THE STARS OF FLORIDA RACING!!
CLICK HERE
Columns

O'Reilly Southern All Star Dirt Racing Series Fast Facts, Talladega


A Simple "Thanks" Will Help


My Hope for 2008


Short Track Racing is Going to the Dogs


The Big Showdown That Never Happened


Avoiding the Summertime Rainouts


Is Racing Clean And Sober?


Is Florida Speedway Co-operation All That Important?


"Bathroom Wall" Revisited


Wrecks, Black Flags, O My!



Got News?

Advertisement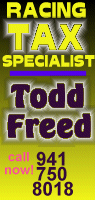 IT'S TIME TO RACE!!
Johnny Casady Stellar As Charlotte County Gets Back To Racing
by Jack Smith

Charlotte County Speedway finally got back to action after it's mid season break tonight with a full slate of heats and 9 features, and though it was close, Mother Nature gave just enough to allow for some hard, tough racing for the crowd on hand. There was a little something for everybody with over a hundred race cars and drivers in the pits.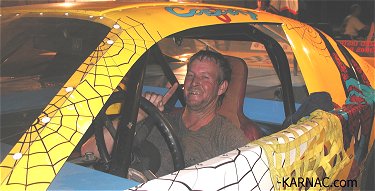 But tonight was the night for the fast paced Sportsman Division to highlight the show, and they did not disappoint with their 50 lap feature event. A field of 16 cars took the green flag and Arcadia's Johnny Casady jumped out front on the first lap and the race quickly became a matter of who could unseat him from that spot. Nobody could and 50 laps later he was in line to collect the winner's purse and first place trophy.

It was a hotly contested 50 lap battle which left some scarred cars, bruised racers and saw some hot tempers flying.

A caution on lap involved half the field (none of the leaders), with the #12 of Cliff Biffaro, the #51 of Roger Smith and #72x of James Dubose getting the worst of it. Lap 10 saw the second place car of Dale Dean spinning out of turn two and then getting whacked by the #39 who had nowhere to go. Dean was able to continue and the 39 of Phillip Johnson was towed off on the hook.

Danny Yates had worked his way into the second spot behind Casady and as the front of the pack headed down into turn 1 on lap 12, Yates and Jerry Bryant in the white #9 got together and Bryant took the straightest line possible head on into the turn one wall at full speed.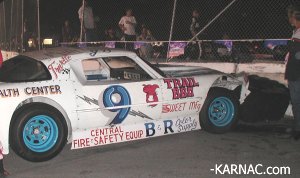 Luckily for Bryant his car hit the tires in front of the turn one exit instead of eight feet to the right where it was only concrete. He was out quickly and unhurt, after a very scarry wreck. Yates was sent to the rear of the field and he and Casady entertained the fans during the red flag stop by sitting on the start-finish line yelling unintelligible insults at each other.

After the nerves were settled down and the race restarted it became Sportsman points leader Jeremy Goddard's turn to try and get by Casady, along with Kay Jackson in the #91. Goddard and Jackson followed by the #38 of Ralph Goddard and the #20 of George Ellsworth, rode nose to tail behind Casady as they encountered 4 or five lapped cars at lap 26. It looked like this may be the spot someone could get by Casady but the DeSoto Speedway Sportsman regular handled the traffic and actually increased his lead.

By lap 37 Casady was cruising with a 3 car length lead, Jackson was trying to get by Goddard coming out of turn four and Goddard's next view was from the infield grass watching everyone else go by. Yellow flags waved and Goddard was sent to the rear, a call that left Goddard still shaking his head sitting in tech after the race.

Now it was Jackson's turn to try and take the race from Casady with Ellsworth in hot pursuit, and Yates creeping up on his bumper in fourth place. The very next lap saw Yates and Ellsworth making contact, with Ellsworth scraping the front straight wall as they roared down the front straight, with Ellsworth dropping out of the top five and Yates moving into the third spot.

Several times during the caution the fans were treated to the finger pointing and yelling form the cockpits as the heat on the track rose with each and every lap.

Yates grabbed the second spot again on lap 40 when Jeremy Goddard and Kay Jackson again got together, this time in turn two. Goddard again went backwards and Jackson maintained his spot in third place.

Tonight was the first night for the new restart rules to go into effect at Charlotte County Speedway and it sure made this race exciting. After another caution at lap 46 the racers got the green flag with 4 laps remaining; Casady restarting in the lead on the inside groove, Yates and Ellsworth side by side right behind him and tight on his bumper, the rest of the cars two abreast in the same manner.

Yates began his final assault by taking the high groove around Casady and at one point coming through turn three he made it almost side by side by with Casady, but the veteran held off the charge and as the leaders moved through turn two on lap 49, Yates got into Casady, Casady got sideways and Yates continued on through him, resulting in Yates going to the rear again.

The real damage was to Ellsworth who had his #20 taken off the track on a flat bed, a shame a he had run a good solid run for 49 laps.

Jeremy Goddard had two final laps to try and get the win but Casady was just too strong and Goddard settled for second, followed by Yates, Dale Dean and John Garrett in the #74.

The fans expressed their pleasure and displeasure as the checkered flag flew on a fast paced, nonstop nail biter of a 50 lap stock car race.



Click here for some post race comments from the winner, Johnny Casady

In other action, Kurt Riley took the feature event in the Open Wheel Modifieds. outdueling Johnny Allen for the win.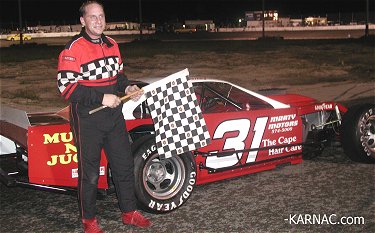 This race also saw some extracurricular activity as Phil Morrison took his 63 Modified all over the track after Bart Corleito in his 19 machine. It was a bit of comic relief, but Riley stole the show with his first win.

Randy Fox took his #88 to the Winner's Circle once again, leading a field of 12 Late Models in a warmup for next week.

Danny Caylor continued his domination of the Charlotte Street Stocks with another victory over a thirteen car field.

Next week Charlotte welcomes back the FASCAR Goodyear Challenge Series Late Models for a twin 50 lap special event with racers from every corner of Florida along with the Charlotte County regulars. Steve Arnold of Cape Coral took first place out of the 28 car field in May when the Goodyear Challenge Series appeared here.

More information is available on the Charlotte County Speedway Web Site.


Complete Results

Sportsman
1. 3 Johnny Cassidy
2. 40 Jeremy Goddard
3. 22 Danny Yates
4. 19 Dale Dean III
5. 91 Kay Jackson
6. 74 John Garrett
7. 36 Steve Dunson
8. 20 George Ellsworth
9. 00 Robert St. John
10. 72 Shawn VanWie
11. 12 Cliff Biffaro
12. 38 Ralph Goddard
13. 9 Jerry Bryant
14. 39 Phillip Johnson
15. 72x James Dubose
16. 51 Roger Smith

Late Models
1. 88 Randy Fox
2. 19 Steve Arnold
3. 100 Glenn Morris
4. 64 Chris Libak
5. 23 Cory Collum
6. 99 Mark Collins
7. 07 Troy McNabb
8. 62 Buzz Martin
9. 49 Christine Gibson
10. 26 Joe Gentry
11. 96 Frank Welch
12. 36 Al Fradette
13. 2 Kevin Murphy
DNS 00 Ronnie Heard Jr.
DNS 13 John Leonard

Open Wheel Modified
1. 31 Kurt Riley
2. 71 L. B. Skaggs
3. 98 Johnny Allen
4. 2 Kevin Brickley
5. 93 Steve Duerr
DNS 12 Erik Rudd



Street Stock
1. 7 Danny Caylor
2. 8 George Tanner
3. 91 Ander Jackson
4. 15 Charles Parsons
5. 23 Brian Richardson
6. 19 Greg Anderson
7. 4w Wayne Wilson
8. 10 Eric Smith
9. 49 Joe Butler
10. 33 Mike Loney
11. 83 John Hanushik
12. 56 Walt Korkiner
13. 12 Rick Losee

Dwarf Cars
1. 22 Mark Landis
2. 17 Jimmy Wagne
3. 01 Ron Towles
4. 8 Stan Hope
5. 3 Doug Parlamento
6. 20 Mike Landis
7. 00 Mel Godwin
8. 33 Robert Crandall
9. 96 Wayne DeClerck
10. 68 Nick Shadid
11. 49 Rick McFarland
12. 22x John Godwin
13. 15 Kenny Anderson

Pro-Challenge
1. 12 Brad Sanders
2. 1 Rod Sanders
3. 56 Howard Brennan
4. 11 James Rodriguez
5. 25 Mike Lago
6. 22 David Hall
7. 8 William Hornack

4 Cylinder Kids
1. 39 Cody Benoit
2. 74 Danny Benoit
3. 711 Eric Ludvigsen
4. 63 Hunter Morrison
5. 28 Chris Libak Jr.
6. 19 Bart Corlieto Jr
7. 97 Codey Allen
8. 24 Travis Gossard Jr.

4 Cylinder Adults
1. 63 Bubba Morrison
2. 20x Brad Shanaway
3. 15 Walter Forbes
4. 02 Riley Lowe

Road Warrior

1. 5 Bob Waltz
2. 30 Chris Huntoon
3. 77 Dennis Hale
4. 1 Jessie Gargus
5. 61 Chris Oncken
6. 18 Shane Leonard
7. 8 Bob Waltz Jr.
8. 88 Larry Rudd
9. 17 Mike Nelson
10. 40 Don Justice
11. 22 Ann Marie Ricardi
12. 19 Brandon Anderson
13. 9 Gary Miller
14. 73 Del Beckner
15. 7 Jonathan Abraham
16. 6 Hank Ferguson
17. 11 Robert Hendry

Thunder Trucks
1. 22 John Garrett
2. 37 Cheryl Weaver
3. 8 Mike Bialecki
4. 31 Wally Smith
5. 00 Ronnie Grimes
6. 56 Bob Charette
7. 44 Raymond Tucker
8. 14 Randy Layman
9. 70 Bob Maine
10. 9 Ray Scott
Have an opinion on this story? Post a message on our Message Board!
news@karnac.org or send a letter to the editor!
---