Pit Stop!





LISTEN TO LIVE INTERVIEWS WITH THE STARS OF FLORIDA RACING!!
CLICK HERE
Columns

O'Reilly Southern All Star Dirt Racing Series Fast Facts, Talladega


A Simple "Thanks" Will Help


My Hope for 2008


Short Track Racing is Going to the Dogs


The Big Showdown That Never Happened


Avoiding the Summertime Rainouts


Is Racing Clean And Sober?


Is Florida Speedway Co-operation All That Important?


"Bathroom Wall" Revisited


Wrecks, Black Flags, O My!



Got News?

Advertisement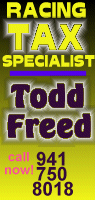 IT'S TIME TO RACE!!
Rahman Tops Classic Auto Racing Saturday Special at SpeedWorld
by Dave Westerman

Saturday night racing came to Orlando Speedworld for the first time in several years and the Classic Auto Racing Series was part of a big seven division show.

Defending CARS champion Jim Rahman of Clermont was a dominant force, leading ever lap he ran and scoring his second feature victory of the year.

Twenty-one Classics made their way into the pits. Joey Strehle had his new sedan ready for racing but engine problems forced him to move into his former mount, slated to be driven by his brother James.

Rahman ran off and hid in heat number one while current point leader Ben Booth led most of the way to win heat two.
Rahman outgunned Booth to the green flag and the two would run nose-to-tail the entire feature distance. Booth would get a run on Rahman, but each time, the two-time champ held him off.

There was only one caution flag near mid race when Greg Helton spun between turns one and two. At the time of his spin, Helton was in five car dogfight for fourth spot that also included David Marsh, Al Yates and Wayne Ashton.

As Rahman and Booth marched away from the field, Defending Door Operating Systems Rookie of the Year Patrick "Bam Bam" Sanders was hooked up well and motored away from the pack to finish third.

Last lap problems in lapped traffic cost Marsh a sure fourth place finish as Ashton, Hagan and Yates got by him as the checker fell.
Marsh ended up seventh in just his second run for new car owner Gene
Whitlock with Joey Strehle coming from 15th on the grid to eighth. Simeon Spagnuolo and Bud Spencer rounded out the top ten.
Bill Posey blew an engine in his primary car during warm-ups. His crew then loaded up the car, drove all the way to Cocoa, put the rear end and radiator
from the primary car into Posey's new machine (just recently purchased from South 40 Motorsports) and drove back to the track in plenty of time to make the feature.
Posey motored to a comfortable 12th place finish in a car he'd never "sat in with the engine running."

Booth's second place finish earned him the Door Operating Systems Rookie of the Race award for the third time this year.

The Classics are working to reschedule a date with Ocala Speedway, possibly for May 16th with Ro-Mac Lumber being a big part of that event. The CARS machines will then be back on the dirt at JAX Raeways on May 24th and Return to Orlando Speedworld for another Saturday night racefest on June 7th.

RESULTS - ORLANDO SPEEDWORLD - 5/3/03:

1) Jim Rahman, Clermont #5
2) Ben Booth (R), Deland #12
3) Patrick Sanders, Winter Garden #8
4) Wayne Ashton, Ft. Pierce #78
5) Al Hagan, Merritt Island #6
6) Ed Yates, Orlando #74
7) David Marsh, Orlando #711
8) Joey Strehle (R), Lake Mack #42
9) Simeon Spagnuolo, Vero Beach #21
10) Bud Spencer, Palm Harbor #7
11) Daryl Grief, Deland #1
12) Bill Posey (R), Rockledge #00
13) E.B. Carr, Okeechobee #90
14) George Hall, Jr., St. Petersburg #32
15) Frank Conrad, Ft. Pierce #11
16) Greg Helton (R), Orange City #3
17) George Hall III, St. Petersburg #9
18) Ray Frazee (R), Oak Hill #43
19) Eddie Ward, Ft. Pierce #45
20) Randy Grief, Orlando #88
DNS James Strehle, Deland #X11



Have an opinion on this story? Post a message on our Message Board!
news@karnac.org or send a letter to the editor!
---