Thriller At East Bay With Devon Dixon In Winners Cricle
Open Wheel Modifieds In Real Shoot Out

By Jean Lynch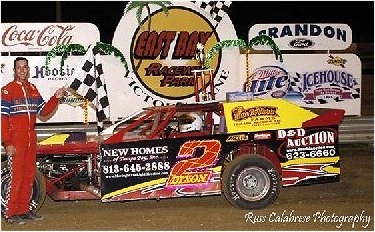 "This is the best day of my life," said a beaming Devin Dixon after pulling off the biggest win of his career Friday


In the final preliminary night of of the Open Wheel Modified portion of the 30th Annual East Bay Raceway Winternationals, fans witnessed five cars making a bid for the lead all the way around the track as they ran three wide, trading positions in every turn and playing the lapped traffic to the fullest.

It was just the fourth race for Dixon's new Victory chassis by JR Performance and the winner admitted, "We worked the first two days changing suspension and side-bite. The car wasn't good at the beginning, but it was the perfect combination for the last half of tonights 25-lapper".

Dixon, a local driver, got the attention of the other 116 competitors tonight when he started fifth and tried to get to the bottom of the track early, but when they started to pass him, he knew it was time to move up. He expressed thanks to his sponsors, New Homes of Tampa Bay, Blue Ribbon Tomatoes, Gene Slaughter of Hoosier Tires and his crew Jimmy and Ronnie. "Without the support of my Mom and Dad, my girlfriend Amy and my Dad's business, D&D Auction, I wouldn't be here for this victory".

Jeff Horst and Tommy Bailey started on the front row of the feature with Blake Jegtvig and Carlton Jackson in row two, Dixon and Randy Hall made up row three, but it was Bailey who pulled to an immediate lead and show the way for the first 16 laps.


--ADVERTISMENT--


Thursday night's winner, Kevin Weaver was on the move early and was up from 11th starting spot to second by lap five and pressuring Bailey. Ray Guss, Jr. who started just behind Weaver wasted no time in getting up to third. When the leader Bailey hesitated behind a lapped car, Weaver made his move to the outside and led lap 17. Corey Conley passed Guss with five laps to move into third.

In the meantime, Dixon used an outside move to make a bid for the lead with three laps to go, but it was practically gridlock at the front. With two laps to go, Dixon dove inside Weaver in turn one and found enough grip to power him to the front leaving Weaver to fend off Bailey, Conley and Guss for the top five spots.

Rounding out the top ten it was Blake Jegtvig, Dan Hamstra, Kent Arment, Buzzie Reutimann and Steve Arpin. Ten heats, a D-Main, two C-Mains, two B-Mains and complete A-Main stats and time trials follow.

OPEN WHEEL MODIFIEDS-EAST BAY RACEWAY PARK – FRIDAY, 2/17/06

1st Heat – 1)Tommy Bailey 2)Kevin Weaver 3)Kent Arment 4)Jamie Burrows 5)Leonard Pierce 6)DJ Cline 7)Dave Groves 8)William Harrison 9)Billy Boyd, Sr. 10)Matt Miller 11)Wayne Hammond

2nd Heat – 1)Carlton Jackson 2)Mike Potosky 3)Rich Gilbert 4)Frank Marshall 5)Junior Nolan 6)Chris Veech 7)Dennis Haven 8)Steve Miller 9)Nate Bregenzer 10)Brady Short 11)Dan Ratajczak

3rd Heat – 1)Roger Crouse 2)Ray Guss, Jr. 3)Steve Arpin 4)Mike Sorensen 5)Ken Myracle 6)Bob Bizelli 7)Mark Herbert 8)Tim Donlinger 9)Aldo Estrada 10)Trevor Merrell 11)Brian Hollifield

4th Heat – 1)Jeff Horst 2)Rob Pendergrass 3)Terry Haven 4)Brandon Carlson 5)Gary Eicher 6)Matt Boknecht 7)Jason Miller 8)Mike Sullivan 9)Doug Thompson 10)Jeff Matthews 11)Sean Jerovetz

5th Heat – 1)Ed Shamhart 2)Corey Conley 3)Kenny Johnson 4)Matt Goulden 5)Bob McQuaig 6)Bruce Watkins 7)Vince Cooper 8)Hank Bradley 9)Steve Mueller 10)Kevin DeYoung 11)Asa Hovis 12)Richard Logan

6th Heat – 1)David Schmauss 2)Chad Ogle 3)Gary Cook, Jr. 4)Denny Swartz 5)Alex Engelstadt 6)Joey Jensen 7)Bill Howard 8)Brad Waits 9)David Baker 10)Darrell Lowe 11)Mike Romaker 12)Robbie Hagger DNS

7th Heat – 1)Devin Dixon 2)Dan Hamstra 3)Shane Cottle 4)Charlie Hess 5)Tim Moore 6)Terry McClintock 7)Jerry White 8)Mat McDermid 9)Wess Weinman 10)Robbie Starnes 11)Randle Sweeney 12)Troy Page

8th Heat – 1)Randy Hall 2)Dick Peterson 3)Matt Mevert 4)Rick Conoyer 5)Larry Moreland, Sr. 6)Terry Hayes 7)Thomas Sigler 8)Mark Glembin 9)David Boerner 10)Charles Phillips 11)Ron Burgess 12)Ralph Groomer

9th Heat – 1)Dave Hess, Jr. 2)John Bradley 3)Buzzie Reutimann 4)Mike Wedelstadt 5)Rob Fuqua 6)Craig Thatcher 7)Greg Reutimann 8)Joe Pendergrass 9)Scott Carlson 10)Benji LaCrosse 11)William Hampton 12)Joseph Cox

10 Heat – 1)Blake Jegtvig 2)Jeff Leka 3)Mark Dotson 4)Perry Brown 5)Shon Flanary 6)Stanley Donahoo 7)Rick Hensley 8)Julie McDermid 9)Steve Hardy 10)Rick Martin 11)Dana Wellington 12)Darin Beaner


D – Main – 1)Wayne Hammond 2)Randle Sweeney 3)William Hampton 4)Darin Beaner 5)Ron Burgess 6)Dana Wellington 7)Asa Hovis 8)Mike Romaker 9)Dan Ratajczak DNS 10)Brian Hollifield DNS 11)Sean Jerovetz DNS 12)Richard Logan DNS 13)Robbie Hagger DNS 14)Troy Page DNS 15)Ralph Groomer DNS 16)Joseph Cox DNS

1st C-Main – 1)Dave Groves 2)Jason Miller 3)William Harrison 4)Vince Cooper 5)Mark Herbert 6)Nate Bregenzer 7)Billy Boyd, Sr. 8)Steve Mueller 9)Matt Miller 10)Mike Sullivan 11)Dennis Haven 12)Kevin DeYoung 13)Aldo Estrada 14)William Hampton 15)Steve Miller 16)Wayne Hammond 17)Brady Short 18)Hank Bradley 19)Doug Thompson 20)Tim Donlinger 21)Jeff Matthews 22)Trevor Merrell DNS

2nd C-Main – 1)Jerry White 2)Bill Howard 3)Greg Reutimann 4)Mat McDermid 5)Brad Waits 6)Robbe Starnes 7)Randle Sweeney 8)David Boerner 9)Mark Glembin 10)Darrell Lowe 11)Wes Weinman 12)Rick Martin 13)Darin Beaner 14)Thomas Sigler 15)Rick Hensley 16)Joe Pendergrass 17)Julie McDermid 18)David Baker 19)Scott Carlson 20)Steve Hardy 21)Charles Phillips 22)Benji LaCrosse DNS

1st B-Main – 1)Kent Arment 2)Steve Arpin 3)Kenny Johnson 4)Brandon Carlson 5)Frank Marshall 6)Jason Miller 7)Bruce Watkins 8)Leonard Pierce 9)Ken Myracle 10)Matt Bokneckt 11)Dave Groves 12)Chris Veech 13)Terry Haven 14)Rich Gilbert 15)Mike Sorensen 16)Junior Nolan 17)DJ Cline 18)Matt Goulden 19)Bob McQuaig 20)Bob Bizelli 21)Gary Eicher 22)Jamie Burrows

2nd B-Main – 1)Buzzie Reutimann 2)Mark Dotson 3)Matt Mevert 4)Shane Cottle 5)Rick Conoyer 6)Denny Swartz 7)Perry Brown 8)Mike Wedelstadt 9)Tim Moore 10)Stanley Donahoo 11)Shon Flanary 12)Rob Fuqua 13)Terry McClintock 14)Joey Jensen 15)Bill Howard 16)Larry Moreland, Sr. 17)Alex Engelstad 18)Terry Hayes 19)Jerry White 20)Craig Thatcher 21)Gary Cook, Jr. 22)Charlie Hess

A-Main (25 laps) – 1)Devin Dixon 2)Kevin Weaver 3)Tommy Bailey 4)Corey Conley 5)Ray Guss, Jr. 6)Blake Jegtvig 7)Dan Hamstra 8)Ken Arment 9)Buzzie Reutimann 10)Steve Arpin 11)Chad Ogle 12)Mark Dotson 13)Jeff Leka 14)John Bradley 15)Mike Potosky 16)Roger Crouse 17)Dave Hess, Jr. 18)Carlton Jackson 19)Ed Shamhart 20)Dick Peterson 21)Rob Pendergrass 22)Jeff Horst 23)Randy Hall 24)David Schmauss



Have an opinion on this story? Post a message on our Message Board! or Email KARNACto send a letter to the editor!
---