"I'm noticing a turn of the tide on racing Web sites like Florida's Karnac.com, the gathering place for the most dedicated race fans in the state."

-Orlando Sentinel
IT'S TIME TO RACE!!
Fitzgerald Finally Gets UDLMCS Win
KARNAC MEDIA REPORT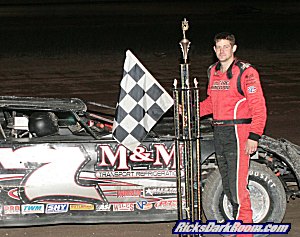 Jason Fitzgerald won the United Dirt Late Model Challenge Series 50 lap event at Hendry County Motorsports Park Saturday night. It was Fitzgerald's first win in the series in 2009, a year in which in led the championship chase most of the year.

The UDLMCS Championship went to Johnny Collins, who came in second in the final race at Hendry County to Fitzgerald. Collins was also the champion last year.

Fitzgerald was a very dominant late model racer in 2009, and had six top three runs prior to Saturday night's win.

Collins was able to take advantage of a late season surge and made up a lot of ground with the series rules allowing two dropped races.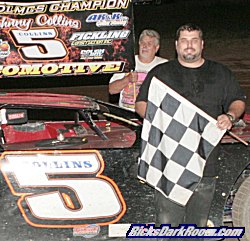 Finishing Order
1. 7f Jason Fitzgerald
2. 5c Johnny Collins
3. 26w Dillon Wood
4. 26b Adam Bedenbaugh
5. 5w Mark Whitener
6. 17ss Shan Smith
7. oob Russell Brown Jr.
8. 101 Keith Nosbisch
9. 6 Clay Bedenbaugh
10. 35 Christian Auspurger
11. 31 Tracy Butler
12. 24 Dennis Williams
13. 38 Robert Glover
14. 89 Perry Crow
15. 98 Johnny Allen
16. 88 Jim Emmons
17. 77 Win Ingersoll
18. 102.5 Bubba Clem
19. 7k Jeremy Knowles
20. 26t Tommy Evenosky Jr.
21. o7 Ivedent Lloyd Jr.


Have an opinion on this story? Post a message on The Real Racin USA Florida Fan Message Board! or Email KARNACto send a letter to the editor!
---