"I'm noticing a turn of the tide on racing Web sites like Florida's Karnac.com, the gathering place for the most dedicated race fans in the state."

-Orlando Sentinel
IT'S TIME TO RACE!!
Russell Adds His Name To Florida Racing History
By Jack Smith

Tim Russell patiently waited until the time was right, then moved in to stake a permanent place in Florida racing history, capturing the 44th Annual Florida Governors Cup 200.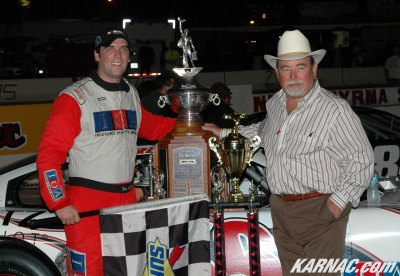 Tim Russell in the winners circle with FASCAR owner Robert Hart



Jeff Choquette dominated three-quarters of the race but had to retire with mechanical issues shortly after Tim Russell overtook the Loxahatchee, Florida racer for the lead.

Russell had to fend off several attempts from Wayne Anderson to spoil his night in the last 30 laps. Anderson, partly because of pressure from David Rogers, was unable to do anything about Russell and settled for second place.

Tim joins his dad David as the second father and son team to have their name engraved on Florida's oldest and most prestigious trophy.

A great night for FASCAR and Florida racing as the Governor's Cup drew one of the largest crowds in recent memory, along with a 35 car field of Super Late Models for the annual 200 lap event.

"The entire staff worked really hard for 12 straight days", said New Smyrna Speedway General Manager Kim Brown. "Everybody was great at working for this event and Robert [Hart] was awesome".

Choquette set fast time and looked like it was going to be a runaway win. He pitted at lap 71 and took it easy waiting for the other front runners to pit. When they did he moved from the sixth spot back to the lead.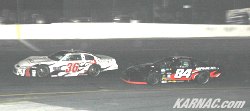 Choquette seemed to be in command until Russell began to challenge him for the lead, and after a good 10 lap back and forth battle the #36 took over and began to pull away. Two laps later Choquette, driving the #33 Fountain Motorsports machine, broke down ending his night.

Tim Russell's dad David won the Governors Cup in 1995. Wayne Anderson and Dick Anderson are the only other father/son team to win the race.

United States Congressman (and former Florida State Senator) Bill Posey reminded fans how much former Governor Jeb Bush enjoyed his visit to New Smyrna in 2001, and thanked Robert Hart for his contribution to Florida racing.

Official finishing order to follow.



Have an opinion on this story? Post a message on The Real Racin USA Florida Fan Message Board! or Email KARNACto send a letter to the editor!
---