"I'm noticing a turn of the tide on racing Web sites like Florida's Karnac.com, the gathering place for the most dedicated race fans in the state."

-Orlando Sentinel
IT'S TIME TO RACE!!
Charlotte County Announces School Bus Schedule For 2010
KARNAC Media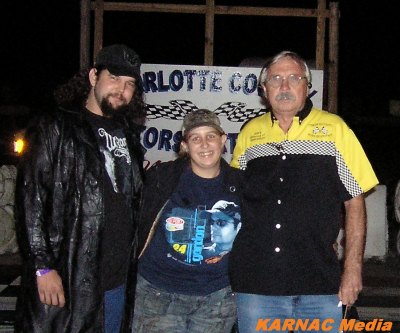 On Saturday night Charlotte County Motorsports Park announced an agreement with Amy Jones and Jimmy Volk to bring up to 14 School Bus Figure 8 races to the speedway in 2010. To kick off the new deal for the track Jones and Volk, in co-ordination with CCMP Director of Operations Gary Laplant, will put on a School Bus Figure 8 show on Halloween night.

Amy Jones and Jimmy Volk are well known for their involvement in bus racing at DeSoto Speedway over the last several years.

After a contract signing on the front straight with Jones, Volk and Laplant during the on-track autograph session for the Checkered Flag Sprint Car Series, the pair of school bus promoters thanked several sponsors including Suncoast Brace & Limb, Dale from Wynns, Joe from Prompt Towing and Lake Manatee Fish Camp.

What can fans in South Florida expect when the buses take to the track? "A minimum of 8 and a maximum of 15 buses on the track", Jones explained, "with good clean racing but we'll keep it close and keep the fans interested."

The racers will run for points and cash awards, drivers who agree to work on their buses can win $500, those who just show up and drive can win $250, according to Jones and Volk.

Track promoter Bobby Diehl said "We have been waiting for the right time and place and this is the right time and right place." The track will feature Halloween Safe Trick-or-Treat Night at the speedway on Saturday, October 31.

Jimmy Volk, probably best known as the man behind Aint Skeered Racing, got excited about bus racing when he saw them at DeSoto Speedway in May 2001, the first time the big yellow machines raced there.. Volk was a fan in the stands that night, and got excited enough to get one bus to race, and eventually own a fleet of figure 8 buses.

Figure 8 bus racing has never really been the smash hit at Charlotte that it has at places like Orlando, Citrus, DeSoto, and back in the early part of the decade at Hialeah and Sunshine. Laplant is on a mission to change that and expressed belief with the help of Jimmy Volk and Amy Jones he can do just that.

"We are going to promote it hard all over the area, we'll make it work", Laplant said Saturday night.

Have an opinion on this story? Post a message on The Real Racin USA Florida Fan Message Board! or Email KARNACto send a letter to the editor!
---