"I'm noticing a turn of the tide on racing Web sites like Florida's Karnac.com, the gathering place for the most dedicated race fans in the state."

-Orlando Sentinel
IT'S TIME TO RACE!!
United Dirt Late Model Challenge Series Back In Action
UDLMCS Media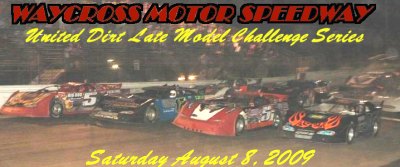 Dusty Cone returns to Waycross Motor Speedway to try and match his winning performance in the United Dirt Late Model Challenge Series last year. Cone was able to win from the sixth position in 2008 holding off a hard charging Johnny Collins.

With reports out there saying the track will be even faster this year, Cone's statements after the 2008 race still hold true in 2009, "To win here you have to have good equipment, good motors, good crew and everything".

The historic oil based 1/2 mile of Waycross Motor Speedway is a beast, as any of the drivers will not hesitate to tell you. Though it may be scary fast for the drivers, the challenge makes for some thrilling racing for the fans.

The United Dirt Late Model Challenge Series has not raced since late June at Volusia, and with six races to go and a tight points chase brewing everyone of the last six races become very important. August is going to be a good month for those drivers who are better able to handle the hard surfaces. With the asphalt at Charlotte County for the "Battle on the Blacktop" following this weekend's adventure in Waycross, don't be surprised to see a shakeup in the Championship race by month's end.

Mark Whitener continues to hold a 10 point margin over Jacksonville racer Jason Fitzgerald. Last year Whitener finished third in both the races on the hard stuff while Fitzgerald sat them out. With Collins, Russell Brown, Jr, and Dillon Wood not that far back, a lot could certainly happen to change the picture going into the final months of the season.

Cone is one of few drivers who will say he actually likes to race on the lightning fast hard surface at Waycross. That might just be part of the reason behind his success there.

The $3000 to win 50 lap affair gets started at 8 PM. Gates open at 4 PM and hot laps begin at 7 PM.
Also appearing Saturday night, August 8th is the local Pure Stock, Superstreet and Limited Sportsman divisions. Grandstand admission is $20 and pits are $35.

The first place to check for accommodations is the Official Hotel of the Waycross Motor Speedway, the Holiday Inn at 912-283-4490.

Visit www.uniteddirtlatemodels.com for all the information on the series.


Have an opinion on this story? Post a message on The Real Racin USA Florida Fan Message Board! or Email KARNACto send a letter to the editor!
---