"I'm noticing a turn of the tide on racing Web sites like Florida's Karnac.com, the gathering place for the most dedicated race fans in the state."

-Orlando Sentinel
IT'S TIME TO RACE!!
Shan Smith Wins Budweiser Late Model Challenge
A Great Beginning For Hendry County Motorsports Park

HCMP Media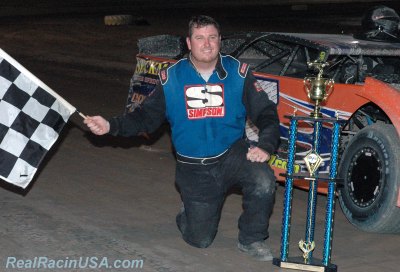 South Florida race fans finally got what they have been waiting for all year. Opening night at Hendry County Motorsports Park, though not without its share of glitches, was an overwhelming success.

The standing room only crowd of at least 3,000 race fans and competitors jammed the grandstands and pits Saturday night with over 100 race cars overflowing the normal pitting area and requiring pits in place where fans usually park.

Fans arriving late were forced to park out on US highway 27 and walk the 1/2 mile to the grandstands, in what most familiar with the track said was the biggest event in the history of the track.

Shan Smith, driver of the the 17SS late model from Dade City, Fl, took the 30 lap Budweiser Late Model Challenge and the Late Model Dash, earning $1500 for his efforts. Shan Smith is well known around Florida as one of the toughest competitors, and he seems to shine often at Hendry County.

The main event took three tries to get a lap in due to cars mid-pack and in the rear of the field having a hard time getting through turn one. Bobby Clark #51 and the #311 of Ken Monahan got together in the first incident on the start and Monahan had to be towed off. The second wreck left some hard feelings in a 5 car pile-up that took a few minutes to untangle. On the first tow attempts to get a lap in Pole sitter Jeff Mathews, one of the best out of the Tampa area, easily seemed ready to take charge. But on the third time Shan Smith was able to muscle by Mathews and lead the first lap, and though Mathews was able to rattle his cage a few times, Smith was too strong on this night, leading every lap.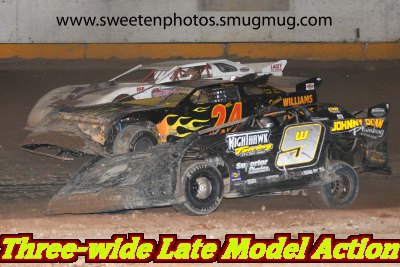 Local favorite Jeff Choquette, originally from nearby Loxahatchee, Florida, took time from his NASCAR pursuits in Mooresville NC to drive his familiar number 70 in the race. Unfortunately his car broke in the early going.

Another local driver, young Christian Augspurger, seems to be doing quite well in the late models, qualifying sixth and finishing 10th. He is the youngest dirt late model driver currently racing in Florida.

In other action the biggest field of the night was the Pure Stocks. Twenty-four cars took the green and in the end Sabrina Mosley became the first female driver in the Hendry County Motorsports park Winners Circle.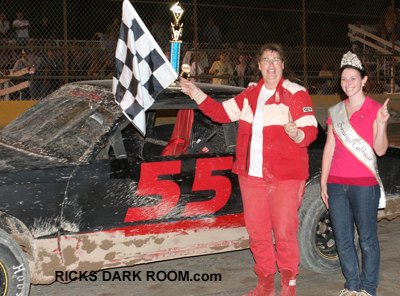 Ken Kinney, Jr addressed the crowd during a pause before the late model feature. He talked about the next level of improvements at the track which include building a fan viewing area on a man-made hill in turn four and increased parking in the area adjacent to turns three and four.

One area of concern is the track surface. Getting a handle on the precise amount of water to make the track work well for the drivers and the fans is a top priority for promoter Ken Kinney, Jr. Saturday night there were several times when water was added to the surface during brief intermissions in the racing program.

Given the large crowd and a staff putting together the first show working together, things went smoothly and bodes well for the future of dirt short track racing in south Florida.

Next Saturday night racing action continues with Sportsman, Street Stocks, Pure Stocks, V-8 Bombers and Hendry County Mini Stocks running features and heats. Visit the web site at www.hendrycountyracing.com for more information.


[Note: The following finishing orders are certain to contain some misspelled names and other errors. They were compiled from handwritten scoring sheets and driver registration forms. Please send corrections to info@hendrycountyracing.com or call 941-219-3576 as it will be very helpful to us in the future weeks]

30 Lap Budweiser Late Model Challenge
1. 17ss Shan Smith
2. 33 Jeff Mathews
3. 21p Josh Peacock
4. 101 Keith Nosbisch
5. 57 Chuck Julien
6. 115 Roger Crouse
7. 41 Travis Varnadore
8. 07 Doug Watson
9. 4L Al Larson
10. 35 Christian Augpurger
11. 41x Maverick Varnadore
12. 38
13. 311 Ken Monahan
14. 24
15. 9w Jimmy Waldrop
16. 1 David Farmer
17. 51 Bobby Clark
18. 70 Jeff Choquette
19. 46 Hamp Conley
20. P1 Wallace Peacock
21. 98 L.B. Skaggs

Late Model Dash
1. 33 Jeff Mathews
2. 17ss Shan Smith
3. 21p Josh Peacock
4. 101 Keith Nosbisch
5. 41 Travis Varnadore
6. 35 Christian Augpurger

Street Stocks 20 lap feature
1. 32 Bobby Vaughn
2. 9 Tommy Messier
3. 98b Jerry Ferrell
4. 1b Ed Hill
5. 14 Del Powell
6. 0 George Richards
7. 17 Danny Hill
8. 26 David McCormick
9. 88 Bob Cook
10. 84 Tony COnant
11. 7r Rick James
12. 21 David Bratman
13. 44 Craig Seewald
14. 15 Paul Vroman
15. 59 Joel Goldfrank
16. 98w Billy Cereal
17. 88k S.C. Klinger
18. 29 Jesse Brown
19. 1h Tommy Hill
20. 22 Todd Ansel
21. 40 Danny Espisito DNS

Pure Stocks 20 lap feature
1. 55 Sabrina Mosley
2. 9 J.R. Fitch
3. 67 John Basquin
4. 38 Scotty Klinger
5. 39 Bruce Basham
6. 76 Marco Reyes
7. 33 Chris Gilley
8. 81 Gary Chester
9. 68 Johnny Mosley
10. 65 Mary Carais
11. 44 Connie Turner
12. 53
13. 57 Charles Berman
14. 981 David Bange
15. 64 Trent Wilson
16. 22 David Walker
17. 36 Codey Benoit
18. 5d Dennis Lynch
19. 60
20. 12 Adam Taylor
21. 66 Ross Kompinski
22. 98 Don Filigno
23. 26 David McCormick
24. 84 Joe Notek
25. 88 Phil Peterson (DNS)
26. 5 Dennis Lynch Jr. (DNS)
27. 90 Greg Morrison (DNS)

Sportsman 20 lap feature
1. 3 Joe Hinkey
2. 15r Cody Ragula
3. 66 Rich Land
4. 15 Gary Champion
5. 08 Chad Carver
6. 21 Jimmy Loubert
7. 427 Robert Kuhn
8. 44 Tim Powers
9. 98 Cody Allen
10. 4 Jesse Brown
11. 23 Portis Melette Jr. (DNS)
12. 61 Thomas Scott (DNS)
13. 88 Tommy Hill (DNS)

V-8 Bomber 15 lap feature
1. 981 David Bange
2. 77 James Dellea
3. 18 David Cleveland Jr.
4. 26 Jean Darling
5. 12 Eddie Keith
6. 97
7. 14 Adam Powell
8. 9 JR Fitch
9. 75 Austin Dixon
10. 21 Scotty Kay Jr.
11. 36 Codey Benoit (DNS)
12. 66 Russ Kompinski (DNS)

Mini Stocks 15 lap feature
1. 16 Ron Dubeau
2. 18 Jason Intopa
3. 15 Michael Bange
4. 23 Justin Melette
5. 40
6. 75 Dean Magliocca
7. 20 Steve Lotts
8. 16 Ashley Austin

Have an opinion on this story? Post a message on The Real Racin USA Florida Fan Message Board! or Email KARNACto send a letter to the editor!
---