"I'm noticing a turn of the tide on racing Web sites like Florida's Karnac.com, the gathering place for the most dedicated race fans in the state."

-Orlando Sentinel
IT'S TIME TO RACE!!
Scott Thompson Memorial On Tap At Volusia This Weekend
UDLMCS Media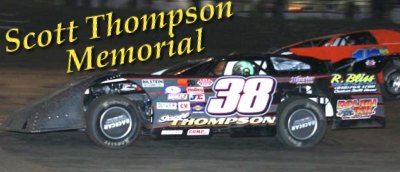 "The heat is on" might be the theme song for the upcoming United Dirt Late Model Challenge Series this weekend at Volusia Speedway Park. The race, which is the fourth annual Scott Thompson Memorial, comes at a time when the chase for the 2009 UDLMCS championship has become intense.

Only 160 points separates fourth place Russell Brown, Jr and current leader Mark Whitener. Jason Fitzgerald is only 20 points behind Whitener and Johnny Collins is sitting in third place, only 110 points off the lead.

The $3800 to win dirt late model show is expected to bring out between 45-50 cars. Johnny Collins took the win in the Scott Thompson Memorial last year, a race that drew over sixty teams last year and fans watched as 30 of the very best in the south took the green flag. Fans may remember the outstanding performance of runner-up Adam Bedenbaugh, and the emotional ride of Patrick Williams, finishing third in the #38 belonging to the Thompson family.

On last week's Dirt World radio show, Martha Thompson was asked if the family was ok with the track honoring her son with this memorial race each year. She responded, "Oh absolutely. The racing was such a big part of our family....each year we have little flags we give out to the fans with the number 38 on them, it really helps us for that moment. It's wonderful for us."

Scott Thompson tragically lost his life in a non-racing accident several years ago. His mother put it this way,"Everywhere we have went since that horrible, horrible day when we received the news about Scott, everyone has just wrapped their arms around us, and it has been such a help to our family."

You can listen to the full interview and also an interview with Ivedent Lloyd and James Powell III by going to www.dirtworldracing.com, a part of of the Real Racin' USA motorsports network. Series announcer Rick Anges and the voice of Volusia Speedway park will bring fans all the racing action on www.realracinusa.com beginning at 7:00 PM. But the best way to experience this exciting dirt late model event is to get in your car and get to the race track in Barberville Fl.

There will be a practice session for drivers on Friday evening 6-9 PM. On Saturday things get started at 7:30, gates for race teams open at 4:00 PM, fans can arrive at 5:00 PM to make sure you get the best seat. Also on the bill for Saturday night is the local Sportsman, Street Stock and Mini Stocks and a giant fireworks show. Pricing for an event of this caliber is more than reasonable: adults $15, students (11-15), and children 10 and under are free.

***** NEW VIDEO PRODUCTION TEAM FOR THE UDLMCS *****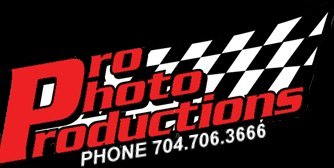 This weekend the United Dirt Late Model Challenge Series welcomes our new official video production team to the series. Under the direction and ownership of veteran motorsports media man Chris Ragle, Pro Photo Productions will produce race day videos for drivers, teams sponsors and fans.

"The UDLMCS is one of the most popular and fastest growing series out there today and I'm just looking forward to being in the mix with the series, its drivers, and above all the fans." Chris said earlier today. "We at Pro Photo Productions are associated with covering big time races and big time events and that's exactly what the UDLMCS provides right now."

Chris is also adding a new award each race for the best appearing car. He explained it this way, "Providing the best appearing car award is just a small way to reward the team that takes the time and effort each week to make these machines look eye appealing to everyone in attendance. Without a doubt fans and especially kids always cheer for the car that is the most eye appealing and I think that taking the time to make them look good needs to be rewarded."

We are certainly happy to have the talents of Chris Ragle on board with the United Dirt Late Model Challenge Series. You can contact Chris at his e-mail address cragle02@yahoo.com , or visit his web site at www.prophotoproductions.com.

For more on the United Dirt Late Model Challenge Series and links to sponsors and venues visit the series web site at uniteddirtlatemodels.com


Have an opinion on this story? Post a message on The Real Racin USA Florida Fan Message Board! or Email KARNACto send a letter to the editor!
---