Ivedent Lloyd Takes the Powell Memorial
by BJ Cavin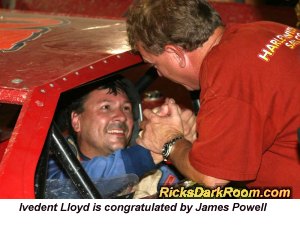 ZUBER, FL- After nature had washed out the original date for the 14th Annual Powell Memorial, no one was sure who might show up to watch the most prestigious dirt late model race in Florida.

Changed plans often means that some may not be able to switch to a new date, and yet over four thousand excited fans filled the grandstands at the historic Ocala Speedway and witnessed yet another memorable performance by the United Dirt Late Model Challenge Series.

Forty late models qualified for the Powell Memorial, with Jack Nosbisch claiming the fastest lap with a very quick 15.796. After heats and two B main events, the field was whittled down to 24 top late models, which were led by pole sitter Keith Nosbisch to the green flag.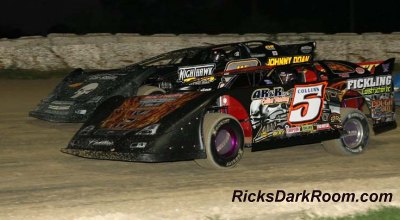 Keith Nosbich would battle for the lead with Ivedent Lloyd through the early laps, only to have an unspecified problem end his night early.

Mark Whitener also battled his way into the lead group but ran into problems that sent him to the pits, and to the rear of the field. So while Lloyd was fighting off changers in the lead whitener was fighting his way through traffic to get back within striking distance of him.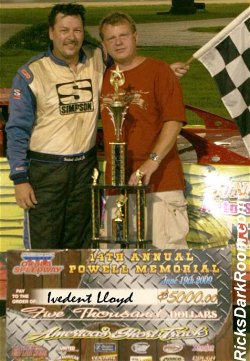 Ocala's Rich Pratt also had an eventful night, although he probably chose not to remember parts of it. Pratt fought his way forward and into the top ten before he and Jason Fitzgerald had a rather abrupt meeting in turn four. that incident involved two other cars and sent Pratt to the rear, where he continued to fight despite a damaged race car. eventually managing to finish in the 12th position.

In the end Ivedent Lloyd continued his mastery of Ocala Speedway's tricky layout and fought off a determined Johnny Collins for a win. Collins made Lloyd work for it but settled for second on the night, followed by Mark Whitener who made his way back to a third place finish from dead last after problems on lap 13. Dillon Wood claimed the fourth spot while Adam Bedenbaugh placed fifth.

The Amsoil V8 Thunder Stocks are Ocala Speedway's most competitive and exciting division again in 2009, and the field of 30 that showed up to race wasted no time in putting their full fendered machines to good use on each other. After all, a deep invert in the starting field of 30 had many fast cars in lousy starting positions, and a swarm of racers immediately attempted to get to the front as quickly as possible. That began a flurry of spins, collisions, and cars breaking that kept the yellow flying and the Ocala Speedway track crews hopping.

And thanks to all of the banging and breaking, time expired on the race just after the halfway point, resulting in an early green/white/checkered finish. Jason Gamble picked up another decisive win, followed by Augie Buttram in the second spot. James Edwards led for a time before finally finishing in the third spot, while Chris Fontaine grabbed fourth and Terry Dunbar rounded out the top five.

The third and final division to run was the Mini Stocks, and once more there was plenty of action up front. Travis Staats rocketed out to an early lead, but Danny Vogel pulled alongside and stayed there for a few laps, finally wrestling the lead away when Staats bobbled slightly in turn 4. Meanwhile Paul Combast was busy fighting through the field and broke into the top three, while Johnny Zackery held the fourth spot.

Eventually Danny Vogel held off the competition and scored a win, as Paul Combast settled for second. Travis Staats remained strong with a third place finish, while Johnny Zackery placed fourth and Charlie Staats fought his way to the fifth spot.

Friday, June 26th, will mark the return of the Open Wheel Modifieds to Ocala, plus the amsoil V8 Thunder stocks will do battle with $1000 going to the winner. The Hobby Stocks , Mini Stocks, and Gladiators, will also be racing.

14th Annual Powell Memorial - 75 laps
(United Dirt Late Model Challenge Series)

1- 07 Ivedent Lloyd
2- 5C Johnny Collins
3- 5W Mark Whitener
4- 26W Dillon Wood
5- 26 Adam Bedenbaugh
6- 7F Jason Fitzgerald
7- 33D Devin Dixon
8- 00B Russell Brown
9- 66H Matt Hensley
10- 12 Jack Nosbisch
11- 47 Tyler Ivey
12- 0 Rich Pratt
13- 2 Brandon Dewitt
14- 9W Jimmy Waldrop
15- 11X Steven Roberts
16- 56 Kevin Durden
17- 6 Clay Bedenbaugh
18- P1 Wallace Peacock
19- 101 Keith Nosbisch
20- 32 Phillip Cobb
21- 33M Jeff Mathews
22- 00C Billy Costello
23- 46P Darrell Padgett
24- 66B Mike Bresnahan

V8 Thunder Stock
1- 17 Jason Gamble
2- XX Augie Burttram
3- 13 James Edwards
4- 47 Chris Fontaine
5- 72 Terry Dunbar
6- 42 Don Milam
7- 35W David Walls
8- 118 Chris Watson
9- 00 Edward England
10- 5W Robin Martin
11- 73 Jeffrey Eisenhower
12- 07 Ryan Lisak
13- 40J Danny James
14- 36 Mike Dubbs
15- 54 Karla Phelps
16- 6 Wally Douglas
17- 7H Charles Howard
18- 3D Jessie Corbitt
19- 99 Jacob Antis
20- 35 Mike Barr
21- 63 Brian Brogan
22- 15 Luke Sadler
23- 81 Courtney Eubanks
24- 96 Eddie Lake
25- 89 Ken Asbell
26- 3W Vaughn Woodall
27- 69 Jonathan Appleby
28- 14 James Sullivan
29- 7E James Erickson
30- 123 Timothy Eisenhower

Mini Stock

1- 99 Danny Vogel Jr.
2- 19 Paul Combast
3- 1AR Travis Staats
4- 11Z Johnny Zackery
5- 9AR Charlie Staats
6- 9B Sean Babcock
7- 63 Calvin Christian
8- 14 Frank Prouty
9- 44 Greg Bonynge
10- 58 William Stalnaker
11- 02 Jon Layerd
12- 3D Dean Kinsey
DNS- 40M David Miller
DNS- 26 Kristopher Prouty


Have an opinion on this story? Post a message on The Real Racin USA Florida Fan Message Board! or Email KARNACto send a letter to the editor!
---