"I'm noticing a turn of the tide on racing Web sites like Florida's Karnac.com, the gathering place for the most dedicated race fans in the state."

-Orlando Sentinel
IT'S TIME TO RACE!!
East Bay Hosts Scott Thompson Memorial
RACE TO BE RESCHEDULED FOR A SEPTEMBER DATE

KARNAC Media

Due to the tremendous rains sweeping the Florida peninsula over the last 10 days, East Bay Raceway Park has been forced to postpone the Annual Scott Thompson Memorial until later in the year. There will be a September date announced later.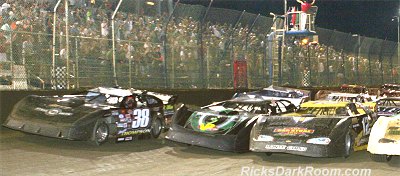 This Saturday night, May 23, East Bay Raceway Park hosts the Annual Scott Thompson Memorial 50 lap late model race.

"Hopefully we will have about 30-35 cars or so in the pit area for the race", said Todd Hutto. "It should be a great race", he stated, "Airgas has come on board with us, helping us this weekend, helping us do some special things for this special race."

"We have a lot of give-a-ways and lap sponsors, Doug Hawkins with National Pipe Service is sponsoring lap 38 and you can expect something pretty nice for that." Hutto said.

Number 38 was Scott Thompson's number when he raced. Scott was one of the more popular late model racers, especially on National Late Models Series tour.

The race will feature the top dirt late model racers from Florida and Georgia, won last year by Rich Pratt of Ocala. Quite an accomplishment for Pratt as the rest of the top five consisted of Jeff Mathews, Keith Nosbisch, Mark Whitener and Jackie Nosbisch, Jr. Twenty-seven late models took the green in 2008 at East Bay Raceway Park for the Memorial race.

Jeff Mathews will be trying to win both the Scott Thompson Memorial and the Open Wheel Modified feature Saturday night. He has accomplished that feat once already this year.

Another driver ready to make his mark is David Pollen, a recent convert to dirt racing. David has had some very good runs at East Bay lately and along with youngsters like Tyler Ivey are going to make it tough for some of the more veteran drivers.

CLICK HERE TO HEAR INTERVIEW WITH EAST BAY CO-OWNER TODD HUTTO

Also on the schedule for this big night of racing: Eastbay Sprint Cars, Open Wheel Modifieds, Outlaw 4's and 4 Cylinder Bombers PLUS $1.00 HOT DOGS ALL NIGHT LONG! Pit entry is $25, adult grandstand tickets are $12.00.

Airgas is the United States' largest distributor of industrial, medical, and specialty gases and related equipment, safety supplies and MRO products and services to industrial and commercial markets. Airgas of Lakeland helps supply East Bay Raceway Park with welding equipment and similar equipment needs around the track.

Real Racin' USA will broadcast the races live Saturday night with Rick Anges and Bill Green making the calls and Billy Ausburn adding color commentary with his immense knowledge of the dirt late model racers. The broadcast, sponsored by AirGas of Lakeland and Adams Used Auto Parts begins at 6PM, www.realracinusa.com.

Checkered Flag Racing, known in South Florida as simply CFR, has come on board as a marketing partner with Real Racin USA to help bring live racecasts to the fans of Florida short tracks.

LATE ADDITION
Checkered Flag Racing, known in South Florida as simply CFR, has come on board as a marketing partner with Real Racin USA to help bring live racecasts to the fans of Florida short tracks.

CFR has been in the racing business for over 30 years, helping racers in a myriad of ways to achieve their goals. "Big" Al Styer, owner of Checkered Flag Racing, has been operating out his his shop in Opa Locka, Fl (near Miami) for many years and was very involved in the old Hialeah Speedway. "We take a hands-on approach with our customers", Al explained. "We sell parts, nut we also show you how to install the parts and use them correctly, we don't sell you things you don't need or aren't ready for."

Also check out www.eastbayracewaypark.com for more information.


Have an opinion on this story? Post a message on The Real Racin USA Florida Fan Message Board! or Email KARNACto send a letter to the editor!
---