"I'm noticing a turn of the tide on racing Web sites like Florida's Karnac.com, the gathering place for the most dedicated race fans in the state."

-Orlando Sentinel
IT'S TIME TO RACE!!
Sportsman Racers Invade Ocala Speedway
by BJ Cavin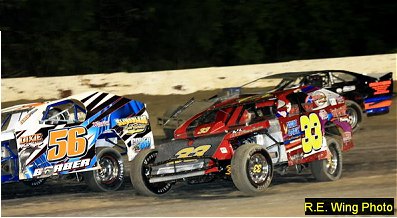 Dave Barber Jr.(56)chased by Jeff Mathews (33)in the Modifieds


ZUBER,FL- As the racers and fans gathered at Ocala Speedway and prepared for another night of action, dark clouds and a rain shower assisted with the track wetting process and sent the less hard core race fans scrambling, but that was not enough to dampen the excitement nor change the schedule as five divisions of racers challenged the clay.

The Open Wheel Modified race featured some exciting racing at the front of the pack, as drivers like John Bradley, Dave Barber, and Jeff Mathews, went at each other. Richard Dickinson had a great starting spot, but eventually slipped to fifth place in the end. Mathews had his share of troubles on the night but fought to a third place finish, while Chip Owens remained tough throughout and claimed fourth place.

But the modified race would not end without some measure of controversy, as a tangle between race leader Dave Barber and a lapped car on the final lap caused a caution to wave. As Barber and John Bradley raced almost side by side out of turn two on the final lap, they found the much slower car of Tim Zackery, which was several laps down, in front of them. Zackery apparently failed to realize that the leaders had caught him and remained in the middle of the track, forcing the leaders to attempt to get around him. Bradley went low while Barber tried to go high, but in the end Barber could not find room at the top and went low as well, impacting Zackery's car and spinning out.

The call from the tower was that since a lapped car had failed to yield to the leaders racing to the checkered flag, Dave Barber would be awarded his position back on the restart. Barber took the green and held off Bradley to take a win, but expressed some regrets in victory lane during his post race interview. Barber was happy to win, but felt like he may not have deserved to get his position back after the caution. Bradley and Barber had put on quite a show racing with each other in the final laps until the unfortunate mishap happened, but the two of them discussed the finish after racing ended and decided to split the difference with the prize money. Bradley got the trophy and the points for the win while Bradley settled for second place.

Headlining the action was the first opportunity for Sportsman cars to challenge Ocala Speedway's tricky layout in 2009 with a $1000 to win, 30 lap invitational race.

A 10 car invert had things a bit confused early on in the race as some faster cars attempted to move to the front a little too quickly. David Foster became a victim of that process, wrecking in turn two and unable to continue with the race. Once things settled down the racing began, with a bevy of racers mixing it up in the top 5 spots.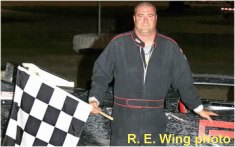 Among those making moves was the 21W of Shane Williams which overtook Shane Nichols for the lead and never looked back. David Clegg also fought his way up to as high as second place in the race, and Billy Costello drove Kevin Mills' 01 car to the top five as well.

Also making moves was the 3 car of Ken Hall, which was very strong early but faded somewhat as the race progressed and track conditions changed. In the end it was Shane Williams taking the win and going home $1000 richer, while Shane Nichols settled for second place. David Clegg worked his way into a third place finish as Billy Costello and Ken Hall Sr. rounded out the top five.

As usual the Amsoil V8 Thunder Stocks brought out a large contingent of very competitive race cars, and again it was a very quick Jason Gamble who fought his way through traffic to a win. James Erickson drove his dad's 66 and kept it in the hunt the entire race, but could not keep up with Gamble's number 17, finishing second. Terry Dunbar also ran a strong race, finishing third behind Gamble and Erickson. Rounding out the top five were David Walls and Eddie Lake. Walls ran strong from the beginning and Lake battled his way forward from last place after an early race mishap sent him to the tail.

Blake Spencer led the Mini Stocks to the green flag from the pole but found out quickly that some visiting drivers were pretty tough to tame. Travis Staats wasted less than a lap getting by Spencer, and Dan Kerr followed after him. Charlie Staats had a less appealing starting position in the field and battled into the top five as well, while Sean Babcock ran strong throughout. In the end Travis Staats looked unbeatable as he took the win, and Dan Kerr also got a well deserved second place finish. Charlie Staats climbed his way through traffic to place third, while Sean Babcock bettered Blake Spencer for fourth place. Spencer settled for fifth place on the night.

No matter where Danny Lunn has run his Gladiator car this season, he has found success and been out in front. After spanking the field at Putnam County Speedway the previous week, Lunn trekked to Ocala Speedway and repeated the process, taking a definitive win. The closest competitor in the end was Dalton Strehle, who raced a different car this week but ended up with the same result as last week, a DQ in the post race tech inspection. That handed second place to Paul Hahn and third place to Austin Gamble. Chris Neville placed fourth followed by Kody Fisher in fifth place.

Next week the Late Models get their last shot at Ocala Speedway before the 14th Annual Powell Memorial on June 5th, and a large field of top racers should be on hand to get a feel for Ocala's tough layout. Racing in addition to the Late Models are the Amsoil V8 Thunder Stocks, the Mini Stocks, and the Gladiators.

Ocala Speedway Results for 5/15/09
Sportsman Invitational ($1000 to win/30 laps)
1- 21W Shane Williams
2- 65 Shane Nichols
3- P4 David Clegg
4- 01 Billy Costello
5- 3 Ken Hall Sr.
6- 40 Steve Branton
7- 45 Bobby Richardson
8- 67 Garrett Stewart
9- 36 Grady Christian
10- 00 Shaun Daughtery
11- 42M Tim Miller
12- 04 Bubba Christian
13- 44 Heath Walker
14- 56 Johnathan Appleby
15- 21D Jamie Dayhaw
16- XX David Kinsey
17- 05 Dan Lane Sr.
18- 4 David Foster
DNS- 11C Corey Holley

V8 Thunder Stock
1- 17 Jason Gamble
2- 66 James Erickson
3- 72 Terry Dunbar
4- 35 David Walls
5- 96 Eddie Lake
6- 3D Jessie Corbitt
7- 36 Mike Dubbs
8- 81 Courtney Eubanks
9- 11 Edward England
10- 118 Chris Watson
11- 5W Vaughn Woodall
12- 28 Glenn Vincent
13- 52 Jeff Barrett
14- 07 Ryan Lisak
15- XX Augie Burttram

Open Wheel Modifieds
1- 56 Dave Barber Jr.
2- 27 John Bradley
3- 33 Jeff Mathews
4- 2 Chip Owens
5- 0 Richard Dickinson
6- 7JR Scotty Williams
7- Z06 Larry Mott
8- 74B Jacob Buie
9- 41 Gary Sexton
10- 95 James Edgley
11- 90 Mark Buie
12- 75C Charlie O'Neill
13- Z Tim Zachery
14- 74A Chuck Adkins
15- 75 Mark Rider
16- 00L Chris Littrell

Mini Stock

1- 1AR Travis Staats
2- 73 Dan Kerr
3- 9AR Charlie Staats
4- 9B Sean Babcock
5- 82 Blake Spencer
6- 19 Paul Combast
7- 59 William Stalnaker
8- 311 Paul Shumway
9- 40M David Miller
10- 44 Greg Bonynge
11- 45 Dennis Johns
12- 11Z Johnny Zackery
DNS- 26 Kristopher Prouty
DNS- 99 Danny Vogel Jr.
DNS- 75 Nick Kerr

Gladiators

1- 391/2 Danny Lunn
2- 78 Paul Hahn
3- 23 Austin Gamble
4- 69 Chris Neville
5- 83 Kody Fisher
6- 12 (unknown driver)
7- 96 Eddie Lentz
DQ- 73 Dalton Strehle


Have an opinion on this story? Post a message on The Real Racin USA Florida Fan Message Board! or Email KARNACto send a letter to the editor!
---