Hendry County Opening Date Announced
By Jack Smith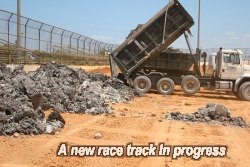 Ken Kinney, Jr., the new owner and promoter of Hendry County Motorsports Park, announced on Monday that the first day of competition will be Saturday July 18. The announcement of the re-opening of the Clewiston, Florida speedway comes not a day too soon for the eager drivers and fans who have been flooding the web site with e-mails and calls to Ken Kinney in anticipation.

Ken Kinney began the process of revamping the speedway in January, and has run into delay after delay, but it is finally starting to come together. The new clay, needed to make the racing surface meet the standards Ken Kinney has set for a first class facility, has finally been delivered and laid down. This has been one of many major changes in the operation of the speedway going forward.

The first scheduled practice for drivers will be Saturday June 13, with added practice dates on Saturday June 20, Thursday July 9, and then July 11, the Saturday before the track opens for racing. Gates will open at 5:30 PM for the practice nights and will run from 7 until 11 PM. Fans are invited to attend the practice sessions, with grandstand entry $5 for adults and children 12 and under free. Pit entry will be $15 for the practice sessions. Concessions will be open for the drivers and fans on those nights.

"There was a 115 loads of new clay on the track, and all of it has been spread. There was still more to be added today, probably 50-60 more loads, we probably have about 180 loads on the track now." Kinney explained. An indication of how different the track surface will be was described By Kinney, "We have gone from one extreme to the other, it was a real sandy surface, and now I believe we have as pure a clay as anybody in Florida, if not more so."

Ticket buildings, new bathrooms, refurbished grandstands, new offices and other new buildings and landscaping are all part of the changes fans and drivers can expect at the newly named Hendry County Motorsports Park. "If you went there today you would see a lot of improvement", Kinney said, adding "but not nearly what will be done in the next three weeks, we've got a long way to go in the future. I believe people in July will be extremely shocked at how it looks compared to how it looks now."

For the complete 20 minute interview with Ken Kinney, Jr.use this link to listen.

For more articles and photos and other information, visit the track web site at www.hendrycountyracing.com

Have an opinion on this story? Post a message on The Real Racin USA Florida Fan Message Board! or Email KARNACto send a letter to the editor!
---