Mathews Doubles Up at East Bay
By Larry Jewett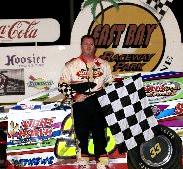 The first weekend of the month of May proved there is plenty of exciting racing in tap for the 2009 season at East Bay Raceway Park. Jeff Mathews continued his winning ways by backing up last week's Late Model win with a pair of feature victories.

The first victory came in the Gagel's Open Wheel Modifieds. Mathews and Roger Crouse snared the victories in the preliminaries. Those wins gave the duo front row starting spots for the 15-lap feature. A slow start with numerous cautions kept a lid on the action. Mathews got the jump at the green with Shane Burrows slipping into second. Crouse regained the second spot by the fifth lap despite scraping the frontstretch wall. Brian Hollifield's run in the top five ended with a spin, collecting Matt Fetterhoff. Scotty Williams and Kyle Bronson battled for fourth until Williams suffered a flat tire with two laps remaining. The final restart proved no one had anything for Mathews, who picked up his third Modified win. Crouse claimed second, ahead of Burrows, Bobby Dixon and Brad Boerner.

East Bay Sprints took the track for their fourth visit of the 2009 campaign, many in preparation for a big Sprint showdown next week. Kurt Taylor and AJ Maddox started their night on the right foot with heat wins. Their draw put them in the second row behind teenaged driver Alexis Beagle on her birthday weekend and point leader Paulie Milum. The 12-car field made a few attempts at an initial start with Milum grabbing the lead on the outside.

The best battles were taking place between Clint Reynolds, Taylor, and Tony Agin with Tim George moving into the mix. Reynolds moved up to challenge Milum who was working the high line. Reynolds spun while running second as Agin and Maddox were duking it out in third. Maddox moved to second, but slipped back two spots, then stopped on the track. Reynolds had recovered to grab second and renew his challenge. Milum went hunting on the high side, getting dangerously near the turn two wall.

He kept the progress to the end, notching a third feature win of the season. Reynolds was second, but Dqed in tech as was fifth place Dennis Long. The official finish saw Milum win, ahead of Agin, George, Christine Auld, and Howard Harris.

An exciting finish awaited in Outlaw 4 racing. The heats were won by Mavrick Varnadore and Jerry Bruce. The all-female front row of Shirlene Hammond and point leader Amanda Rogers would be responsible for leading the field to the starting line. By the end of the first lap, Matthew Haynes had asserted himself in front with Hammond and Rogers breathing down his back. Rogers and Hammond traded the positions until Jesse Brown split them for a lap five restart.

Brown lost the handle and went to the back as Mickey Wright moved to her. Wright's luck took a bad turn with a spin on lap 6. Stephen Hohlbaugh and Michael Gulvin swapped positions inside the top five as Haynes and Hammond broke away from the field. They bunched up as Gulvin spun and the night ended for Rogers with a flat tire.

Hammond grabbed the lead on the restart from Haynes and could not be denied, gaining her first feature win of the season. In Victory Lane, she advised spectators that "You think it's fun up there, you should try it from down here" during a jubilant celebration. Haynes claimed second with Hohlbaugh, Brown and Wright rounding out the top five.

The 25-lap Street Stock Sizzle 25 presented by Brandon Ford was advertised as $500 to win, but G & E Transmissions upped the ante to $700 for the winner. A field of 26 cars was scheduled to start, but Charlie Paris Jr. was trailered by a heat race incident. Those preliminaries resulted in wins for Donnie Reed, Dave Floyd, and Jarod Gay.

A wealth of cautions put a damper on the Street Stock main, but not on the effort of polesitter Matthew Grissom. Grissom held command as point leader Reed and Buck Woodhouse were among those who challenged from behind. While the action was intense at the front of the field, drivers were putting on a charge from the rear. Danny Hill and Buck Skinner, drivers with two feature wins each this season, had started in the last row, but they were in the top 10 by lap 6. Skinner was making the best progress and he took the lead from fourth as the leaders were tangled in lapped traffic.

That pass didn't stick, wiped out by a caution, but Skinner made it count on lap 17. That proved to be just in time as caution after caution stretched to the 40-minute time limit and a green-white-checkered finish. Skinner couldn't be denied. Reed kept second with Woodhouse third. Grissom faded to fourth and Gary Sheffield notched a top five run.

The South Shore Auto Sales Late Models brought 16 cars to the 25-lap green. Polesitter Paul Gibbs was the early leader, but Jeff Mathews was on the charge, grabbing the lead on lap three with a high line pass. Mathews kept his position as Gibbs fended off David Pollen. Gibbs spun, collecting three other cars.

Wallace Peacock took off from third as leader Mathews was concerned about his car's performance. Peacock capitalized, taking the lead with Mathews slipping to third. Mathews took back second on the 21st lap and regained the lead by shooting off turn four to grab the victory. Peacock came home a disappointed second with Pollen, Roger Crouse and Jimmy Waldrop trailing. Mathews and Waldrop chalked up heat wins.

The newest division, Dirt Daubers, saw a soupy track and clockwise racing for the 12-lap main, won by newcomer Hog Hunter, whose passenger was riding backwards in the car. You have to see it to believe it.

ASA sanctioned racing resumes at East Bay Raceway Park Saturday, May 9, 2009 at 6:30pm. The Top Gun Sprint Series brings the traveling open wheel show to the clay by the bay. Florida Mini Sprints, Street Stocks, 4 Cylinder Bombers, Dirt Daubers, and Vintage Modifieds join the Focus Magazine & TV Night action. For more information, call the track office at 813-677-7223 or visit us on the web at www.eastbayracewaypark.com.

OFFICIAL RESULTS
EAST BAY RACEWAY PARK
MAY 2, 2009

East Bay Sprints - Feature

Finish Start Car Driver
1 2 42 Paulie Milum
2 7 38 Tony Agin
3 9 1* Tim George
4 6 83 Christine Auld
5 13 13 Howard Harris
6 3 3X Aj Maddox
7 4 20 Kurt Taylor
8 8 30 D.j Peebles
9 12 8 Rich Alexander
10 1 47B Alexis Beagle
11 10 02 Gene Lasker
12 5 07 Clint Reynolds
13 11 29JR Dennis Long, Jr.

Out Law 4 s - Feature

Finish Start Car Driver
1 6 22 Shirlene Hammond
2 4 2 Matthew Haynes
3 3 75 Stephen Hohlbaugh
4 10 7JR Jesse Brown
5 11 9 Mickey Wright
6 8 17 Michael Gulvin
7 5 10 Amanda Rogers
8 7 75R Jason Russell
9 2 35 Jerry Bruce
10 13 41 Dan Chambers
11 9 90 Randy Storer
12 1 14 Mavrick Varnadore
13 12 60 Scott Knapp

Street Stocks - Feature

Finish Start Car Driver
1 26 00B Buck Skinner
2 4 07 Donnie Reed
3 9 55 Buck Woodhouse
4 1 7 Matthew Grissom
5 12 12 Gary Sheffield
6 15 20O Steve O'lone
7 2 35 Jarod Gay
8 5 00 Jeff"buckshot" Meixner
9 10 02 Tim Spencer
10 16 31 David Riner
11 20 0K Kc Laramee
12 3 3D Dave Floyd
13 18 53 James Hook
14 14 49 Doug Johnson
15 23 309 Herschel Bonner
16 21 66 Bud Barone
17 19 81 Thomas Pratt
18 8 21 Randy Tyler
19 25 17 Danny Hill
20 11 20 T.j. Spencer
21 7 12K Kevin Silvia
22 6 05 David Strickland
23 24 41 Rw Whitley
24 13 W31 Daryl Mezyk
25 17 47 Jeff Stewart
26 22 09 Charles Paris Jr.

Dirt Daubers - Feature

Finish Start Car Driver
1 5 15 Hog Hunter
2 2 81T Joel Heanasoff
3 4 43 Joe Scharba
4 3 99 Db Hogwaller
5 1 14 Kari Bruce





Have an opinion on this story? Post a message on The Real Racin USA Florida Fan Message Board! or Email KARNACto send a letter to the editor!
---