"I'm noticing a turn of the tide on racing Web sites like Florida's Karnac.com, the gathering place for the most dedicated race fans in the state."

-Orlando Sentinel
IT'S TIME TO RACE!!
WHITENER BRINGS HOME WIN ON TOUGH TRACK AT NORTH FLORIDA
UDLMCS Media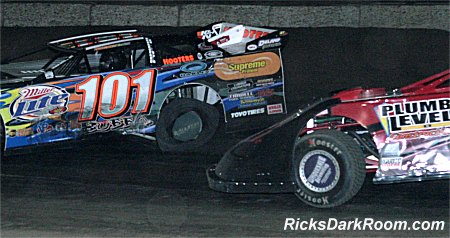 Photographer Rick Warren (RicksDarkRoom.com) caught the action at North Florida Speedway


The United Dirt Late Model Challenge Series continued its tradition of drawing huge crowds as fans flocked to see the stars shine at North Florida Speedway Saturday night for the 2nd Annual North Florida State Championship.

Mark Whitener managed to close the gap in the chase for the Championship with his second win in a row. Starting from the 7th position, Whitener positioned himself to take advantage of others' misfortunes as the race progressed.

Early on, Keith Nosbisch looked unbeatable as he pulled a full staightaway ahead of the pack and began to lap the rear of the field by the 11th lap.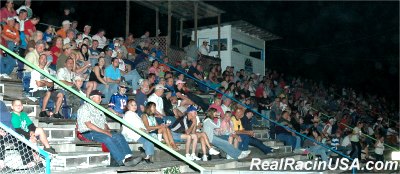 The hopes for the driver of the Bubba the Love Sponge sponsored #101 were dashed with a flat tire at lap 28. Adam Bedenbaugh had caught Nosbisch and was fighting hard to take the lead, shortly before the caution that changed the complexion of the 50 lap, $3000 to win race.

Whitener inherited the lead when Adam Bedenbaugh was involved in a collision also on lap 28, and from then on was never seriously challenged for the lead.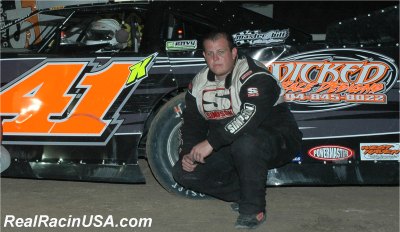 John Kellum had a great night and a great car, starting in the top five and finishing second.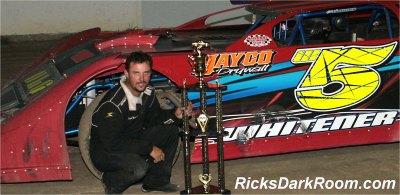 Mark Whitener is your winner at NFS



Full race report and links to radio broadcast of the show will follow:
Visit www.uniteddirtlatemodels.com for more information.

START FINISH CAR# DRIVER
1. 7 5w Mark Whitener
2. 4 41K John Kellum
3. 8 26W Dillon Wood
4. 15 00B Russell Brown Jr.
5. 9 5c Johnny Collins
6. 14 7F Jason Fitzgerald
7. 12 J1 Jay Johnson
8. 21 1C Seth Caudill (Hildebrand Jewelers Hard Charger)
9. 17 56D Kevin Durden (Dough Boy Signs B Main Winner)
10. 18 0 Shane Williams
11. 13 J17 Joe Kump
12. 3 07 Ivedent Lloyd (Ziegler Racing Engines Fast Qualifier)
13. 6 12 Jack Nosbisch
14. 20 17 Shan Smith
15. 19 00C Billy Costello
16. 2 101 Keith Nosbisch
17. 1 26B Adam Bedenbaugh
18. 22 56B Dave Barber
19. 5 47 Tyler Ivey
20. 10 22B Brandon Cameron
21. 11 2 Brandon DeWitt
22. 23 18JO J.O. Nobles
23. 16 02 Travis Rhoden
24. 24 6 Clay Bedenbaugh


Have an opinion on this story? Post a message on The Real Racin USA Florida Fan Message Board! or Email KARNACto send a letter to the editor!
---