"I'm noticing a turn of the tide on racing Web sites like Florida's Karnac.com, the gathering place for the most dedicated race fans in the state."

-Orlando Sentinel
IT'S TIME TO RACE!!
Tate Pierce Wins Big In Billy Myers Memorial
By Jack Smith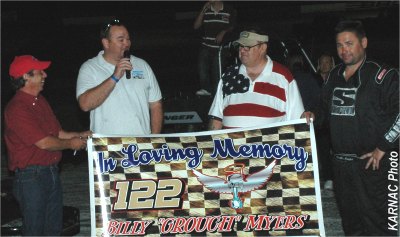 (L to R) Tony Parker, Kevin Durdin, Tom Cooper, Robbie Cooper


In the first seventeen laps of the Billy 'Grouch' Myers Memorial at Bronson Motor Speedway, the packed house witnessed 8 caution flags. The next 50 laps were about the best open wheel modified racing Florida race fans have seen in some time. One caution at lap 67 stopped the runaway #81 of Tate Pierce just long enough to give Robbie Cooper and Sean McLaughlin a chance, but even that wasn't enough to keep the Wesley Chapel racer out of the Winners Circle and collecting the $3,000 payday.

But for many fans the highlight of the race, sponsored by Tim Quick's Above It All Roofing, was watching the clinic the "Rocket Man" Wayne Jefferson put on. Jefferson had to go to the rear after officials said he was responsible for sending the #99 of McLaughlin sliding down the back straight and into the infield on lap 17.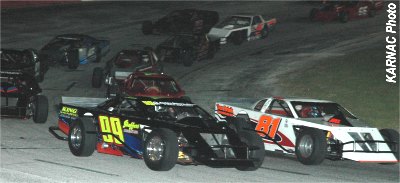 Jefferson, who has never had much success on Bronson's 1/3 mile high banked bullring, drove through the field and by the time of the next caution at lap 67 he was riding in fifth, and then two laps later was in fourth.
Ironically Jefferson ended up right where he started the race. The Pinellas Park, Fl. race had set fast time, then drew the number four pill to invert the field.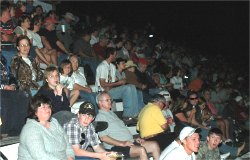 Robbie Cooper, who was instrumental in the successful turnout of the top Modified drivers from all over Florida, really never challenged Pierce. During the long green flag run, Pierce built a half a track lead on the field, running through lapped traffic.

Mike Stalnaker, a driver very familiar with Bronson Motor Speedway, was involved in a lap 2 mishap that damaged a left rear rotor that glowed bright orange the entire race; his crew were surprised he didn't have the tire go down.

Veteran FASCAR drivers Jerry Symons from New Smyrna and Skip Honaker of Titusville were part of the 23 car starting field of top flight open wheel racers. After the race, Symons responded to queries about him making the trip to Bronson, "All it takes is $3,000 to win. You could have a $3,000 to win race out there in that parking lot and I'd be there."

Tate Pierce's dominating performance aside, the race was everything it promised to be, and was a fitting memorial to one of the icons in Bronson Motor Speedway's history. Robbie Cooper, Kevin Durdin and his father, along with new owner of BMS Tony Parker and others spoke of the legendary 'Grouch' Myers during the pre-race festivities.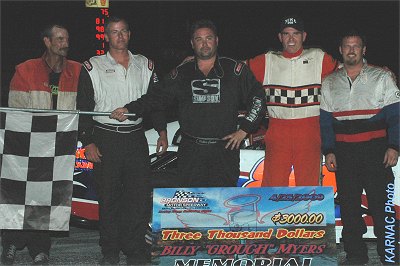 The unofficial top five were: Tate Pierce, Robbie Cooper, Sean McLaughlin, Wayne Jefferson and Alan McCafferty.

Fans also got to see a pretty good Pure Stock race. The 50 lap feature was won by Tommy Smith. Brother Richie Smith took second but was disqualified in post race inspections, according to L.F. "Smitty" Smith who was the tech inspector for the night. Unofficially Bill Ryan, driving the #33 Pure Stock, moved up to take second place money and #42 Steve Hise took third.

All in all Tony Parker's first big race of 2009, drawing fans, drivers and media from nearly every part of Florida was a huge success. The attendance was excellent, rivaling that of the Crash-A-Rama a few years ago. The operation was smooth, and though there were certainly some minor glitches here and there, most were not visible to the fans and competitors and Florida race fans can be certain Bronson Motor Speedway is in good hands.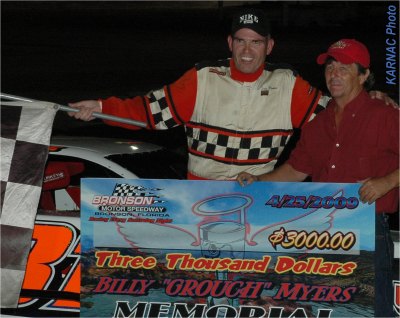 Tate Pierce, Wayne Jefferson and others involved in tonight's race will be guests Monday on Inside Florida Racing, the weekly Internet radio show heard on RealRacinUSA.com 7-9 PM.

Many more photos can be seen next week on RicksDarkRoom.com and also the KARNAC.com photo gallery.

Driver Notes from the 75 lap Modified feature:
#39 Gary Southard was the first casualty of the night. Out on the opening lap with damage from a wreck on the start.
#61 Chet Senogossoff out lap 1 (mechanical)
#19 out out 2 (mechanical)
#k3 out lap 5
#11 out lap 12 (wreck)
#83 out lap 25 (mechanical)
#46 Doug Moff out lap 53 (mechanical)
#42 Richie Smith out lap 69 (mechanical)

Race Results for April 24 & 25 2009
Above It All Roofing,Inc
Billy "Grouch" Myers Memorial
75 Lap Open Wheel Modified
1- 81 Tate Pierce
2- 98 Robby Cooper
3- 99 Sean Mclaughlin
4- 1 Wayne Jefferson
5- 32 Alan McCafferty
6- 01 Curtis Neuman
7- 53 Doug Miller
8- 66 Jerry Symons
9- 0 Troy Robinson
10- 8 Micheal Stalnaker
11- 2 Skip Honaker
12- 121 John carter
13- 1X Chip Owens
14- 42 Richie Smith
15- 46 Doug moff
16- 83 Andrew alderman
17- 11 kyle Owen
18- X3 John Ditges
19- 19 Tommy Schrader
20- 61R Tony Carreno
21- 61B Chet Senokassoff
22- 39 Gary Southard

Sportsman
1- 32 Shelton Bowers
2- 22 Gene Owens
3- 08 William Edwards
4- 76 Jim Higgenbotham
5- 12 Scott Wwilkerson
6- 04 Shane Bastow
7- 02 Arthur Conquest

Street Stock
1- 8 Michael Stalnaker
2- 33 Kyle Peters
3- 58 Larry Welters Jr
4- 08 Jeff Stalnaker Jr
5- 23 Mike Ruff
6- 57 Frank Stromquest
7- 007 Mark Fallows
8- 97 Brent Cooper
9- 44 Todd Roberts
10- 97X Tim Quick
11- 69 Tommy Osburn
12- 28 Brandon Elwood

Above It All Roofing,Inc
50 Lap Pure Stock
1- 24 Tommy Smith
2- 33X Bill Ryan
3- 42 Steve Hise
4- 8 Aaron Welter
5- 0 Steve Stindurf
6- 5 James Peters
7- 53 Eric Gellman
8- 33 Juan Montalvo
9- 22 Bryan Wheeler
10- 30 Tom McKay
11- 55W Donald Winne
12- 5W Naughn Woodall
13- 71 Jackson Nay
14- 34 Darrell Demonbreun
15- 63 Cotee Clark
16- 56R Jonathan Appleby
17- 85 Larry Welters Sr
18- 118 Chris Watson
19- 58 Larry Welters
20- 7 Jay Wittoth
21- 68 Drew Matissek
22- 44 Tommy Roberts

Figure 8 Race
1- 58 Larry Welter Jr
2- 8 Aaron Welter
3- 85 Larry Welter Sr
4- 44 Todd Roberts
5- 56R Jonathan Appleby
6- 85R Morris Richardson
7- 33 Juan Montalvo

Hornets
1- 09 William O'Quinn
2- 69 Tommy Ausburn Jr
3- 3K Katie Paugh
4- 25 Dustin Hughs
5- 7 Robert Edwards
6- 18 Gerardo Garcia
7- 3X Kyle Pendarvis
8- 11 Dustin Edwards
9- 20 Wade Parker
10- 33 T.J. Mcginnes
11- 88 Travis Newsom


Have an opinion on this story? Post a message on The Real Racin USA Florida Fan Message Board! or Email KARNACto send a letter to the editor!
---