"I'm noticing a turn of the tide on racing Web sites like Florida's Karnac.com, the gathering place for the most dedicated race fans in the state."

-Orlando Sentinel
IT'S TIME TO RACE!!
Mark Whitner Wins Thriller at East Alabama
UDLMCS Media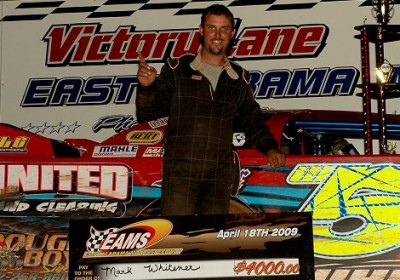 Mark Whitener successfully defended his title at EAMS in the 2nd Annual Alabama Clash. Starting from the outside pole Whitener held off charges from Travis Pennington and Keith Nosbisch to win the 50 lap $4000 feature event.

Mark Whitener and Travis Pennington rode the highline around the fast 3/8 mile speedway in Phenix City, Al. running one-two in the early going. Pennington started 4th and stormed to the second spot by lap 11.

Pennington aggressively went after Whitener on the restarts, but Nosbisch battled hard with Pennington for the 2nd spot, taking the heat off Whitener for much of the race.

Nosbisch and Pennington got together late in the race, Nosbisch being sent to the rear, and then leaving the track for the night. Nosbisch broke a rotor and suffered an injury to his hand in the incident.

In the closing laps, Pennington tried hard, running a high line and then low, but could not catch Whitener.

Johnny Collins was forced to go to a backup car and was able to hang in for a fifth place finish. Only eleven cars completed the 50 laps.

A pit official was knocked down by tire off Bedenbaugh's machine on lap 18, bringing out a red flag at lap 17.

Top five: Whitener, Pennington, Johnson, Eiland, Collins.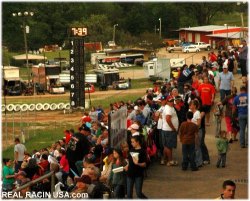 A huge crowd greeted the drivers of the United Dirt Late Models at the East Alabama Motor Speedway, certainly one of the finest facilities in the southern states.

Jason Fitzgerald's top ten finish will likely move him to the top of the leader board for the 2009 Championship points chase. The points standings are updated on Tuesday following each race.

Kevin Durden, one of the most versatile racers in Florida history, finished 11th place in his second UDLMCS start.

Jordy Nipper had a great night evaporate late in the race, while running in the top five, had to leave with his car too damaged to continue.

FINISHING ORDER
1. 5w Mark Whitener
2. 95.3 Travis Pennington -Fast Qualifier
3. 45 Dewayne Johnson
4. K9 Dana Eiland
5. 27H Johnny Collins - Hard Charger started 23rd
6. 46 Darrell Padgett
7. 7f Jason Fitzgerald
8. 2 Randy Hester
9. 7N Terrance Nowell
10. 14 Richard Stephens
11. 56 Kevin Durden
12. 1N Jordy Nipper
13. 101 Keith Nosbisch
14. 6K Kyle Bridges
15. 99.3 Larry Eldrige
16. P2 J. R. Mosley
17. 41 Mike Parkerson
18. 11 Steven Roberts
19. 6 Clay Bedenbaugh
20. 27 Larry Harrod
21. 26 Dillon Wood
22. 00b Russell Brown Jr.
23. 32 Phillip Cobb
24. 96 Todd Darda
25. 110 Ricky Culpepper


More Race Notes:

The top seven cars in qualifying locked into the feature:
1. 95.3 Travis Pennington
2. 1N Jordy Nipper
3. 46 Darrell Padgett
4. 5w Mark Whitener
5. K9 Dana Eiland
6. 101 Keith Nosbisch
7. 45 Dewayne Johnson

The top five cars in each B main move on to the feature.

B MAIN RESULTS
Dough Boy B-Main One
1.14 Richard Stephens
2.27 Larry Harrod
3.26 Dillon Wood
4.2 Ralph Hester
5.96 Todd Darda
6.40 Marvin Cook
7.90 Bobby Thomas
8.00b Russell Brown Jr.


Dough Boy B-Main Two
1.99.3 Larry Eldrige
2.6 Clay Bedenbaugh
3.6K Kyle Bridges
4.41 Mike Parkerson
5.P2 J. R. Mosley
6.5c Johnny Collins
7.613 Marty Beckwith
8.J1 Jay Johnson


Dough Boy B-Main Three
1.7N Terrance Nowell
2.11 Steven Roberts
3.7f Jason Fitzgerald
4.56 Kevin Durden
5.110 Ricky Culpepper
6.107 Chaz Haskins
7.32 Phillip Cobb

Johnny Collins and Russell Brown Jr. are granted points provisionals and will be in the feature. Phillip Cobb was also given a provisional.



Have an opinion on this story? Post a message on The Real Racin USA Florida Fan Message Board! or Email KARNACto send a letter to the editor!
---