Sprints Rule at Volusia Speedway Park Saturday Night
by Jane Smith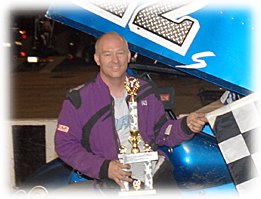 Barberville, FL (April 18, 2009) With almost fifty sprints in the pits at Volusia Speedway Park, it was literally raining sprints Saturday night between the Top Gun Sprint Car Series and the Florida Mini Sprints. Everywhere you looked, there was a sprint and the fans loved it as the stands showed just how much sprint cars are loved in Central Florida.

The new Top Gun Sprints, under the direction of Don Rehm, made their first appearance in the 2009 race season for their second race of the season. With twenty five in the pits, they topped the fifteen that were at Ocala back in March.

Tony Knowles, Tony Agin and Terry Witherspoon took the heat wins but it was Rick Byerly who was suppose to be on the pole for their feature race but decided to start in the rear instead turning the pole position over to Terry Witherspoon. But it was a very short green as Mark Ruel, Jr. and Rocky Sullivan got together coming off four and brought out the yellow. Ruel was able to be refired and rejoin the field but the same cannot be said for Sullivan who had severe damage to the front end of his sprint. Sullivan saw his night come to an end before it even began.

Once again Witherspoon took the pole position for the second start and quickly jumped to the point over Matt Kurtz, Mike Schroeder, Ryan Partin, and Tony Agin. Kurtz wasted no time taking over the number one position as Witherspoon settled for second. Kurtz was flying and quickly built a 20 car lead over Witherspoon in second when the caution came out on lap 10 for A.J. Maddox who had problems in turn 2. The field was realigned and the green was out again.

Kurtz once again took the point follwed by Witherspoon, Schroeder, Partin, and Agin. Otto Scrape put the heat on Agin and took over fifth as Agin went to sixth followed by Tony Knowles, Rusty Sullivan, Gene Machuga, and T.W. Parkinson. By lap 19, Scrape had taken over fourth as Schroeder settled for fifth. Suddenly, on lap 22 while running fourth, Scrape stops dead still on the frontstretch. As the crowd watches Scrape, the man who had lead for almost the entire race retired his ride to the pits and also was done for the night. Matt Kurtz was off the track and in the pits.

After leading twenty one of the twenty two laps on the books, Kurtz is out and the new leader is Terry Witherspoon. Five cars are left on the lead lap as Witherspoon takes the point followed by Ryan Partin, Tony Agin, Troy Knowles, and Mike Schroeder. Partin takes the checkered and wins the first of two races at Volusia Speedway Park for the Top Gun Sprint Car Series.

Twenty two Modifieds were in the field for their 20 lap feature race. Jason Davis, Greg Vandergriff, and Jamie Carter took the heat wins but it was Charlie Macnichol on the pole for the feature. On the green, Dale Murray quickly took the point over Jamie Carter, Cody Blair, Alan Thomas, and Macnichol. But by lap 2, Jamie had taken the point from Murray with Jason Davis in fourth followed by Thomas. Underwood begins to show his power as he comes into fifth as Thomas settles into sixth.

Lap 9 saw the caution come out for Greg Vandergriff who found himself against the turn 1 wall. Also going into the pits after having an excellent start was Jamie Carter who retired his ride also. On the restart it is Murray on the inside, Blair on the outside as the green flag waves. Murray quickly takes the point over Underwood, Davis, Blair and Kent Corbin, who is making his second appearance in the OK Modified. Jimmy Carter puts pressure on Corbin and takes over fifth as Corbin settles into sixth.

Tim Smith brings out the caution on lap 11 when his modified suddenly turns right and into the turn 4 wall. It is a single file restart as Murray takes the point over Underwood, Davis, Blair, and Carter. Underwood passes Murray and takes over the point as Jason Davis has problems and takes his ride into the pits, done for the night.

Darron Smith brings out the next caution on lap 14 as he spins. Nick Kirkus and Randy Hecker both have problems and take their rides into the pits also done for the night while the field is under caution. Underwood quickly takes the point on the restart followed by Murray, Blair, Carter and Corbin. But it is another quick green as Jacob Buie has spun at the bottom of turn 4. Buie is able to refire his machine and rejoins the field in the rear for the restart.

Once again Underwood takes the point on the restart followed by Murray, Carter, Blair, and Corbin. Davis, who tried to rejoin the field, once again takes his ride off the track and back into the pits on lap 17. James Smith passes Corbin for fifth as Corbin settles into sixth. Underwood takes the checkered for his first feature win in 2009 followed by Dale Murray, Jimmy Carter, Cody Blair and James Smith.

Twenty two Florida Mini Sprints took the green for their feature race with heat winners Eddie Moss and Jesse Teed. Harold Matthews had the pole for the feature and took the point over Russ Heider, Eddie Moss, Jesse Teed, and Leroy Moore. The caution comes out on lap 4 for Eddie Moss who spun in turn 2. Stopped on the track is Kevin McCaleb. Both cars are pushed into the pits and done for the night.

Matthews once again takes the point on the restart followed by Heider, Teed, Leroy Moore, and David Pleaugh. Teed passes Heider for second as Heider settles for third. Pleaugh challenges Moore for fourth and taks it as Moore goes to fifth. The caution comes out on lap 9 for Ken Penta who is off the pace in turn 1. Chris Pacetti and Scott Greene get together under caution as Greene is done for the night. Pacetti goes off the track to talk to track officials as Teed takes his ride into the pits with a problem. All three are done for the night.

There are a few heated moments in the pits between Greene and Pacetti but security quickly has it stopped. Normally the Florida Mini Sprints are a quiet group but tonight, things got alittle heated.

Matthews once again has the point on the restart followed by Heider, David Pleaugh gives the crowd a thrill as his machine comes off the ground on the restart and does some wheel hopping. Pleaugh is able to gather it back up but loses spots doing it. Matthews leads the way but on lap 11 has problems and brings out the caution with a dead car on the backstretch. Sometimes it just does not pay to lead the race. Matthews is pushed into the pits and also done for the night.

New leader Russ Heider takes the point on the restart followed by Tim O'Donnell, Leroy Moore, David Pleaugh, and Eddie Moss, Jr. Russ Heider takes the checkered for his first feature win in three and one half years followed by Tim O'Donnell, David Pleaugh, Leory Moore, and Steve Crabtree. Heider does some backflips down the frontstretch giving the crowd a thrill as he tells everyone that when he won his last race three and one half years ago, he proposed to his girlfriend on the frontstretch. His wife then joined him in Victory Lane. A very happy winner in deed.

Fourteen Mini Stocks took the green for the feature for their $500 to win purse. Unable to start the feature were Josh Intoppo and Jim Nichols. Dan Kerr and Travis Staata took the heat wins. Jason Intoppo had the pole for the feature and quickly took the pont over Nick Kerr, Richard Keith, Danny Vogel, Jr., and Blake Spencer. Vogel puts the heat on and takes over second as Charlie Staats takes over fifth.

By lap 2, Vogel has the point followed by Intoppo, Spencer, Charlie Staats, and Travis Staats, Lap 6 sees Spencer look to pass Intoppo but Intoppo shuts the door and keeps Spencer in third. Travis Staats finds his hands full of Dan Kerr who is going side-by-side with Travis for fifth. Kerr makes the pass and takes over fifth as Travis goes to sixth. Lap 8 sees the caution come out for Richard Keith.

Vogel is on the inside, Intoppo on the outside for the restart. Vogel gets the jump and takes the point followed by Intoppo, Charlie Staats, Dan Kerr, and Travis Staats. Just as things are heating up, the caution comes out on lap 13 for Paul Shumway who has gotten some frontend damage in turn 2. Shumway takes his ride to the pits for a quick stop and comes back out for the restart, joining the field in the rear.

Vogel once again takes the point followed by Intoppo, Charlie Staatsw, Dan Kerr, and Travis Staats. By lap 16, By lap 16, Blake Spencer has made his way into fourth as Kerr goes to sixth. Charlie Staats puts heat on Intoppo but gets very loose and must let off to correct his squirrelly ride giving his son Travis the opportunity to move into third as Charlie settles into fifth.

Just as they are coming to the white flag, Nick Kerr goes up in smoke as Blake Spencer retires his ride to the pits. Vogel takes the checkered winning the $500.00 and getting his first feature win in the Mini Stocks for 2009 followed by Jason Intoppo, Travis Staats, Dan Kerr, and Charlie Staats.

After the Mini Stock feature, a few drivers and crew members got overheated in the pits and won't be happy when they get their suspension letters and fines. Needless to say, the pits became a small bullring for a few minutes there.

Completing the program for the night were the 4 Cyl Challengers with a small field for the night of only thirteen cars. Tony Laporta, who won the Gladiator feature the night before at Ocala Speedway, and Danny Lunn took the heat wins. Gilford Williams had the pole for their feature but it was the 5s of Thomas Parker who took the point on the green followed by Williams, Dalton Strehle, Rusty Robinson, and Danny Lunn.

Williams is shuffled backwards as Strehle takes over second followed by RJ Glaser, Robinson, and Lunn. Lunn puts the pressure on and takes over third as Glaser goes back to fifth. Lunn passes Strehle taking over second as Laporta is coming up fast and passes enough cars to take over third as Strehle goes to fourth followed by Robinson. Lunn puts pressure on Parker and takes over the point as Parker goes to second. But Parker never had a chance with Laporta right behind him. Laporta passes Parker for second and sets his eyes on Lunn in first.

After having a nice run thus far, Rusty Robinson must retire his ride to the pits as it is smoking badly. This gives Glaser fifth. Lap 8 Lunn is still holding off Laporta for the point followed by Parker, Strehle, and Gilbert Espy. Lunn is doing everything he possibly can to hold off Laporta but by lap 13, Laporta has the point as once again Lunn settles for second. With no further cautions, it is Tony Laporta for his sixth win of the season followed by Danny Lunn, Thomas Parker, RJ Glaser, and Dalton Strehle.

Next Saturday night, April 25, take a trip down Memory Lane when the Daytona Antqiue Auto Racing Association celebrates their 25th Anniversary at Volusia Speedway Park and the Southern Vintage Series provides some "old-fashioned" racing excitement plus the Daytona Dodge Chrysler Late Models, Taylor Racing Products Sportsman, UMP DIRTcar Street Stocks, Thunder Stocks and the Aerotec Aluminum 4 Cyl Challengers. The Modifieds will have the night off.

Fans who dress in their 50's to 70's best, will get in for only $7.00. PLUS a very special visit from the King of Rock and Roll - Elvis. Yes, Elvis will be joining us for a few tunes next Saturday night and some "Love Me Tender" moments.

OFFICIAL RESULTS
VOLUSIA SPEEDWAY PARK
APRIL 18, 2009

TOP GUN SPRINT CAR SERIES

1. #22 Terry Witherspoon
2. #14 Ryan Partin
3. #38 Tony Agin
4. #27x Troy Knowles
5. #6 Mike Schroeder
6. #43 Gene Machuga
7. #51 Rusty Sullivan
8. #56 Allen Kaluzniak
9. #04 T.W. Parkinson
10. #83A Christine Auld
11. #92 Matt Kurtz
12. #W3 Otto Scrape
13. #77 Larry Pickett
14. #0 Phillip Pettay
15. #27 Dan Pickett
16. #3X AJ Maddox
17. #00 Mike Leacock
18. #50 Rick Byerly
19. #17 Mark Chicca
20. #66 Wes Scrape
21. #47B Alexis Beagle
22. #15 Rocky Sullivan
23. #8 Rich Alexander
24. #01 Gene Lasker DNS
25. #83 Mark Ruel, Jr. DNS

MODIFIED

1. #77 Rob Underwood
2. #66 Dale Murray
3. #75 Jimmy Carter
4. #81 Cody Blair
5. #40 James Smith
6. #OK Kent Corbin
7. #F90 Alan Thomas
8. #11 Charlie Macnichol
9. #19T Keith Briggs
10. #41D Darron Smith
11. #5K Tim Smith
12. #57P Zach Permann
13. #77A Wayne Allen, Jr.
14. #74 Jacob Buie
15. #8 Rick Scott
16. #145 Jason Davis
17. #410 Nick Kirkus
18. #21H Randy Hecker
19. #15X Jamie Carter
20. #101 Greg Vandergriff
21. #Z06 Larry Mott
22. #21 Jerry Morgan DNS

FLORIDA MINI SPRINTS

1. #86 Russ Heider
2. #28 Tim O'Donnell
3. #711 David Pleaugh
4. #99 Leroy Moore
5. #5 Steve Crabtree
6. #8 Eddie Moss, Jr.
7. #11 Brett O'Donnell
8. #15 Pauyl Lanza
9. #14 Brian Penrose
10. #11x Eric Garey
11. #6 Walter Arnold
12. #25 Harold Matthews
13. #7 Jesse Teed
14. #24 Ken Penta
15. #83 Martin Koives
16. #18 Jody McKenzie
17. #1m Eddie Moss
18. #39 Kevin McCaleb
19. #88 Lenny Dollron
20. #16 Chris Pacetti DQ'D
21. #19 Scott Greene DQ'D
22. #77 Matt Lewis DNS

MINI STOCK

1. #99 Danny Vogel, Jr.
2. #18 Jason Intoppo
3. #1AR Travis Staats
4. #73 Dan Kerr
5. #9AR Charlie Staats
6. #37 Stanton Mills
7. #3 D.J. Nobles
8. #311 Paul Shumway
9. #73X Eddie Johnson
10. #82X Blake Spencer
11. #88 Rodney Alexander
12. #75 Nick Kerr
13. #25K Richard Keith
14. #00 Lance Lee
15. #16 Josh Intoppo DNS
16. #23 Jim Nichols DNS

4 CYL CHALLENGERS

1. #3T Tony Laporta (6th win of the season)
2. #39.5 Danny Lunn
3. #5S Thomas Parker
4. #004 RJ Glaser
5. #42 Dalton Strehle
6. #6E Gilbert Epsy
7. #01 Davey Wolf
8. #58 C.J. Johnston
9. #B12 Brian Smith (truck)
10. #73 Rusty Robinson
11. #75 Gilford Williams
12. #4 Deidra Fontaine DNS
13. #15 William Buell DNS



Have an opinion on this story? Post a message on The Real Racin USA Florida Fan Message Board! or Email KARNACto send a letter to the editor!
---