"I'm noticing a turn of the tide on racing Web sites like Florida's Karnac.com, the gathering place for the most dedicated race fans in the state."

-Orlando Sentinel
IT'S TIME TO RACE!!
Jeff Mathews Continues Winning in 2009
by BJ Cavin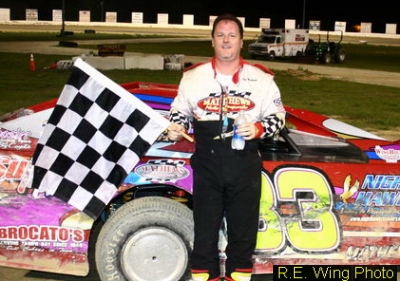 ZUBER,FL- For the second week in a row, nearly perfect weather conditions greeted the racers and fans at Ocala speedway on Friday night. But this week had been far drier than the previous one, which led to a racing surface that was smooth and fast, and plenty of exciting racing action in four divisions.

The Open Wheel Modifieds finally got to race for points in 2009, as their initial points race was postponed by rain earlier in the season. Dave Barber Jr. had stepped up and won the initial race held the second week of the season, but that was a non points event. This time Barber was back and hunting for the points that go with the first place trophy but he would have to contend with some heavy hitters in order to get to Victory Lane. Barber handily won his heat race as did Jeff Mathews, so naturally the fans assumed that the feature event would settle the question as to which racer had the car to beat.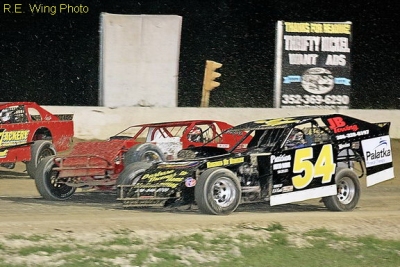 But neither Mathews nor Barber counted on a very tough race from Kyle Owen, who struggled a bit in the earlier heat races. Owen started from the pole and managed to hold off all contenders for 17 laps of hard racing. Meanwhile, Jeff Mathews and Dave Barber were picking their way forward, and soon were on Owens' tail. Mathews took his time sizing up his enemy, and when Owens slipped up the track just a bit in turn one Mathews pounced. The 33 car rocketed under the 2 and forced Owens higher, then Mathews took nearly a lap to finally put Owens' car behind him and take control. Jeff Mathews' move was the cue for Dave Barber to pounce as well, and he immediately attacked Kyle Owens for the second spot. But Barber got a tad too aggressive in turn two and lost it, spinning into the infield on the final lap.

LISTEN TO RECENT JEFF MATHEWS INTERVIEW ON INSIDE FLORIDA RACING

Jeff Mathews claimed the win and mentioned Kyle Owens racing skills in Victory Lane. Owens went to the pits with the second place finish, while Gary Sexton fought his way to third. Tiny Green managed a good showing with a fourth place finish, while Dave Barber recovered fast enough from his mishap to wind up fifth.

The Hobby Stocks provided an exciting race as Bubba Christian and Kevin Durden waged a 20 lap battle that wowed the crowd. David Kinsey also ran well in the top three, but his car developed handling issues that kept him from seriously challenging the front two. Despite Bubba Christian's best efforts, he never found a way to get past the 35 car and Kevin Durden finished first. And Durden praised Christian in Victory Lane, commenting that Bubba had raced him cleanly instead of playing dirty in an attempt to win. David Kinsey hung on to finish third, followed by Mike Eubanks and Marlon Durbin for fourth and fifth.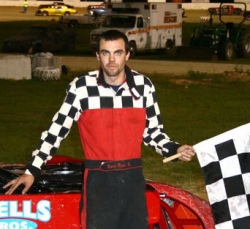 A new face emerged from a Mini Stock in Victory Lane as Danny Vogel Jr. vaulted into the lead on the first lap and never looked back. Meanwhile there was plenty of hard racing behind him, and that is what allowed Vogel to get away form everyone else as he did. As Paul Combast, Sean Babcock, and Greg Bonygne mixed it up over the next three positions, Vogel put a country mile between himself and the rest of the pack. Combast would free himself from the challengers and attempt to catch Vogel, but distance and the lack of a caution flag proved to be too much of a barrier to overcome. despite Combast obviously running faster laps and closing the gap to some extent.

Danny Vogel Jr. was the race winner, with Paul Combast finishing second. Sean Babcock claimed third place and Greg Bonynge placed fourth. Johnny Zackery raced to a fifth place finish to round out the top five.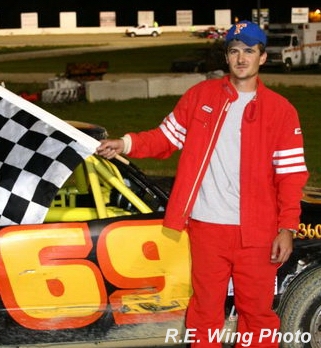 Gladiator action featured Eddie Lentz taking an early lead and dominating the field to capture a victory. Paul Hahn was in the hunt and finished second, but a mishap in practice that sent him into the turn four wall may have done enough damage that the handling was a bit off on the 78 machine. James McCloud drove his 10 car to a third place finish and first timer Austin Gamble never gave up to finish fourth. Twelve year old Kody Fisher also wound up in the top five.


Ocala Speedway Results for 4/10/09

Open Wheel modified
1- 33 Jeff Mathews
2- 2 Kyle Owen
3- 41 Gary Sexton
4- 54 Tiny Greene
5- 56 Dave Barber Jr.
6- 12 Chip "Hollywood" Owen
7- 0 Richard Dickinson
8- 74B Jacob Buie
9- Z06 Larry Mott
10- 90 Mark Buie
11- 74 Chuck Adkins
12- 19T Keith Briggs
DNS- 27 John Bradley
DNS- 5 Tim Smith
DNS- Z Tim Zackery
DNS- 9L Brian Morgan
DNS- 00 L Chris Littrell

Hobby Stock
1- 35 Kevin Durden
2- 04 Bubba Christian
3- XX David Kinsey
4- 18E Mike Eubanks
5- 72 Marlon Durbin
6- 83 Joe Boyd
7- 23 Glenn Baum
8- 08 William Edwards
9- 13E James Edwards
10- 35W David Walls
11- 13 Johnathan Appleby

Mini Stock
1- 99 Danny Vogel Jr.
2- 19C Paul Combast
3- 9B Sean Babcock
4- 44 Greg Bonynge
5- 11Z Johnny Zackery
6- 59 William Stalnaker
7- 02 Jon Layerd
8- 14 Frank Prouty
9- 40M David Miller
10- 26 Kristopher Prouty
11- 82 Blake Spencer

Gladiator
1- 69 Eddie Lentz
2- 78 Paul Hahn
3- 10 James McCloud
4- 23 Austin Gamble
5- 83 Kody Fisher
DNS- 57 Rich Smith



Have an opinion on this story? Post a message on The Real Racin USA Florida Fan Message Board! or Email KARNACto send a letter to the editor!
---