Florida's Top Female Driver Makes History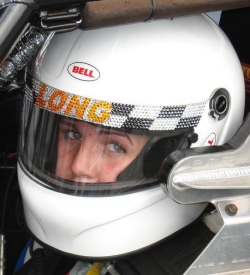 Five Flags Speedway - Johanna Long quickly topped the amazing feat of winning the Pro Late Model points title last year at Five Flags Speedway.

She took the lead with 19 laps left and became the first woman to win a Blizzard Series race on Friday. Long, a teenager from Pensacola, becomes the second woman to win a Super Late Model race at the track after Tammy Jo Kirk won the 1994 Snowball Derby.

"I am just shocked," Long said in Victory Lane, surrounded by well-wishers as the crowd roared its approval. "I watched my dad (Donald Long) race all these years and I wanted to do it too, but I never thought I would win a race this big this quick."

Few others are shocked.

"She's just a natural," said her crew chief, Freddy Query, a longtime Snowball Derby driver. "I just kept telling her, save your tires."

Long started third and stayed near the front the entire race. She took the lead from polesitter Casey Smith on Lap 60, but three laps later pitted for fresh tires during a caution.

She came out in third place behind leader Augie Grill and Ryan Lawler, the Kyle Busch car driver, both of whom had pitted earlier in the race. It took her about 12 laps to catch Lawler for second place. Just one lap later, Grill unexpectedly slowed in Turn 3 and Long dove underneath to grab the lead.

She steadily pulled away from there.
"That's the best race car I've ever had," she said. "Those last five laps all those lapped cars kept coming up."

Bubba Pollard finished second, while Ryan Sieg was third, Lawler fourth and Ryan Crane fifth.

Long's father, Donald, didn't fare as well. His race ended on Lap 38 when his throttle stuck and he hit the wall in Turn 3, finishing 23rd.

Smith easily set a track record in qualifying since the grinding of the track in the off-season has led to a faster track. But his tires began to fade and Long eventually caught him 60 laps in.

"He definitely had the faster car early on," Long said. "But when his tires went, that's all I needed."

Stanley Smith hit the wall in Turn 1 on Lap 5 to trigger a multi-car pileup of several cars in the back of the pack.

On the restart, it was basically single-file racing with no changes among the top five until the caution came out on Lap 33 for debris.

Grill, running fourth, was the only car among the leaders to pit for fresh tires. Eddie Mercer also pitted.

The fifth caution came out just three laps later when Wayne Niedecken Jr., running fifth, was spun out in Turn 2.

The red flag came out two laps later for a big pileup. Smith went low, trying to pass the lapped car of Roger Reuse, who spun and took out several drivers. Smith's car suffered some damage and he had to pit.

That set up the final shootout that propelled Long to a big victory.

Five drivers topped the previous mark of 16.80 seconds set by Mercer.

Billy Hoover started on the pole and led all 20 laps to take his second Sportsman feature win in three races this season.

William Kitchen tried to challenge him on a restart following a Lap 5 caution when Shanna Ard's motor quit.

But Hoover held off Kitchen and pulled away.

"It was a lot of fun," Hoover said. "I can't wait to race side-by-side with the others."

Kitchen finished second after Stevie Mercer's car was disqualified. Jim Pokrant finished third, while Randy Thompson was fourth.

John Shuffler won the Super Stock feature, while Tommy Rollins was second and Randy Thompson third.

Mike Kitchen won his third consecutive Bomber feature, leading all 15 laps. William Goulet was second and Jonathan Day third


Blizzard Series – 1. Johanna Long; 2. Bubba Pollard; 3. Ryan Sieg; 4. Ryan Lawler; 5. Ryan Crane; 6. David Rogers; 7. Casey Smith; 8. Augie Grill; 9. Cecil Chunn; 10. Josh Hamner; 11. Scott Carlson; 12. Eddie Mercer; 13. Ken McFarland; 14. Hunter Robbins; 15. Wayne Niedecken Jr.; 16. Danny Bagwell; 17. Tim Martin; 18. Matt Smith; 19. Mitch Cobb; 20. Korey Ruble; 21. Roger Reuse; 22. John Bolen; 23. Donald Long; 24. Stanley Smith; 25. Chris Davidson; 26. Jeremy Colangelo; 27. Steven Davis; 28. Rocky Boyd Sr.

Sportsman feature – 1. Billy Hoover; 2. William Kitchen; 3. Jim Pokrant; 4. Randy Thompson; 5. Tina Davidson; 6. Steve Buttrick; 7. Bubba Winslow; 8. Chris Pike; 9. Dale Peaden; 10. Thomas Warren Jr.; 11. Marty White; 12. Wayne Morgan; 13. Sean Slye; 14. Freddie McCall; 15. Wayne Burkett; 16. Shanna Ard

Super Stock feature – 1. John Shuffler; 2. Tommy Rollins; 3. Randy Thompson; 4. Howard Langham; 5. Mike Moore; 6. Shannon Jackson; 7. Greg Young; 8. Earl Polk

Bomber feature – 1. Michael Kitchen; 2. William Goulet; 3. Jonathan Day; 4. Pete Kitchen; 5. Tim Holland; 6. James Beal; 7. Michael Nelson; 8. Sam Mellema; 9. Eddie Hobbs; 10. Daryl Lynchard; 11. Dayton Sidner; 12. Jay Jay Day; 13. Bo Hancock; 14. Timothy Hendrix; 15. Rick Thompson; 16. Kody Grimes; 17. Mike Goraum; 18. Rick Grimes; 19. Devron Brooks; 20. Tim Norman

Have an opinion on this story? Post a message on The Real Racin USA Florida Fan Message Board! or Email KARNACto send a letter to the editor!
---