"I'm noticing a turn of the tide on racing Web sites like Florida's Karnac.com, the gathering place for the most dedicated race fans in the state."

-Orlando Sentinel
IT'S TIME TO RACE!!
Mini Stocks Warm Up For the Curry Roofing 100
by Larry MacMillan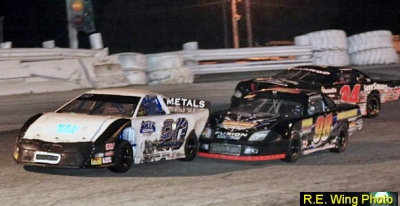 The Mini Stocks used their 5th race of the season to tune up for next week's Curry Roofing 100 that will probably see twice the number of cars making a run for the big money.

Twenty one cars took the green flag for a 20 lap feature with the heavy hitters starting in the back of the pack. David Mothershed took the early lead off the pole which lasted for just a few laps before Travis Hoefler shot from 3rd to the lead when Mothershed went wide and opened the door to the point.

Meanwhile Robbie Yoakam ran into mechanical trouble early and fell out of the race falling from the points lead to fourth with his first DNF of the season. James Ellis chased Hoefler right up to the final couple of laps before snatching the win away for his first of the year followed by Hoefler.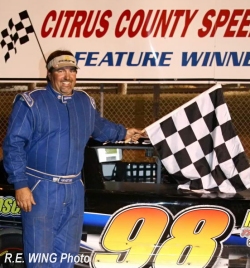 20th starter Clint Foley made his way through heavy traffic to finish third after winning last week. Rounding out the top five were Chris Hooker in his first race of the year followed by Mike Lawhorn who also won his heat and has looked strong all season in his new ride.

Rick Sirmans won his heat and ran into mechanical problems for a DNF in the feature.

The economic conditions are hitting us all and it is showing in a big way in the high dollar Super Late Model division with short fields showing for big purse races. The invitation was out to the best in Florida this weekend for a 75 lap Late Model race, paying big money and only ten cars showed up.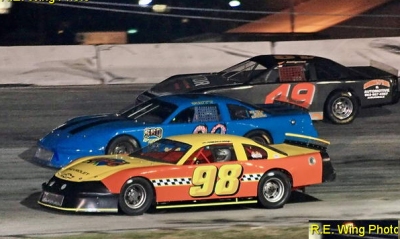 There are plenty of Late Models out there but making the trip to Citrus County Speedway, buying tires and fuel, plus the wear and tear on those very expensive engines apparently is just not enough incentive to attract even the big money racers.

Despite the short field the second season race for the Super Late Models turned out to be very exciting with the top four finishers making the show. Herb Neumann kicked off the night with fast qualifying time of 13.803 seconds followed by former record holder Scott Grossenbacher just 2/100ths of a second off Neumann's pace at 13.823 seconds.

Kyle Maynard made his first trip to Citrus payoff winning the pole position with John Gerstner on the outside lane when the green flag flew Gerstner won the race into turn 1 and 2 followed by Maynard, Dale Sanders, Grossenbacher and Neumann. Gerstner started off strong but ran into handling problems early relinquishing his lead to Maynard. Scott Grossenbacher and Herb Neumann managed to use the outside groove to their advantage to get around the traffic.

By lap 25 Grossenbacher and Neumann were on the point in a nose to tail run that lasted until lap 50 when Neumann flexed his horsepower, got under Grossenbacher and they spent the next 8 laps side by side, swapping the lead several times before a caution came out.

This set up a restart with Neumann in the lead and Grossenbacher saving whatever he had left for the final 10 laps.

Meanwhile Dale Sanders and Kyle Maynard were in a side by side battle for third well behind the leaders. Sanders took the spot away from Maynard for about ten laps before his tires started going away in the final five laps.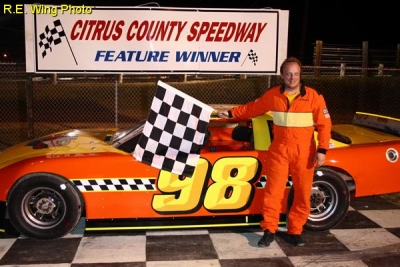 When the checkers flew Neumann chalked up his second 75 lap win of the season followed by Scott Grossenbacher, Kyle Maynard, Dale Sanders and John Gerstner who finished one lap down.

Richie Smith pulled another last to first feature run in Street Stock action with a 15 car field taking the green. Jay Witfoth looked like he was on his way to his second win of the season right from the start before he got caught up in five car crash that left him limping to the finish from the back end of the field. David Foster managed to come from 14th to the lead before Ritchie managed to make his way through the slower traffic to over take him before the caution came out for the big wreck. When the dust settled and the checkers came out Richie Smith logged his 2nd win of the season followed by David Foster, Hall Robertson, Tom Potts and Jay Witfoth rounding out the top five. Heat wins went to Witfoth and Mark Fallows.

Pure Stocks were back in action after a four week break for the fair and not on the card for the restart of the season last week. Tommy Smith is batting 750 after launching from 15th of 17 starters to take his third win out of four races and tops the points' race in the early going. Curtis Flanagan moved from his 14th starting spot to take the checkered flag but was disqualified in post race inspection in what was another action packed event. Early leader John Drye held out for a second place finish followed by pole sitter Chuck Franklin, Drew Matissek and outside pole sitter Victor Shahid. Smith also won the first heat and Cory Swanston held out for the win in the second heat.

Rounding out the local race card Arden Franklin drove his V8 Thunder Stock from his 15th starting spot and added his 2nd feature win of the season to his rookie resume. Tom McKay, Cody Stickler, Austin Roberts and Scott Werstein locked down the top five spots at the checkers out of the 17 car field.

Mini Cup cars came to Citrus County Speedway with 18 cars and put on a great show. These little NASCAR look alikes chased Brady Marshall's #20 for all 20 laps with Brenton Franklin the only driver that really had anything for him but had to settle for second. Mike Holt took his Jeff Gordon #24 from 15th to third at the checkers followed by Jacob Calloway and Blake Haddock. Heat wins went to Carlos Pinto and Brady Marshall

Topping off the visitors show were the Outlaw Modifieds who brought in a 7 car field. Billy Campbell moved quickly from to the point and the win in their 25 lap feature run. Doug Hopper had a little more trouble getting through traffic from his 6th starting spot but managed to pick up a second place finish after taking the win in their last outing at Citrus. Kevin Campbell locked down third followed by Tom Meyer and heat winner Jon Doucette.

Next Saturday will feature the Mini Stocks in the Curry Roofing 100 plus the Open Wheel Modifieds, Sportsman, Pure Stock, V8 Thunder Stocks, 4 Cylinder Bombers and Figure 8's make their first appearance of the year.

Citrus County Speedway Results 4/4/09

Super Late Model Feature – 75 Laps – 10 Cars

1. #98 Herb Neumann Jr. – 2nd Season Win – Fast Qualifier 13.803 seconds

2. #09 Scott Grossenbacher – San Antonio

3. #127 Kyle Maynard - ?

4. # 1 Dale Sanders – Lecanto

5. #62 John Gerstner – Eustis

Mini Stock Feature – 20 Laps – 21 Cars

1. #98 James Ellis – Brooksville – 1st Season Win

2. #20 Travis Hoefler – Floral City

3. # 7 Clint Foley – Dunnellon

4. # 6 Chris Hooker – Inverness

5. #44 Mike Lawhorn – Claremont

1st Heat Winner - #44 Mike Lawhorn

2nd Heat Winner - #05 Rick Sirmons – St. Petersburg

Street Stock Feature – 20 Laps – 15 Cars

1. #42 Richie Smith – Hernando – 2nd Season Win

2. #91 David Foster – Wildwood

3. #62 Hall Robertson - Oxford

4. #31 Tom Potts – Floral City

5. # 4 Jay Witfoth – Beverly Hills

1st Heat Winner - # 4 Jay Witfoth

2nd Heat Winner - #007 – Mark Fallows – Crystal River

Pure Stock Feature – 20 Laps – 17 Cars

1. #24 Tommy Smith – Hernando – 3rd Season Win

2. #39 John Drye – Inverness

3. # 7 Chuck Franklin – Hernando

4. #68 Drew Matissek – New Port Richey

5. #88 Victor Shahid – Floral City

1st Heat Winner - #24 Tommy Smith

2nd Heat Winner - #92 Cory Swanston – Aripeka

V8 Thunder Stocks Feature – 20 Laps – 17 Cars

1. #7 Arden Franklin – Hernando – 2nd Season Win

2. #30 Tom McKay – Loxahatchee

3. #99 Cody Stickler –

4. #31 Austin Roberts – Inverness

5. #45 Scott Werstein – Belleview

Mini Cup Feature – 20 Laps – 18 Cars

1. #20 Brady Marshall

2. #11 Brenton Franklin

3. #24 Mike Holt

4. #07 Jacob Calloway

5. #23 Blake Haddock

1st Heat Winner – #48 Carlos Pinto

2nd Heat Winner - #20 Brandon Marshall

Outlaw Modified Feature – 25 Laps – 7 Cars

1. #11 Billy Campbell

2. #15 Doug Hopper

3. #19 Kevin Campbell

4. #04 Tom Meyer

5. #63 Jon Doucette


Have an opinion on this story? Post a message on The Real Racin USA Florida Fan Message Board! or Email KARNACto send a letter to the editor!
---