"I'm noticing a turn of the tide on racing Web sites like Florida's Karnac.com, the gathering place for the most dedicated race fans in the state."

-Orlando Sentinel
IT'S TIME TO RACE!!
Four Divisions Provide Fan Excitement At Ocala
by BJ Cavin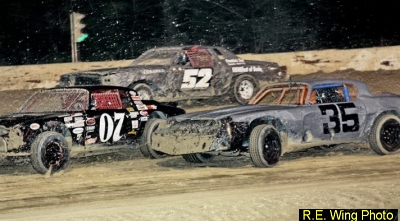 52 Jeff Barrett,07 Ryan Lisak and 35 David Walls battle in V8 Thunder Stocks


ZUBER, FL- Friday dawned to a round of heavy rain that saturated the clay at Ocala Speedway, but by midday the skies had cleared, the sun was shining, and a stiff breeze helped dry out the track.

By the time the racers and fans assembled for racing the track crew had the clay in the best condition possible under the conditions, and the less than perfect surface made for an interesting night of racing action.

A practice mishap resulted in an injury to late model racer Kevin Mills, as a mechanical failure caused the transmission and driveshaft of his car to come apart on the backstretch.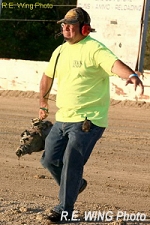 A portion of the debris from that incident penetrated the race car and struck Mills in the elbow and arm, causing a significant injury.

Mills was treated where his car stopped in turn 4 by the Ocala Speedway safety crew, then was transferred via ambulance to Munroe Regional Hospital. He was later transferred again to Ocala Regional Hospital where he was still undergoing surgery at press time.

The rest of the late model field put on quite a show in two heat races and the feature event, with Joe Kump and Dillon wood collecting heat wins. But both of those drivers would fall short in the feature race, which saw Rich Pratt start from the pole.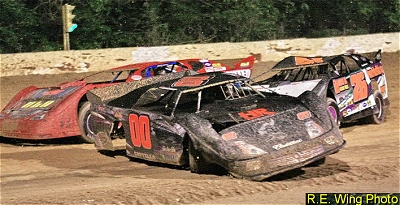 Pratt almost immediately was overtaken by J.O.Nobles and Patrick Williams, and found himself in an ongoing dispute over the fifth place with Joe Kump. Patrick Williams held the second spot and was challenging J.O Nobles for the lead when Mark Whitener began disrupting the action up front with some exciting moves of his own. Whitener picked his way through the top five to steal the lead on lap 8 and never looked back.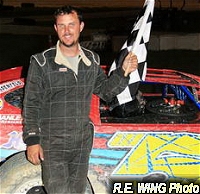 While Mark Whitener collected the win, Dillon Wood managed to make his way forward to finish in the second spot after working quite hard to close a huge gap between himself and Whitener in the final laps. J.O. Nobles would hang in there for the third place finish, while Patrick Williams and Rich Pratt rounded out the top five.

The Mini Stock division saw Kristopher Prouty on the pole as the green flag waved to begin their feature race, and Prouty made it perfectly clear that he was not going to give up the top spot easily.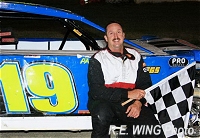 Meanwhile Paul Combast made his way to the second spot and challenged Prouty for the lead, but it was a mechanical issue on the 26 machine that sent Kristopher Prouty to the pits on lap 8 and handed the lead to Combast.

From there Paul Combast took control and grabbed the win, followed by Sean Babcock and Greg Bonynge for second and third. Jon Layerd and Johnny Zackery finished fourth and fifth, respectively.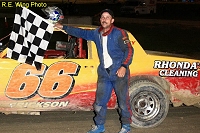 The V8 Thunder Stocks again showed why they are such a popular division at Ocala Speedway as the Erickson father and son team of Harold and James ran first and second through a good portion of the race. But a determined Luke Sadler was also in the mix and not giving an inch to the Ericksons without a fight.

And after all of the fender banging was done it was Harold Erickson who drove to a well deserved win, with Sadler managing a respectable second place finish. Jeff Barrett took advantage of some late race contact between James Erickson and Luke Sadler to grab the third place finish, while James Erickson would place fourth in a battered race car. Mike Dubbs came home as the fifth place finisher.


Heath Walker's night looked promising as he led the Hobby Stocks to the green, but Bubba Christian was lurking within the pack and began a march to the front that did not stop until he had taken the lead for himself. Walker's night would later go horribly wrong as he ended up the victim in a frontstretch fracas which left his car badly broken.

Handling problems limited David Kinsey on the night while Marlon Durbin and Glenn Baum hung around in the top five until the finish.

Bubba Christian took the win followed by Marlon Durbin in the second spot. David Kinsey managed to hang on for the third spot while Glenn Baum looked impressive with a fourth place finish. And after an earlier mishap in turn 4 had sent Joe Boyd to the rear, he responded by clawing his way back to a fifth place finish.

Ocala Speedway will run the first Open Wheel Modified points race of 2009 on Friday, April 10th, as part of the annual Easter Celebration. Racing with the modifieds will be the Hobby Stocks, Mini Stocks, and Gladiators.

Ocala Speedway Results for 4/3/09

Late Model

1- 5W Mark Whitener
2- 26 Dillon Wood
3- 18 J.O.Nobles
4- 38 Patrick Williams
5- 0 Rich Pratt
6- 17 Joe Kump
7- 00 Billy Costello
8- 51 Bobby Clark
9- 16 Wayne Shugart
10- Z Tim Zackery
11- 35 Christian Augspuirger
12- 66 Mike Bresnahan
13- 2 Chris Waldron
14- 11 Kyle Owen
DNS- 16 Eddie Rosier
DNS- X J.R. Riley
DNS- 01 Kevin Mills


Mini Stock
1- 19C Paul Combast
2- 9B Sean Babcock
3- 44 Greg Bonynge
4- 02 John Layerd
5- 11Z Johnny Zackery
6- 40M David Miller
7- 59 William Stalnaker
8- 3D Dean Kinsey
9- 26 Kristopher Prouty
10- 82 Blake Spencer
11- 14 Frank Prouty

V8 Thunder Stock
1- 66 Harold Erickson
2- 15 Luke Sadler
3- 52 Jeff Barrett
4- 7E James Erickson
5- 36 Mike Dubbs
6- 5W Vaughn Woodall
7- 54 Karla Phipps
8- 81 Courtney Eubanks
9- 14 James Sullivan III
10- 7H Charles Howard
11- 3D Jessie Corbitt
12- 01 William Martin
13- 07 Ryan Lisak
14- 17 Jason Gamble
15- 35 David Walls
16- 19 Augie Burtram
17- 72 Terry Dunbar
18- 123 Timothy Eisenhower
19- 2 Jeff Teague
DNS- 47 Chris Fontaine
DNS- 63 Brian Brogan
DNS- 73 Jeff Eisenhower

Hobby Stock
1- 04 Bubba Christian
2- 72 Marlin Durbin
3- 58 David Kinsey
4- 23 Glenn Baum
5- 83 Joe Boyd
6- 44W John Ward
7- 18E Mike Eubanks
8- 08 William Edwards
9- 11 Troy Cox
10- 20 Matthew Holbrock
11- 55 Heath Walker
12- 81 Donald Woosley

Have an opinion on this story? Post a message on The Real Racin USA Florida Fan Message Board! or Email KARNACto send a letter to the editor!
---