Dillon Wood takes Action Packed Late Model Feature at Volusia Speedway Park
by Jane Smith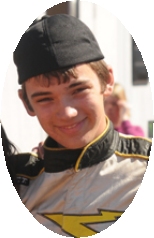 Barberville, FL (April 4, 2009) With 80 cars in four divisions, full stands, and a perfect night for racing, fans had a great time at Volusia Speedway Park's 4 for 44 night. If you weren't one of the lucky ones who were there, you really missed a great night.

Twenty one Sportsman took the green flag with Alan Peacock on the pole for their 20 lap feature. On the green, Peacock quickly took the point over Garrret Stewart, Todd Ponce, Shaun Daugharty and Josh Byrd. It is obvious that Ponce wants that number one spot as he battles Stewart. Ponce and Stewart do some intense racing as they touch on lap 5 sending Stewart backwards in the field as Ponce takes over second.

Lap 8 sees the first caution of the night for Blaise Hetznecker who has a fire under the hood on the backstretch. The safety crew quickly get to Hetznecker's car and extinguish the blaze with Hetznecker not hurt. In the same caution, Peacock has hit the wall damaging his car along with Ponce. Both Ponce and Peacock are done for the night along with Hetznecker who is pushed back into the pits.

Double file restart on lap 8 sees Shane Williams as the new leader followed by Josh Byrd, Shaun Daugharty, Drew Smith, and Garret Stewart. Williams and Byrd give the crowd some great side-by-side action as they battle for the lead with Byrd becoming the new leader over Williams, Smith, Stewart and Daugharty.

Lap 12 sees the second caution for Drew Smith who has hit the wall in turns 1 and 2. Since Williams and Byrd basically caused the caution for Smith, both are put to the tail for the single file restart as Garret Stewart finds himself the new leader. Stewart quickly takes the point on the green over Daugharty, Dan Lane, Sr., Aaron Barsness, and Levi Cribbs. Cribbs puts heat on Barsness taking over fourth as Barsness slides to sixth with Steve Shead in fifth.

Williams, who was sent to the rear for being involved in the second caution, is quickly making his way back up front as he challenges Shead for fifth. Shead holds his position as Williams goes outside and gets loose sliding backwards in the field. On lap 18, Williams retires his machine to the pits, done for the night.

Stewart maintains the point to take the win over Shaun Daugharty, Levi Cribbs, Steve Shead, and Aaron Barsness. Drew Smith, Shaun Daugharty, and Josh Byrd took the heat wins.

Since it was 4 for 44 night, the fourth place finisher was also brought up on stage to receive his fourth place trophy which is never given out. Steve Shead could not have been a happier fourth place finisher as he glady accepted that trophy.

Seventeen Modifieds were in the field for their feature race with a few added surprises. Cody Blair, known in the asphalt world at Orlando SpeedWorld and New Smyrna Speedway for his Mini Stock and Pro Truck talents, has decided to try dirt in his new #99 Modified. Dirt Late Model Champion Johnny Collins took the wheel for the night in the #54B Modified as Tiny Greene came back to racing in his #54 Modified. All these guys just added more talent to the field for the fans.

Jamie Carter had the pole for the feature race and quickly took the point on the green over Rob Underwood, Dale Murray, Tiny Greene, and Nick Kirkus. But before the race had a chance to really get heated up, the caution comes out on lap 1 for Jimmy Carter who has stopped in turn 2.
Carter is pushed into the pits, done for the night before it even really got started. On the restart, Underwood quickly takes the point over Carter, Murray, Green, and Charlie MacNichol. But just as fast as Underwood took the point on the restart, Carter takes the point back as Underwood goes to second. Murray puts the heat on Underwood and takes over second as Underwood goes to third with Randy Hecker coming into the top five as he takes over fifth from MacNichol. Greene puts the heat on Underwood and takes over third as Underwood goes to fourth.

Blair, experiencing his first ride in his new dirt modified, is quietly moving up from the rear and is running eighth. Not a bad job since it is his first time in his new machine.

Carter, who looks like he is on rails and flying around the track, maintains the point with no one even near enough to touch him. On lap 14, Barry Sheffield retires his ride to the pits, done for the night. On lap 16, Rick Scott retires his ride to the pits. With only two laps to go, Carter leads the way over Murray, Greene, Underwood and Hecker.

Carter takes the checkered flag over Dale Murray, Tiny Greene, Rob Underwood and Randy Hecker. Joining Carter on the stage was also Rob Underwood who also gladly accepted his fourth place trophy for the night. Heat winners were Dale Murray and Jimmy Carter.

Next up were the always action packed Street Stocks. Seventeen cars were in the field for their feature race with Tim Hughes on the pole. But as the green dropped, it was Charlie MacNichol who quickly jumped out front followed by Bubba Christian, Grandy Christian, Tim Hughes, and Pat Buckley. Buckley wastes no time passing Hughes as he takes over fourth followed by Steve Mooers in fifth. Mooers and D.J. Nobles give the crowd quite a show as they battle for fifth going side-by-side with Mooers keeping his fifth place position. Lap 6 sees Grady Christian take over the point as MacNichols settles into second. By lap 8, it is Grady Christian, MacNichol, Bubba Christian, Buckley, Mooers, Nobles, Phillip Brown, Kenny Sowers, Michael Tovet, and John Ward leading the way.

On lap 10, Tim Hughes slows on the backstretch and is off the track. On lap 12, Rodney Wright has problems and he is also off the track, done for the night. Lap 13 sees Bubba Christian charge MacNichol for second but MacNichol holds but only one lap later, Christian is able to make the pass and takes over second as MacNichol goes to third. Once again, it is nephew chasing uncle for the lead.

Grady Christian takes his fourth win of the year over newphew Bubba Christian, Charlie MacNichol, Pat Buckley and Steve Mooers. Both Christians stop on the frontstretch along with Buckley who is your fourth place finisher. For those of you who are wondering why the name Pat Buckley sounds familiar, it is because he raced for quite a few years at New Smyrna Speedway in the Super Stock division but has now found more fun on dirt.

Rodney Wright and Pat Buckley took the Street Stock heat wins.

Twenty five Late Models were on hand for their feature win including Rob Underwood who did double duty in the Modified division and the Late Model division and Friday night's Ocala Speedway winner Mark Whitener. Driving for Kevin Hupp in the #0 Late Model was Shane Williams who joined the field in the rear for the start. Quite a nice field for their feature event.

David Clegg had the pole and quickly took the point on the green followed by Lawton Minchew, Stanton Mills, Brandon Cameron, and Mark Whitener. By lap 4, Whitener has made his way to second and looks forward at Clegg for the point. Lap 6 sees the caution for a flying hood on the backstretch. Since the leader gets his/her choice of outside or inside for the restart, Clegg choses outside but by lap 7, Whitener has the point followed by Clegg, Dillon Wood, Jason Fitzgerald, and Richard Ferry. The caution comes out for Brandon Cameron who has hit the turn 2 wall. Cameron is towed into the pits as the field is quickly realigned for the restart with Whitener on the bottom and Clegg on the outside.

Clegg once again takes the point followed by Whitener, Wood, Fitzgerald and Ferry who has his brand new car at the track tonight. By lap 9, Clegg and Whitener are once again side-by-side as Clegg is on the outside and Whitener on the inside. Whitener takes back the lead as Dillon Wood takes over second with Clegg in third followed by Fitzgerald and Ferry.

Ferry tries Fitzgerald for fourth but Fitzgerald will have nothing to do with it as he maintains his fourth place position. On lap 19, a lap car gets in the way as Dillon and Whitener are fighting hard for the point. Whitener takes the bottom, lap car in the middle, Wood on the outside. Wood is able to make it through the oreo cookie and finds himself the new leader.

Lap 21 sees a mess as Richard Ferry, David Clegg and a lap car get together in turn 4. Clegg spun to avoid the lap car with Ferry having no place to go sees his brand new car destroyed on the right side. All three cars are done for the night as the race goes back green on lap 21.

A single file restart is in order as Dillon Wood takes the point and the checkered over Mark Whitener, Jason Fitzgerald, Lawton Minchew and Travis Rhoden. Both Wood and Minchew go to the stage for their trophys. Jeff Phipps, Mark Whitener, and Dillon Wood won the heat races.

April 11th at Volusia Speedway Park will see the Taylor Racing Products Sportsman, Budweiser Modifieds, UMP DIRTcar Street Stocks, Thunder Stocks, and the Aero-tec Aluminum 4 Cyl Challengers. The Late Models will have the night off. Plus for the kids, an Easter Egg hunt at 7 pm so kids - BRING YOUR EASTER BASKETS.

OFFICIAL RESULTS
VOLUSIA SPEEDWAY PARK
APRIL 4, 2009

LATE MODEL

1. #26 Dillon Wood
2. #W5 Mark Whitener
3. #7 Jason Fitzgerald
4. #23 Lawton Minchew
5. #02 Travis Rhoden
6. #16 Stanton Mills
7. #46P Darrell Padgett
8. #03 Stephen Castleberry
9. #66H Matt Hartley
10. #09 Rob Underwood
11. #32P Jeff Phipps
12. #45 Bobby Richardson
13. #42 Adam Bennett
14. #143 Clyde Herron
15. #07 David Clegg
16. #17 Richard Ferry
17. #30 Larry Anderson
18. #21Q Chris Freeman
19. #J17 Joe Kump
20. #0 Shane Williams
21. #22B Brandon Cameron
22. #1 Wayne Shugert
23. #RP1 William Bud Rose
24. #10 Mike Warren
25. #41 John Kellum

SPORTSMAN

1. #67 Garret Stewart
2. #00 Shaun Daugharty
3. #3C Levi Cribbs
4. #10 Steve Shead
5. #11 Aaron Barsness
6. #05 Dan Lane, Sr.
7. #38 Collin Wright
8. #42 Josh Byrd
9. #17 Marc Kinley
10. #P4 Benita Allman
11. #57 Karl Heinz Haas
12. #42M Timothy Miller
13. #95 Matt McGillivray
14. #21A Shane Williams
15. #8 Scott Kerr
16. #29 Drew Smith
17. #5 Alan Peacock
18. #007 Todd Ponce
19. #17H Blaise Hetznecker
20. #99 Danny Vogel, Jr.
21. #83 Martin Johnson

MODIFIED

1. #15X Jamie Carter
2. #66 Dale Murray
3. #54 Tiny Greene
4. #77 Rob Underwood
5. #21 Randy Hecker
6. #410 Nick Kirkus
7. #99 Cody Blair
8. #21D Donnie Padgett
9. #41D Darron Smith
10. #Z06 Larry Mott
11. #11 Charlie MacNichol
12. #2 Cory Hupp
13. #77A Wayne Allen, Jr.
14. #8 Rick Scott
15. #41B Barry Sheffield
16. #54B Johnny Collins
17. #75 Jimmy Carter

STREET STOCK

1. #36 Grady Christian
2. #04 Bubba Christian
3. #12 Charlie MacNichol
4. #34 Pat Buckley
5. #95 Steve Mooers
6. #20 D.J. Nobles
7. #13 Phillip Brown
8. #4b Michael Tovet
9. #51 Steve Oldaker
10. #36S Kenny Sowers
11. #94 Justin Simons
12. #77M Mark Maresca
13. #44 John Ward
14. #00 Rodney Wright
15. #11s James Smith
16. #54 Tim Hughes
17. #2S Mick Kulak

Have an opinion on this story? Post a message on The Real Racin USA Florida Fan Message Board! or Email KARNACto send a letter to the editor!
---