"I'm noticing a turn of the tide on racing Web sites like Florida's Karnac.com, the gathering place for the most dedicated race fans in the state."

-Orlando Sentinel
IT'S TIME TO RACE!!
Doug Miller Takes Q Auto and Injury Attorney Modified Feature
KARNAC Media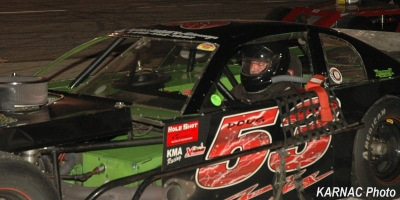 Doug Miller held off Tony Carreno on over a dozen restarts after cautions in a nail-biter at Charlotte.


Largo, Fl. driver Doug Miller started the 50 lap Q Auto and Injury Attorney Open Wheel Modified feature on the second row. He wasted no time powering to the front on the first lap of the caution filled race. Though Tony Carreno, driving the #61 Modified (Lutz, Fl), gave him fits throughout the race, he was able to hang in there for the win.

L.B. Skaggs did his part to make it an exciting race for the fans. Skaggs, from North Fort Myers, is a longtime racer at Charlotte, and though he had to go to the rear three times he still used his local knowledge and skills to take fourth place money.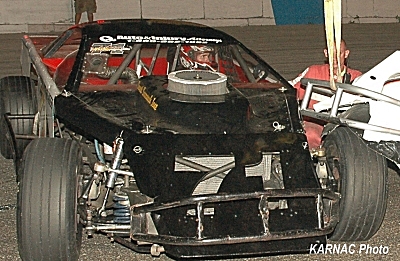 Skaggs got tangled up with #12 Eric Rudd (Naples, Fl) early in the race, both were able to continue but it took a wrecker to separate them. He quickly jumped on the outside and out powered the rear of the field to get back into the sixth spot. he repeated this feat twice more and truly earned his fourth place finish.

This was the first race with Q Auto and Injury Attorney as the division sponsor. Owner Bobby Diehl said after the race, "Leonard McCue saw the excitement we have down here and he wants to help the racers, and this is a way for him to do that." Q Auto & Injury Attorneys is a law firm located in the Bradenton, Sarasota and St. Petersburg area. Q Auto and Injury Attorney has long been a fixture in Florida racing circles, sponsoring many drivers and racing divisions over the years.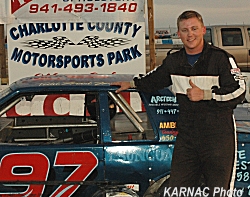 Todd Freed Jr. (Bradenton, Fl) took a break from his patrol car long enough to out run his favorite competition, Jesse Dutilly, for the Mini Stock win. Freed and Dutilly battled for years as youngsters in the Mini Stocks, both winning championships. Freed is a graduate of the Sarasota Police Academy and is currently a Bradenton city police officer.

Another Bradenton driver took home the top money Saturday night, that being Steve Gainey driving the #79 Sportsman. Gainey, one of the very toughest competitors in any class of racing in the state of Florida, outdistanced two St. Petersburg drivers, Rick Haugh and Roger Welch.

There was one unhappy fan Saturday night. One of the competitors in the Fan Participation race smacked the wall and dashed the resale value on their fine import automobile. Ouch!

Next week the speedway highlights the return of the Checkered Flag Sprint Series. In two weeks the track hosts the Monster Trucks with a three day racing and truck thrill show. Full details are available on the track's web site www.charlottecountyracing.com or by calling the track at 941-575-7223.

OPEN WHEEL MODIFIED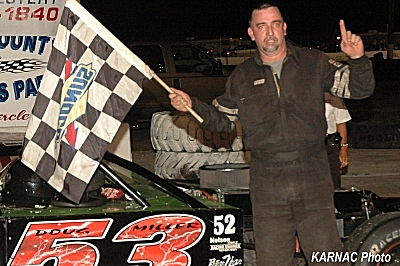 1. 53 Doug Miller - Largo
2. 61 Tony Carreno - Lutz
3. 5 Scott Kleiber - Naples
4. 71 LB Skaggs - N. Fort Myers
5. 31 Johnny Newsome - Tampa
6. 12 Eric Rudd - Naples
7. 8 Kent McLean - Fort Myers
8. 14 Kevin Brickley - Bonita
9. 6 Jay Winkley - Naples
10. 71x Johnny Allen - Lehigh
11. 14x John Garrett - N. Fort Myers
12. 2R John Rogers - Naples
13. 48 Vernon Hart Jr. - Plant City
14. DNS - 46 Doug Moff - Fort Myers

MINI STOCKS
1. 97 Todd Freed Jr.
2. 32 Jesse Dutilly
3. 7 Joe Rice
4. 30 Robert Carter
5. 42 Emory Murrah
6. 84 Ashlee Williamson
7. 14 John Bailey
8. DQ 27 Derrick Horton

ROAD WARRIORS
1. 33 Chris Loney
2. 7 Blaine Baer
3. 07 Scott Anderson
4. 31 Brandon Kolz
5. 23 Jeff Rumbold
6. 94 Bryan Boxell

SPORTSMAN
1. 79x Steve Gainey - Bradenton
2. 98 Roger Welch - St. Pete
3. 77 Rick Haugh - St. Pete
4. 13 Aaron Williamson - Lakeland
5. 57 Timmy Lowe - Pinellas
6. 67 James Dubose - Arcadia
7. 6 Greg Gorniak - Homestead
8. 09 Donnie Ollie Jr. - Lehigh
9. 68 Gary McFall - Venice
10. 1 Andy Allen - Naples
11. 56 Brian Richardson - Fort Myers
12. 12 David Williamson - Lakeland
13. 5 Bob Waltz Sr. - Cape Coral
14. 71 Fred Talano - N. Fort Myers
15. DNS - 100 Ronnie Herd - Seffner

OUTLAW SS
1. 18 Shane Leonard - Cape Coral
2. 36 Stewart Vend vender - Cape Coral
3. 6 Dave Davis - Bradenton
4. 2 Bobby Fisher - Naples
5. 09 Danny Daniels - Lehigh
6. 10 Austin Craig - Largo
7. 88 Jim Meiser - N. Fort Myers
8. 14 Richard McClough - Sarasota
9. 48 Vernon Hart Jr. - Plant City
10. 7 Gary Hart - Florida


Have an opinion on this story? Post a message on The Real Racin USA Florida Fan Message Board! or Email KARNACto send a letter to the editor!
---