Ivedent Lloyd Takes Rain Delayed State Championship Event
UDLMCS Media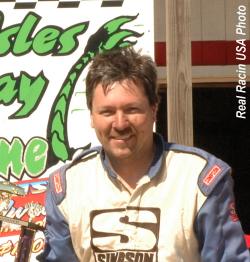 Ivedent Lloyd set fast time, started from the pole and was never challenged after the first lap, winning the 1st Annual United Dirt Late Model Challenge Series Georgia State Late Model Championship at Golden Isles Speedway.

The weather finally cooperated on Sunday after a dismal two days of rain delays, and after heats and a B-Main, 24 cars were able to take the green for the 60 lap feature event.

Jason Fitzgerald ran in second much of the race, but was forced to the pits after contact with another car midway through the event led to mechanical issues. He got back in the running but could do no better than 12th.

One of many late model stars from Jacksonville, Jeff Henry had perhaps the fastest car for much of the race. After starting sixth and moving up to into the top three quickly he also found himself at the rear and working his way back. He made it into the top five by the time the checkered flag waved.

Wayne Shugart was the Hard Charger, coming from 20th to 10th on the day.

A complete race report will be available on Monday night.


60-lap A-Main Results:

1. Ivedent Lloyd-Zeigler Racing Engines Fast Qualifier
2. Johnny Collins
3. Dillon Wood
4. Mark Whitener
5. Jeff Henry
6. Tyler Ivey
7. Russell Brown Jr.
8. Chuck Chitty
9. Joe Kump
10. Wayne Shugart
11. Adam Bedenbaugh
12. Jason Fitzgerald
13. Bo Allen
14. Stanton Mills
15. Clay Bedenbaugh
16. Jay Johnson
17. Phillip Cobb
18. Brandon DeWitt
19. Brandon Cameron
20. Kyle Van Sickle
21. Darrell Padgett
22. Charlie Williamson
23. Travis Pennington
24. Jordan Lockhart

LISTEN TO THE RACE CALL FROM GOLDEN ISLES SPEEDWAY


Have an opinion on this story? Post a message on The Real Racin USA Florida Fan Message Board! or Email KARNACto send a letter to the editor!
---