"I'm noticing a turn of the tide on racing Web sites like Florida's Karnac.com, the gathering place for the most dedicated race fans in the state."

-Orlando Sentinel
IT'S TIME TO RACE!!
Rick Bristol Named Promoter at Orlando SpeedWorld
by Dave Westerman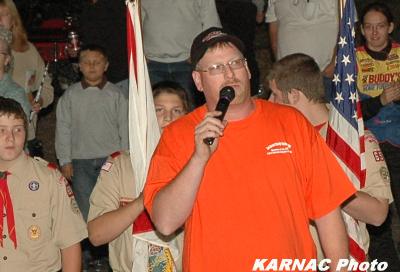 FASCAR announced on Thursday that Rick Bristol has been named Promoter at their Orlando Speedworld facility.

Bristol was Race Director at the track in 2008 and has been involved in some capacity at Speedworld since racing there in a Chevy Vega Mini Stock during the mid '80s. He started as an assistant announcer then has served also as a flagman and race director along with other various duties over the past twenty years.

During that time, Bristol has also promoted at two other race tracks, Volusia County Speedway and Bronson Motor Speedway along with being the race director and announcer for the former Florida Pro Late Model Series, ran his own promotions company which promoted Modified racing from 1994-97, and was the announcer at Sunshine Speedway from 1993-99.

Charity work has always been a forte of Bristol's starting with his "Go-Kart Fundraisers" for the Central Florida Children's Home and progressing to the current Charity Truckers 200 which is held each December at Speedworld. Three of the Charity Truckers events have been held so far raising money for three families who have children with life-threatening ailments.

Kim Brown, Operations Manager for FASCAR, says she is "excited" about Bristol coming on as Promoter. "We've already been e-mailing each other back and forth and he has some really outstanding ideas," says Brown. "He has such a passion for Speedworld and the sport of racing and he is a perfect fit for the job," she says.

Brown will continue to be in charge of the FASCAR office and will take care of the business end of things including scheduling track testing and Butch Pierce is the one to go to concerning competition and tech questions.

Pierce also says he's elated to have Bristol taking over as Promoter. "It sure takes a load off everyone else," he says. "He and I are both old racers and we know what it takes to get out here and try and compete.

I'm sure his love of racing will transcend into some really great promotions at the track," says Pierce.

"I just want to thank Robert Hart for the opportunity and Kim Brown and Butch Pierce for their votes of confidence," says Bristol "I look forward to working with them both to keep Speedworld strong through this tough economic year, but also growing and preparing for when things get back stronger again. I want to make Speedworld a place where folks want to come and see a good quality show at an affordable price. I want the drivers to want to be here each week racing and knowing they will get a fair shake and most of all have fun! We all need to have more fun and I am going to try to make that happen for all of the drivers, crews, fans and officials," he says.

Bristol also say he wants to make Speedworld more community friendly, by helping groups like scouts, schools, churches and other giving groups.

"I want to have special nights for our firefighters, police officers, military and many more," he says. "We are going to have fun nights like car shows, 50's and 60's nights, $25 car load night, church nights and more," says Bristol. "I feel like we have a great group of employees, who want to make the races professional and fun," he continues.

"Butch Pierce is a great friend and someone whom I respect very much and we really feel we can work together well. Kim Brown is one whom I also appreciate. She really has worked hard trying to get the FASCAR tracks running smoothly on the business side. Robert Hart has listened to these folks, drivers, and fans and has tried to make some decisions that will keep Speedworld operating during this rough time. He really does want to keep the tracks going. You can see it in his eyes when he talks about it. I just want to try to help all I can. I love racing and do not want to see any more tracks lost. That is why I am going to work all I can to make some things happen. I want to meet with the drivers by divisions over the next 3-4 weeks, get ideas and contacts from them that can help us all. I want them to be a part of all this and let them know I am working to try to get things better. I will promise them that if I set something up with a sponsor, business etc. I will make sure it is done, as it was said. I will make sure that what is promised is done. I hope that most of the folks who know me know they can trust what I say as I always try to be a man of my word. I look forward to helping bring Speedworld through this tough time and build it back to a premier Friday night event," he says.

Bristol is available to those who need to talk. "Drivers, crews and fans can call me and I will return their calls as soon as possible," he says. Bristol's cell number is 407-497-0448 and he hopes to see everyone Friday night at Orlando Speedworld.



Have an opinion on this story? Post a message on The Real Racin USA Florida Fan Message Board! or Email KARNACto send a letter to the editor!
---