"I'm noticing a turn of the tide on racing Web sites like Florida's Karnac.com, the gathering place for the most dedicated race fans in the state."

-Orlando Sentinel
IT'S TIME TO RACE!!
Jeremy Colangelo Wins Orange Blossom 100 at Orlando SpeedWorld
KARNAC MEDIA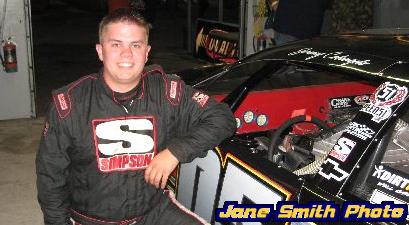 Orlando, FL (March 20, 2009) Eighteen Super Late Models made their way to Orlando SpeedWorld for the first running of the Orange Blossom 100 at the track on a cool and breezy night. Topping the qualifying chart was Wayne Anderson in his dad's No. 92. But it was Rich Clouser who got the pole for the 100 lap event.

There was an on-track autograph session where the fans could get close to the drivers and that is exactly what they did. Fans love to see the drivers and the cars up close and the autograph session gives them just that - up close and personal.

Finally it was time to race. As the green flag waved, it was Sam Watts who took the point followed by Rich Clouser, Tim Russell, Jeremy Colangelo and David Rogers. Russell passed Clouser for second as David Rogers gets stuck on the outside sliding backwards fast. Rogers is definitely off the pace and does end his night way too early.

The first caution of the night comes out for Sam Watts who spun in turn 4. Watts and Anderson were racing side-by-side and Watts almost took out Anderson also but Anderson hung on and was fine. It is at this point that Rogers takes his ride into the pits along with John Kennedy. Watts and Tim Russell are sent to the rear for the restart as they were both involved in the caution.

Rich Clouser now finds himself on the point for the restart followed by Wayne Anderson, Jeremy Colangelo, Daniel Webster, Brian Finney, Jason Vail, Jared Allison, Eddie Gainey, Cory Freed and Dusty Cornelius with Watts and Russell in the rear. Suddenly Sam Watts slows on the track with a flat rear-end tire. Watts takes his ride down on pit road seeing his night end early also.

Russell is on his way up from the rear as Clouser leads the way over Anderson, Colangelo, Webster and Finney. Clouser now finds his hands full of a hard charging Anderson as they go side-by-side for first. Anderson makes the pass and makes it stick taking over the point followed by Clouser, Colangelo, Webster, and Finney. Colangelo puts the heat on Clouser for second with Daniel Webster right on his tail for third as Clouser settles into fourth. Ebersole now ends his night early.

Running order now is Anderson, Colangelo, Webster, Clouser, Russell, Vail, Finney, Freed, Allison and Koch. Freed puts heat on Finney taking over seventh as Finney goes to eighth. Russell passes Clouser for fourth as Clouser goes to fifth. Mark Emberson is the next to take his ride onto pit road done for the night.

Russell looks to take second from Colangelo but Colangelo holds. Russell goes to the inside and is able to make the pass and make it stick taking over second as Colangelo goes to third. The caution comes out for Blake Koch who has spun on the bottom on the backstretch. Eddie Gainey is our next driver to exit the track for pit road, also done for the night.

The race goes back green with Anderson on the point followed by Russell, Colangelo, Webster, Clouser, Vail, Freed, Finney, Allison, Koch and Cornelius. Eleven cars are left from the seventeen that started.

Freed puts the heat on Vail but Vail holds. Russell looks to pass Anderson but Anderson holds. Russell looks on the outside but Anderson shuts the door. The two do some dancing side-by-side and touch slightly in turns 1 and 2 with both spinning. Both are sent to the rear for the restart.

With 17 laps left, it is Jeremy Colangelo on the point followed by Webster, Clouser, Vail, Freed, Finney, Allison, Anderson, Russell, Koch and Cornelius. Vail passes Clouser for third as Clouser slides to fourth. Running order is Colangelo, Webster, Vail, Freed, Clouser, Finney, Allison, Russell, Anderson, Koch and Cornelius.

With only two laps left to go, Anderson suddenly pulls the 92 onto pit road, done just a few laps short. Colangelo holds on to the point and takes his first feature win for 2009 and the Orange Blossom 100 over Daneil Webster, Jason Vail, Corey Freed and Rich Clouser.

In Victory Circle, Colangelo thanked his crew for helping him not give up on a car that was just not right. But inspite of the ill handling car, he was very, very happy.

OFFICIAL RESULTS
ORLANDO SPEEDWORLD
ORANGE BLOSSOM 100

1. #05 Jeremy Colangelo
2. #33 Daniel Webster
3. #407 Jason Vail
4. #12 Corey Freed
5. #9 Rich Clouser
6. #80 Brian Finney
7. #18 Jared Allison
8. #36 Tim Russell
9. #21 Blake Koch
10. #22 Dusty Cornelius
11. #92 Wayne Anderson
12. #8 Eddie Gainey
13. #30 Mark Emberson
14. #23 Rusty Ebersole
15. #73 Sam Watts
16. #11 David Rogers
17. #0 John Kennedy
18. #14 Martin Maresca DNS



Have an opinion on this story? Post a message on The Real Racin USA Florida Fan Message Board! or Email KARNACto send a letter to the editor!
---