"I'm noticing a turn of the tide on racing Web sites like Florida's Karnac.com, the gathering place for the most dedicated race fans in the state."

-Orlando Sentinel
IT'S TIME TO RACE!!
Top Gun Sprint Car Series Opens At Ocala
by BJ Cavin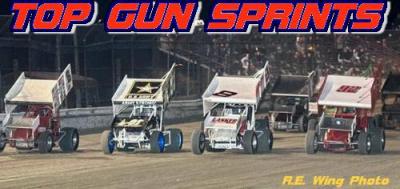 After a rather warm week the thousands who came to watch racing at Ocala Speedway on Friday night were met by breezy and cool conditions, but with the brand new Top Gun Sprint Car Series on the track for their inaugural race, the action kept everyone excited and warm.

The Top Gun Sprints put on quite a show, complete with drama, hard racing, and a big win for a team that correctly predicted the proper set up for a rapidly changing track.

Gene Lasker and Rich Alexander took heat race wins to help set the field for the Top Gun Sprint car feature race, and as that race unfolded early the fans thought that they knew who was going to win. Alexander started from the pole but was quickly overtaken by Lasker before the first lap was complete.

By the time the 4th lap was in the books some slower cars were already setting accidental running picks for some of the top five, and causing some frustrations up front. Matt Kurtz took advantage of that to get position under Rich Alexander and steal second place, then set his sights on Lasker who was extending his lead.

Tim Grobaugh had his engine go up in smoke in turns three and four, and the resulting caution enabled Kurtz to close the gap on Lasker. And by lap 12 Kurtz had found an opening in Lasker's armor and drove through it to take the lead.

Matt Kurtz's car continued to get faster and the race wore on, as his crew anticipated the changing track conditions and put the perfect setup on the 92 machine to make it untouchable in the final laps. In addition, Lasker's 01 machine began smoking in the final laps, and although he drove the wheels off of it he could not catch or overtake Kurtz.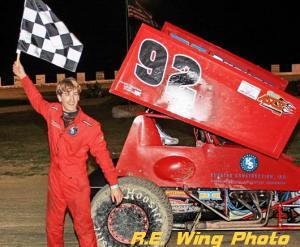 Matt Kurtz won the first Top Gun Sprint Car feature race, followed by Gene Lasker and Rocky Sullivan. Bruce Durden came from deep in the field to take home fourth place, while Ryan Partin rounded out the top five.

Top Gun 360 Sprint Car Series

1- 92 Matt Kurtz
2- 01 Gene Lasker
3- 15 Rocky Sullivan
4- 17D Bruce Durden
5- 14 Ryan Partin
6- 83 Mark Ruel Jr.
7- 38 Tony Agin
8- 3WEE Otto Scrape
9- 8 Rich Alexander
10- 77 Larry Pickett
11- 00 Raymaond Folwell
12- 99 Danny Jones
13- 6 Mark Schroeder
14- 9 Tim Grobaugh
15- 27 Troy Knowles


Have an opinion on this story? Post a message on The Real Racin USA Florida Fan Message Board! or Email KARNACto send a letter to the editor!
---