"I'm noticing a turn of the tide on racing Web sites like Florida's Karnac.com, the gathering place for the most dedicated race fans in the state."

-Orlando Sentinel
IT'S TIME TO RACE!!
By Rick Anges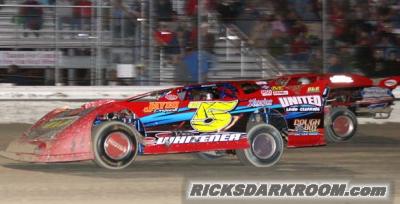 Ocala, Fl. (02/27/09) Once again Ocala Speedway was the site for the opening round of the United Dirt Late Model Challenge Series. This would also mark the fifty-seventh season opener of the historic Florida track. Drivers from all over the Southeast converged on the central Florida clay to make their bid for the 2009 Championship.

Before the racing action began Track Owners/Promoters Mike and Angie Peters were awarded the Real Racin'USA Promoters of the year for '08 by Real Racin'USA/KARNAC.com owner Jack Smith for the outstanding job that made the track a huge success.

There was still a lot of moisture in the track when the field rolled out for qualifying. Most teams had a hard time early hooking up to the surface early but the speeds began to pick up as more drives took time.

"The Dough Boy" Patrick Williams came out fourteenth on the grid and held the fast time with a 19.021 trip around the 3/8 mile track. "The Locomotive" Johnny Collins (the 2008 UDLMCS Champion) would come out twenty-fourth and smash the time with an 18.328 run. But it would be "Killer" Keith Nosbisch taking home the "Zeigler Racing Engines" Fast Time Award with an 18.323 second lap.

Five heat races and one B-Main would decide the line up for the fifty-lap $3,000 to win Feature. Five drivers from each Heat and four drivers from the B would move on to the big race.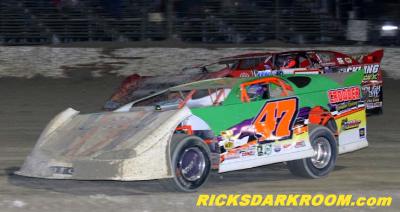 Jackie Nosbisch became the first winner of the season for series crossing the stripe for the win in Heat #1. Second in his brand new ride for the '09 campaign was Billy Costello. Clay Bedenbaugh would follow in third, fourth was Brandon DeWitt and fifth was UDLMCS Pace American Rookie contender Bobby Clark.

"The Magic Man" Mark Whitener, who finished second to Collins in the points last year, was the winner of Heat #2. Patrick Williams was second across the stripe, J.O.Nobles was third. Fourth went to last years Ocala winner Shane Williams. Roger Crouse, who just got the ride he was in the previous night, finished in the fifth spot.



--Advertisement--





Bobby LaBonte Foundation driver Jason Fitzgerald took the win in Heat #3. Russell Brown Jr. rolled across in the second spot. Third was "the Tallahassee Terror" Tyler Ivey. Wayne Shugart and Phillip Cobb would finish fourth and fifth respectively.

The final Heat of the evening was a who's who of Dirt Late Model racing. Over 2,000 combined feature wins were enclosed in the final ten-lap dash. With names like Lloyd, Collins, Nosbisch, Bedenbaugh, Cone, Pratt and Rankin in the line up a young thirteen-year-old Christian Augspuirger would make his Dirt Late Model debut.

Keith Nosbisch would come out on top, Johnny Collins was second, Ivedent Lloyd third, Fourth Adam Bedenbaugh and fifth Dusty Cone. Although Augspuirger would finish last a lap down he got a rousing cheer from the crowd for his performance.

Another Pace American Rookie Contender would take the B-Main win. Jordy Nipper was second, third was Dennis Williams and the final transfer spot went to Ocala native John Rankin. Rich Pratt was final car added as a provisional.

The pill draw on the front stretch would put Whitener and Keith Nosbisch on the front row for the fifty-lap A-Main.

The packed house was on their feet as the green dropped for the big race. It would not take long for the first of ten yellow flags to come out. A big pile up in turn four saw several cars heavily damaged. Rich Pratt was the one who took the heaviest impact. Although a little woozy when exited his wounded ride all drivers were able to walk away.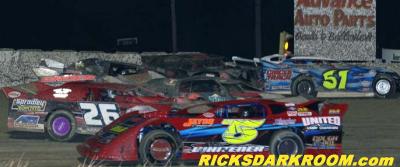 After a quick red flag for clean up the field went back to green. Whitener quickly jumped out to a five-car length lead and would continue the pace through out the fifty-lap event. Behind him though racing was hot and heavy for second with the spot being swapped numerous times by several drivers.

Ivedent Lloyd who had came from his twelfth starting position made his way up to the second spot when contact turn four with third place Collins caused enough damage to his car and end his night. Lloyd would finish a disappointing nineteenth for the night.

In a three way battle for position Fitzgerald was squeezed high on the outside and had to back out dropping all the way out of the top ten but was able to race his way back into the top five towards the end of the fifty lapper.

Another driver on the move was "the Tallahassee Terror" Tyler Ivey who came from the eleventh starting spot up into second. Ivey would be close several times on restarts to the leader Whitener but was not able to complete the pass.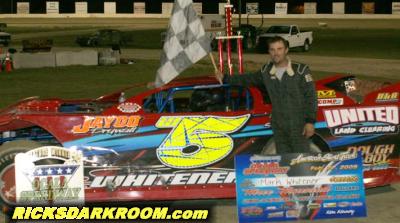 Whitener would cruise to the win only being challenged a handful of times throughout the race. Ivey would slide home in the second spot, Fitzgerald would recover for third. Collins would take fourth and Russell Brown Jr. claimed fifth.

"This was an awesome racecar its fast" said Whitener in the winners circle. "I towed it in on lap car but was able keep going".

The United Dirt Late Model Challenge Series moves onto Golden Isles Speedway March 28th for the 1st Annual UDLMCS Georgia State Late Model Championship a 100 lap $10,000 to win race.



Listen to UDLMCS announcer Rick Anges race call

For more information on the series go to:www.uniteddirtlatemodels.com

RESULTS-
1.Mark Whitener
2.Tyler Ivey
3.Jason Fitzgerald
4.Johnny Collins
5.Russell Brown Jr.
6.Keith Nosbisch (Fast Quailifier 18.323)
7.Dusty Cone
8.Shane Williams
9.J.O. Nobles
10.Wayne Shugart
11.Jordy Nipper
12.Patrick Williams
13.Clay Bedenbaugh
14.Brandon DeWitt
15.Adam Bedenbaugh
16.Dennis Williams
17.Billy Costello
18.Travis Rhoden
19.Ivedent Lloyd
20.Bobby Clark
21.Jackie Nosbisch
22.Phillip Cobb
23.Roger Crouse
24.Rich Pratt

Heat #1
1.Jack Nosbisch
2.Billy Costello
3.Clay BedenBaugh
4.Brandon DeWitt
5.Bobby Clark
6.Travis Rhoden
7.Marshall Austin Jr.

Heat #2
1.Mark Whitener
2.Patrick Williams
3.J.O.Nobles
4.Shane Willaims ('08 Race Winner)
5.Roger Crouse
6.Dennis Williams
7.Evan Becton

Heat #3
1.Jason Fitzgerald
2.Russell Brown Jr.
3.Tyler Ivey
4.Wayne Shugart
5.Phillip Cobb
6.Bug Rose
7.Jordy Nipper
8.Darrell Padgett

Heat #4
1.Keith Nosbisch
2.Johnny Collins ('08 Champion)
3.Ivedent Lloyd
4.Adam Bedenbaugh
5.Dusty Cone
6.John Rankin
7.Rich Pratt
8.Christian Augspuirger

B-Main
1.Travis Rhoden
2.Jordy Nipper
3.Dennis Williams
4.John Rankin
5.Rich Pratt
6.Christian Augspuirger
7.Bug Rose
8.Darrell Padgett
9.Marshall Austin Jr.
10.Evan Becton



Have an opinion on this story? Post a message on The Real Racin USA Florida Fan Message Board! or Email KARNACto send a letter to the editor!
---