"I'm noticing a turn of the tide on racing Web sites like Florida's Karnac.com, the gathering place for the most dedicated race fans in the state."

-Orlando Sentinel
IT'S TIME TO RACE!!
Chad Pierce Earns Pete Orr Sportsmanship Award
KARNAC MEDIA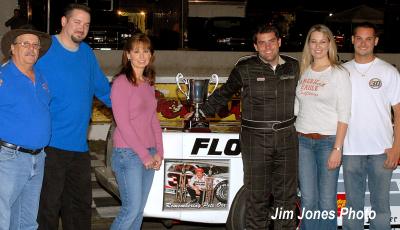 Saturday night at New Smyrna Speedway the Annual Pete Orr Memorial was run, as usual the final night of the World Series of Asphalt Stock car Racing. For the sixth time since Florida lost one of its most respected racers, the Pete Orr Sportsmanship Award was presented as part of the commemorative ceremonies.

Chad Pierce Interview - Click to Listen!

This year the Award presented to Chad Pierce, a familiar face around the FASCAR tracks of New Smyrna Speedway and Orlando Speedworld for the last decade.

When presented with the award, the usually spontaneous Pierce was at a loss for words, "Actually, I don't even know what to say for once, I can't talk."

The complete story of the Award, the life of Pete Orr, photo galleries and the Real Racin' USA Pete Orr Special Tribute show can be found at this link: Pete Orr, A Racing Legend.

From the official biography:
"To say Chad Pierce comes from a racing family would be an understatement. His family eats, sleeps and breathes racing. Barbara Pierce, Chad's mom, has compiled more wins than any other female driver in the country. In fact, she was hired as the Pace Truck driver so the other racers would have a chance. Chad's dad Butch, is now the the Race Director for FASCAR.



Chad started his racing career early in life. True to the family tradition, Chad compiled 13 victories and numerous awards. He accomplished this in just three seasons racing in the Bomber division. In 1998 Chad took over his mom's Sportsman car and captured 35 consecutive wins in his first season. The next season he followed up with 32 more wins and a points championship.

At age 18 Chad was hired by the Richard Petty Driving Experience as a driver/instructor. While employed by RPDE, Chad has turned thousands of laps in a Winston Cup style stock car at the Walt Disney World Speedway and Daytona International Speedway. He has been selected to drive at special events at tracks including Memphis Speedway and New Hampshire International Speedway."

As Mark Keeler, the New Smyrna Speedway announcer pointed out on Saturday night, Chad is the guy more and more racers go to when they need help with something. Pierce explained why he so willing to help others, "I am the way I am because of my parents." But lots of people, including the eventual 2009 Pete Orr Memorial race winner David Rogers helped Chad Pierce along his racing journey. "I had those questions, I had to have the help with I first started, and they were so kind to help me, now I feel obligated to help others."

"This is a great sport, I grew up in it and have been at this race track since I was two or three years old, this is a great sport and this is the greatest thing I have ever received, ever", Pierce said.

The Pete Orr Sportsmanship Award has been presented by KARNAC.com each year beginning in February 2004. The trophy is a beautiful Italian silver cup on a mahogany base, and is treasured by the drivers who receive it.

Bobby Sears, presented with the Pete Orr Sportsmanship Award two years ago, said "It's the best award I ever received in my life. It is not something you go out to win or can even try to win. Somebody recognizes you something good, that makes it very special."

Past winners are Jay Middleton, Lee Collins, Brian Finney, Bobby Sears and Tim Russell.

Ricky Sanders, of Ricky Sanders Racing, co-sponsored the 2009 Pete Orr Sportsmanship Award along with KARNAC.com

Have an opinion on this story? Post a message on The Real Racin USA Florida Fan Message Board! or Email KARNACto send a letter to the editor!
---