"I'm noticing a turn of the tide on racing Web sites like Florida's Karnac.com, the gathering place for the most dedicated race fans in the state."

-Orlando Sentinel
IT'S TIME TO RACE!!
Rogers Wins the Night and the Championship at New Smyrna
KARNAC Media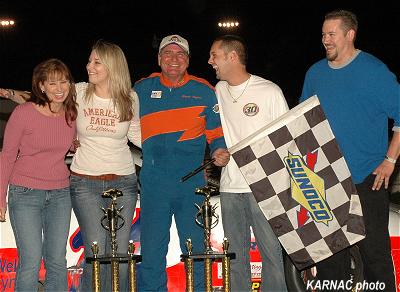 David Rogers celebrates one the big wins of his career with the Orr family members.


David Rogers and Jeff Choquette, two of Florida's most popular Super Late Model stars started the Pete Orr Memorial 100 tied for the overall points championship for the 2009 World Series of Asphalt Stock Car Racing.

David Rogers Interview - Click to Listen!

The Governors Cup, held at New Smyrna in November is big, the Clyde Hart Memorial in July is a big race. But each year the Pete Orr Memorial grows bigger in significance and veterans like David Rogers want to win this one one is a huge way.

Rogers, driving from the sixth starting position quickly came to the front, passed pole sitter B.J. McLeod for the lead and never looked back. If he did look back he would have seen a 95 lap battle between rival Choquette and the #36 of Tim Russell.

Russell dogged Choquette nearly the entire race, often catching the #70 and getting position coming off the corners, but then Choquette blew him off on the straghtaways. Several times during the battle contact was made between the two drivers, putting on a great show for the crowd.



Choquette was fighting a losing battle not only trying to catch Rogers, but also with his race car. He had a mechanical issue up in the front suspension from lap 20 on, and finally with two laps to go, things went from bad to worse and forced him out the the race.

Wayne Anderson, in the thick of the fight for the early lead, settled back and rode in fifth most of the night behind Jack Landis. Johanna Long continues to impress, tonight she took a top five.

Understandably, Rogers got a little choked up in the winners circle, "This was a big win, Pete was my friend and I miss him." Rogers said.

There are many from the Florida racing community who certainly share that sentiment.



--Advertisement--




Super Late Models - Feature
Pos Car # Driver
1 11 David Rogers
2 36 Tim Russell
3 10 Jack Landis
4 84 Wayne Anderson
5 10X Johanna Long
6 133 Daniel Webster
7 92 Cale Gale
8 88 Justin Larson
9 84X Matt Bowers
10 8 Eddie Gainey
11 56 Chris Staggs
12 51 Michael Pope
13 75 Don Keithley
14 70 Jeff Choquette
15 7 Jeff Scofield
16 58 Edward Nevin Gainey
17 2 Joey Coulter IV
18 24 David Rigan
19 74 Seth Greco
20 33 Derrick Wood
21 73 Sam Watts
22 21 Jason Hogan
23 9 Frank Alberson
24 28B Sean Bass
25 83 Karl Willard
26 5 Jeremy Colangelo
27 7X Perry Lovelady
28 78 BJ McLeod
29 60X David Myer
30 23 Rusty Ebersole
31 12 Corey Freed


Have an opinion on this story? Post a message on The Real Racin USA Florida Fan Message Board! or Email KARNACto send a letter to the editor!
---