"I'm noticing a turn of the tide on racing Web sites like Florida's Karnac.com, the gathering place for the most dedicated race fans in the state."

-Orlando Sentinel
IT'S TIME TO RACE!!
North Port Discovers Stock Car Racing
By Jack Smith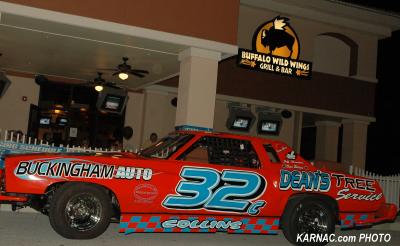 Dean Butrum's Road Warrior/Bomber will see action in 2009 driven by Jody Collins


Tuesday night at the Buffalo Wild Wings Grill & Bar in North Port was a special night indeed for racing in southwest Florida. It was the first significant event featuring stock cars in the town which has seen its population more than triple in the last six years. North Port is located just south of Venice, just north of Port Charlotte and these days boasts a population of over 60,000.

Charlotte County Motorsports Park's race director Greg Roeback, also a North Port Property Appraiser, decided to do something to get the local speedway noticed in a big way. He recently met with General Manager Wes Baker of the Buffalo Wild Wings Grill & Bar, the largest sports bar in North Port, and arranged to have a car show to help promote the speedway.

Beginning shortly after 5:00 PM there were ten go-karts from the popular CCMP KARTS program on display, a program that Roeback himself oversees at the Punta Gorda speedway.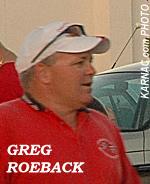 The karts were perhaps more popular with the patrons than the full bodied race cars; there was a crowd around the karts all night.

There were also six race cars or trucks on hand, among them Jeff Rumbold with his #23 race car on display for the occasion. No real surprise there, as Jeff and his wife have been campaigning in North Port for months trying to bring attention to the speedway. He has brought several sponsors to the track, and simply as a volunteer has done remarkable. "I'm just learning as I go," Jeff said of his efforts.

Jason Carr, Dar Houghtaling, Chris Huntoon, Josh Williams and Dean Butrum has their cars or trucks on display.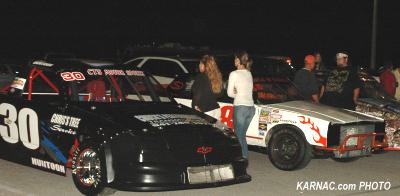 Josh Williams brought his legends car sporting the decals of the Buffalo Wild Wings Grill & Bar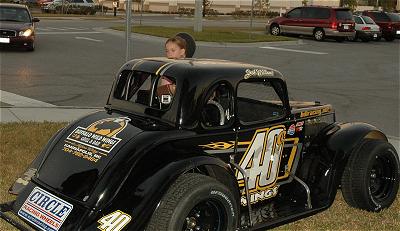 Josh, another driver from North Port, will be driving a legends car in addition to the Fastruck tour in 2009. Don't be surprised if you see Josh on the ARCA tour in the next year or two.



The timing could not have been better for all concerned. The event was planned for a busy Tuesday night at the favorite watering hole and wing place for sports fans in North Port. It also was part of an effort primarily led by Roeback and some other race fans to promote the "Fan Appreciation Day" at the speedway scheduled for February 14th. The speedway has lowered its regular ticket price from $20 to a very affordable $10 for this event.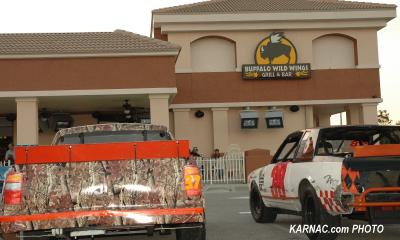 "We're just two businessmen trying to cross-promote", is the way General Manager Wes Baker put it. "We are hoping this can lead to bigger and better things here. We are involved with the local school and this fits right in with our family atmosphere", he said.

Several hundred patrons of the restaurant were exposed to the speedway, most for the first time. These types of events have proven very valuable around Florida at helping to solve one of stock car racing's biggest issues; large numbers of the population not even knowing of the tracks existence in their communities.

Venice driver and multiple car owner Dean Butrum brought out the Monte Carlo his driver Jody Collins plans to drive in a run at the Bomber division championship at DeSoto Super Speedway in Bradenton. Butrum, a Venice, Fl. business owner, races at several different tracks in Florida. "This was a pretty good car show, I did a few of these in Bradenton and this was a good one he knows what he is doing," he said. "Everything I've done with Greg has been good. He takes his time and does it 110 percent".




Roeback gave the praise for the event to the drivers and fans, "We did a good show for short notice, we have some very good people, drivers and fans alike, they give their support you just have to ask them, I think it's great."

The "Fan Appreciation Night" set for Saturday will feature local divisions:Road Warriors, Pro 4 & Fab 4, Thunder Trucks, Mini Stocks, Street Stocks, a Sportsman 50 lap event plus the always exciting Champ Karts. All the ladies will receive carnations in celebration of Valentine's Day. The speedway is located across from the Charlotte County Airport on Piper Road in Punta Gorda, Florida.


Have an opinion on this story? Post a message on The Real Racin USA Florida Fan Message Board! or Email KARNACto send a letter to the editor!
---