"I'm noticing a turn of the tide on racing Web sites like Florida's Karnac.com, the gathering place for the most dedicated race fans in the state."

-Orlando Sentinel
IT'S TIME TO RACE!!
Josh Richards Wins Third Lucas Oil Late Model Dirt Series in 24 Hours
By James Essex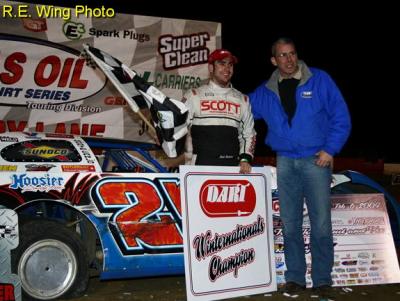 TAMPA, FL (February 6, 2009)- On an unbelievable winning streak that most race car drivers can only dream about, Josh Richards of Shinnston, WV won his third Lucas Oil Late Model Dirt Series race in 24 hours on Friday Night at East Bay Raceway Park during the 33rd Annual DART Winternationals.

Richards' win in the 40 lap event earned himself and car owners Ernie and Connie Davis $10,000 as he crept to within 50 points of second place finisher Billy Moyer of Batesville, AR in the week-long DART points fund. Matt Miller of Waterville, OH who started seventh, finished third with 14th place starter Tim Fuller of Watertown, NY grabbing fourth followed by 10th place starting Clint Smith of Senoia, GA.

Dale McDowell and Richards would make up the front row of the event, which was part of a day/night doubleheader of LOLMDS action as the regularly scheduled show from Monday Night, which was rained was ran in the daylight with Richards winning Friday Afternoon. Richards took the lead at the start of the race with McDowell, Scott Bloomquist, Josh McGuire and Billy Moyer in the top five.

Moyer made the move for fourth on lap two as Bloomquist slowed on the track on lap five bringing out the first caution. Bloomquist exited the track and not return to racing action. On the restart, Richards was holding the point with McDowell still holding the second slot.

The second caution of the race came out for a five-car accident in turn number four which slowed the action once more. On the restart, Richards again held the lead of the race as McDowell was starting to put the heat back on the 20-year old racer. At least two drivers then started to make moves with Moyer and Miller utilizing the outside the middle lane as they were ready to make a move on McDowell for second.

The pass for second by Moyer came on lap 16; Miller followed a circuit later getting by McDowell to grab third. Josh McGuire then would loop it in turn number four bringing out the third caution of the race. It seemed like the only way anyone was going to be able to beat Richards was to catch and pass him in traffic. On the restart, after the McGuire caution Richards sprinted out to a five to six car length lead over Moyer and Miller with Fuller in tow.

Clint Smith joined the fray by lap 30. With 20 laps to go, Richards for the first time in the race, was starting to encounter traffic as he had picked up the tail end of the field. This would allow Moyer, Miller and Fuller to close in quickly on him. Scott James stopped on the track with a flat tire on lap 38 and then two laps later Earl Pearson Jr. the four-time and defending Lucas Oil Late Model Dirt Series National Champion suffered the same fate as Pearson, but unlike James who was able to change his tire and re-enter the race, Pearson went pitside and never returned.

On what would be the final restart of the race, Richards was staring straight at a possible $25,000 payday over two days of racing, but Moyer, Miller and Fuller were going to make life tough on the youngster and they did just that because with five laps to go they were all over in the race for the lead as Richards right rear tire started to show signs of wear as it began to smoke coming off the turns.

Moyer got right on the left rear quarter panel of Richards on the white flag lap and Miller had ideas of a last lap banzai move to derail both of them. However Richards maintained the lead coming off of turn four and held off a trio of hungry drivers for his third win in 24 hours of racing competition at East Bay.

As Richards took his cool down lap and headed to the scales his right rear tire was gone and was flat as the race finished in a nick of time for him. In the Lucas Oil victory lane a relieved Richards was obviously thankful the race ended when it did. "I knew I had to run the car a little harder there at the end, I could feel the tire losing some grip, but we held on and it's just an unbelievable feeling to be standing here again, it's like a dream for me to win here at East Bay and luck was on our side tonight, there was a lot of pressure starting on the outside front row and we were fortunate to come with the win tonight."

Richards also thanked his crew chief Robbie Allen, car owners Ernie, Connie and Keya Davis, Jeff Pinkelton and Matt Barnes for the opportunity to set behind the wheel of the Rocket Chassis Monte Carlo SS which has a Cornett Racing Engine powerplant under the hood and is sponsored by Ernie D's Enterprises, LLC, Tim Fraker Signs, Sunoco Race Fuels and Hoosier Tire Mid-Atlantic.

Moyer in his Minx Show Palace, Clements Racing Engines, Moyer Victory Circle Chassis Monte Carlo SS saw Richards match his win total of three which he did in last year's DART Winternationals. Moyer continues to lead the DART Winternationals Points Fund heading into Saturday Night's finale. Miller continued his solid week taking third in the Larry Moring Motorsports, Freeport Recycling Center, and Rocket Corvette. Fuller in one of his best finishes in Lucas Oil competition came home fourth in the Larry Wight owned, Gypsum Express LTD, Rocket GTO with Clint Smith completing the top five in his JP Drilling, RaceTek Race Engines, GRT GTO.

Completing the top ten were Dale McDowell, Terry Casey, Rick Eckert, Tim Isenberg and Eric Jacobsen.

In preliminary events Terry Casey was the PRC Fast Qualifier with a quick lap of 14.434 seconds. Heat race winners were Dale Mc Dowell, Billy Moyer, Josh McGuire, Josh Richards, Scott Bloomquist and Chris Shannon. The B-mains went to Bart Hartman, Eddie Carrier Jr., Rick Eckert and Eric Jacobsen. Jeep VanWormer won the PRC Strawberry Dash to earn a spot in the A-main.

Action will continue at the 33rd Annual DART Winternationals at East Bay Raceway Park for the Lucas Oil Late Model Dirt Series on Saturday Night, February 7th with a complete show featuring a $12,000 to win finale for the week. The cameras of SPEED Channel will be hand to tape the events.

You can listen live via the internet to the DART Winternationals at East Bay by going to www.dirtnation.net.

To find out more about the Lucas Oil Late Model Dirt Series, log on to www.lucasdirt.com or call the series office at (951) 532-2503.

Lucas Oil Late Model Dirt Series
Race Summary
Friday Night, February 6, 2009
East Bay Raceway Park - Gibsonton, FL

PRC Fast Time: Terry Casey/14.434 seconds

Hawk Brake First Heat (10 Laps-Top 3 Advance): Dale McDowell, Matt Miller, Chad Mahder, Bart Hartman, Scott Slay, Tommy Kerr, Adam Ferri, Don O'Neal, Brad Neat, Mark Andersen, Mike Marlar, Steve Shaver

Hawk Brake Second Heat (10 Laps-Top 3 Advance): Billy Moyer, Earl Pearson Jr., Darren Miller, Dennis Erb Jr., Tim Dohm, Jimmy Owens, Jason McBride, Jayme Zidar, David Breazeale, AJ Kirkpatrick, Butch Strait, Steve Shaver

AFCO Racing Products Third Heat (10 Laps-Top 3 Advance): Josh McGuire, Donnie Moran, Mike Collins, Steve Casebolt, Eddie Carrier Jr., Dan Schlieper, Rusty Schlenk, Tommy Weder, Tyler Reddick, Davey Johnson, Bob Geiger, Dillan White - DNS

Tiger Rear Ends Fourth Heat (10 Laps-Top 3 Advance): Josh Richards, Terry Casey, Tim Fuller, Rick Eckert, Brady Smith, Ray Cook, Freddy Smith, Justin Rattliff, Ricky Arms, Doug Horton, Tyler Bruening, Brad Eitniear

AFCO Racing Products Fifth Heat (10 Laps-Top 3 Advance): Scott Bloomquist, Clint Smith, Tim Isenberg, Eric Jacobsen, John Blankenship, Dan Stone, Eric Wells, Jeep VanWormer, Shon Flanary, Mark Pettyjohn, Jeff Beyers, Brandon Thirlby

AFCO Racing Products Sixth Heat (10 Laps-Top 3 Advance): Chris Shannon, Tyler Ivey, Scott James, Victor Lee, Wayne Chinn, Terry English, Travis Varnadore, Mike Walker, Chuck Hummer, Steve Francis, John Mason, Jeremy Faircloth - DNS

Mason Racin' Rebel Shock Dyno First B-Main (12 Laps-Winner Advances): Bart Hartman, Tim Dohm, Tommy Kerr, Dan Schlieper, David Breazeale, Jason McBride, Tommy Weder, Mark Andersen, Steve Casebolt, Don O'Neal - DNS, Davey Johnson - DNS, Butch Strait - DNS, Steve Shaver - DNS, Dillan White - DNS

Wiles Drive Shafts Second B-Main (12 Laps-Winner Advances): Eddie Carrier Jr., Jimmy Owens, Mike Marlar, Jayme Zidar, AJ Kirkpatrick, Rusty Schlenk, Tyler Reddick, Scott Slay, Dennis Erb Jr., Brad Neat, Bob Geiger, Adam Ferri - DNS, Chris Wall - DNS

Mason Racin' Rebel Shock Dyno Third B-Main (12 Laps-Winner Advances): Rick Eckert, Victor Lee, Ray Cook, John Blankenship, Terry English, Eric Wells, Mike Walker, Doug Horton, Jeff Beyers, Shon Flanary, Brad Eitniear, Justin Rattliff, Steve Francis - DNS, Jeremy Faircloth - DNS

Wiles Drive Shafts Fourth B-Main (12 Laps-Winner Advances): Eric Jacobsen, Brady Smith, Wayne Chinn, Ricky Arms, Dan Stone, Mark Pettyjohn, Travis Varnadore, John Mason, Chuck Hummer, Tyler Bruening, Brandon Thirlby, Freddy Smith, Jeep VanWormer

PRC Strawberry Dash (7 Laps - Winner Advances): Jeep VanWormer, Jason McBride, John Mason, Doug Horton, Mike Walker, Mike Marlar, Chuck Hummer


33rd Annual Dart Winternationals Night 5 Feature Finish (50 Laps):

Finish. Car Number Driver Name (Starting Spot) Laps

25 Josh Richards (2)
21 Billy Moyer (3)
7 Matt Miller (7)
19 Tim Fuller (14)
44 Clint Smith (10)
17m Dale McDowell (1)
42 Terry Casey (8)
24 Rick Eckert (21)
9 Tim Isenberg (16)
5 Eric Jacobsen (22)
16 Justin Rattliff (24)
55 Jeep VanWormer (25)
32d Darren Miller (15)
83 Scott James (18)
99 Donnie Moran (11)
32s Chris Shannon (6)
28 Eddie Carrier Jr. (20) -1
47 Tyler Ivey (12) -1
44 Earl Pearson Jr. (9) -10
41 Josh McGuire (5) -18
55c Chad Mahder (13) -37
3c Mike Collins (17) -42
75 Bart Hartman (19) -42
C9 Steve Casebolt (23) -42
0 Scott Bloomquist (4) -45


Race Statistics

Entries: 72
Caution Flags: 5
Lap Leaders: Josh Richards 1-50
Lucas Oil Late Model Dirt Series Provisionals: Steve Casebolt, Justin Rattliff
PBM/Erson Cams Hard Charger of the Race: Rick Eckert (Started 21st and finished 8th - advanced 13 positions)
Allstar Performance Performer of the Race: Clint Smith
K&N Filters Clean Pass of the Race: Tim Fuller
Quarter Master Rookie of the Race: Jeep VanWormer
Integra Shocks Crew Chief of the Race: Jimmy Frye (Josh Richards)
Comp Cams Engine Builder of the Race: Cornett Racing Engines
Time of the Race: 31 minutes

33rd Annual Dart Winternationals Points Standings

1) Billy Moyer 1150
2) Josh Richards 1100
3) Matt Miller 1015
4) Rick Eckert 1010
5) Brady Smith 835
6) Dennis Erb Jr. 815
7) Steve Francis 770
8) Tim Dohm 765
8) Dan Schlieper 765
10) Donnie Moran 760


Have an opinion on this story? Post a message on The Real Racin USA Florida Fan Message Board! or Email KARNACto send a letter to the editor!
---