"I'm noticing a turn of the tide on racing Web sites like Florida's Karnac.com, the gathering place for the most dedicated race fans in the state."

-Orlando Sentinel
IT'S TIME TO RACE!!
Real Racin USA Live!: Guest Interviews Include Clint Boyer, Rick Eckert and Donnie Moran
RRUSA Media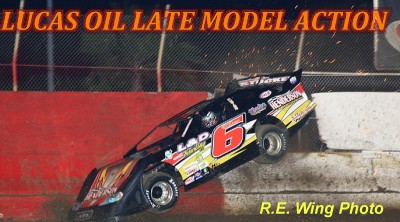 Real Racin' USA photographer Bob Wing on top of Lucas Oil action


This coming Thursday Real Racin' USA Live returns to East Bay Raceway park for the first of two live Internet shows during February. This week the show will air at a special time, 4:00-6:00 PM, to fit better with the schedule of the Lucas Oil Dirt Late Model Series at the Tampa track.

Thursday is the first of the $10,000 to win races in the Lucas Oil shows at East Bay this week. The Saturday race is $12,000 to the winner. Matt Miller won the 30 lap main event on Tuesday night, starting from the 6th position.

There were 69 entries, including Rick Eckert and Donnie Moran, both scheduled to be guests on Real Racin' USA Live! on Thursday. Real Racin' USA Live! host Bill Green sat down with Clint Boyer for an interview on Tuesday night, unfortunately Boyer did not make the A Main last night. The interview will be heard on Thursday.

Real Racin USA Live! will be broadcast each month live form the Hall of Fame Cafe at the track, and fans are always invited to come out and join in. Hosts Bill Green, Rick Anges and Jack Smith have worked together for the last decade and when this trio gets together there is always a twist regular listeners have come to expect.

In addition to Real Racin' USA Live!, later this month Real Racin' USA will broadcast the following racing events:
-The 2nd Annual Modified Reunion (February 13 from New Smyrna Speedway)
-Florida Figure 8 Champions presented by the World Figure 8 Tour (February 14 & 15 from Auburndale Speedway)
-United Dirt Late Model Challenge Series season opener (February 27 from Ocala Speedway)

Every Monday night race fans can hear "Inside Florida Racing" with Rob "Bonehead" Elting and CeCe Brooks, 7-9 PM. The show is THE place to get the real inside news going down in the Sunshine State. On Wednesdays at 7:30 PM Joe Dirt and Billy the Kid bring the best dirt racing show in America to the Internet with a guest list second to none.

For more information visit www.realracinusa.com


Have an opinion on this story? Post a message on The Real Racin USA Florida Fan Message Board! or Email KARNACto send a letter to the editor!
---