"I'm noticing a turn of the tide on racing Web sites like Florida's Karnac.com, the gathering place for the most dedicated race fans in the state."

-Orlando Sentinel
IT'S TIME TO RACE!!
First Time Winner Hockett Is King of 360s
Jean Lynch



The 8th Annual Ronald Laney Memorial race produced a first-time winner at East Bay Raceway Park Saturday night.
Jesse Hockett came to town with a brand new car and a brand new team and acted like he owned the place, taking the lead on lap eight of the 40-lap feature and driving away from the field using every groove possible on the 1/3 mile clay oval.

He was rewarded in victory lane with the "big" check for $10,000 from track owners Al Varnadore and Todd Hutto. Ronald Laney's father Marcus was there with Ronald's boxer dog Checkers, to present Hockett with a bonus check for $2,500. C&B Mushrooms contributed $500 to bring the winner's total to $13,000.

Hockett became the 10th different winner in the 11 year history of the King of 360's race with Gary Wright being the only repeat winner in the initial 1999 event and again in 2007.

Jason Sides made a late-race charge to finish second ahead of local Gene Lasker who recorded his highest finish ever in this event, crossing third. Danny Martin, Jr., Friday night's winner nailed fourth ahead of Tony Bruce, Jr.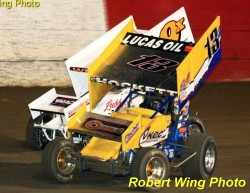 The top four from Friday, Martin, Wright, Lasker and Bruce were joined in the redraw for the top six spots of the feature by Terry Gray and Sides because of the points they earned. Eight more drivers ranked high enough in points to move to the A-Main, while two B-Mains qualified five cars each to make the 24-car starting field. There were 42 cars on hand for the final 360 night.


STATS ASCS 3660 SPRINTS - EAST BAY RACEWAY PARK SATURDAY, 1/31/09

A Main (8th Annual Ronald Laney Memorial 40 Laps/11th Annual "King of 360's") 1)Jesse Hockett 2)Jason SSides 3)Gene Lasker 4)Danny Martin, Jr. 5)Tony Bruce, Jr. 6)Brock Mayes 7)Danny Wood 8)Skinner Marshall 9)Cale Conley 10)Matt Tiffany 11)Derek Hager 12)Lou Kennedy 13)Brian Maddox 14)Scott Bonnell 15)Ryan Bickett 16)Danny Jones 17)Dakotah Stephens 18)Gary Wright 19)Gavin Thomas 20)Greg Leonard 21)Travis Rilat 22)Terry Gray 23)Bryan Grove 24)Michael Parent DNS



--Advertisement--




1st Heat 1)Derek Hager 2)Jesse Hockett 3)Dakotah Stephens 4)R.J. Johnson 5)Greg Leonard 6)Danny Wood 7)Shane Kreidler 8)Keith Butler 9)Amanda Ferguson 20)T.J. Luedke DNS

2nd Heat 1)Gavin Thomas 2)Danny Jones 3)Scott Bonnell 4)Michael Parent 5)Glenn Styres 6)Brad Wickham 7)Ryan Bickett 8)Todd Fayard 9)Aubrey Black 10)Wallace Sullivan

3rd Heat 1)Matt Tiffany 2)Travis Rilat 3)Skinner Marshall 4)Brian Thomas 5)Brian Maddox 6)Lou Kennedy 7)Frank Beck 8)Matt Kurtz 9)Tyler Godwin DNS

4th Heat 1)Terry Gray 2)Bryan Grove 3)Jason Sides 4)Bob Schaeffer 5)Brock Mayes 6)Wayne Reutimann, Jr. 7)Cale Conley 8)Steve Poirier 9)Mike Schroeder


1st B Main (Top 5 transfer to A) 1)Skkinner Marshall 2)Brian Maddox 3)Greg Leonard 4)Brock Mayes 5)Cale Conley 6)Bob Schaeffer 7)Wayne Reutimann, Jr. 8)Glenn Styres 9)Shane Kreidler 10)Keith Butler 11)Wallace Sullivan 12)Todd Fayard 13)Steve Poirier 14)T.J. Luedke DNS

2nd B Main (Top 5 transfer to A) 1)Lou Kennedy 2)Dakotah Stephens 3)Danny Wood 4)Scoott Bonnell 5)Ryan Bickett 6)Brian Thomas 7)Mike Schroeder 8)Frank Beck 9)Matt Kurtz 10)Amanda Ferguson 11)Brad Wickham 12)R.J. Johnson 13)Aubrey Black DNS 14)Tyler Godwin DNS


Florida Mini Sprints
A Main (25 Laps) 1)Luke Thomas 2)Ryan Smith 3)Travis Senter, Jr. 4)Michael Dransfield 5)Dustin Gates 6)Tim Buckmalter 7)David Pleaugh 8)Tim O'Donnell 9)Todd Carmichael 10)Clayton Robertson 11)Marty Hargroder 12)Justin Lineman 13)Harold Matthews 14)Jason Brown 15)Eddie Moss, Jr. 16)Jesse Teed 17)Leroy Moore 18)Stephen Crabtree 19)Ron Bishop 20)Jesse Hartman 21)Brian Robinson 22)Billy Vaninwegen 23)Brock Zearfoss 24)Terri Peters 25)Russ Heider 26)Lex Burritt DNS

1st Heat 1)Tim Buckmalter 2)Luke Thomas 3)Brock Zearfoss 4)Jason Brown 5)Clayton Robertson 6)Billy Vaninwegen 7)Ralph Wren 8)Steve Craig 9)Kevin McCaleb 10)Rick Bavregavye DNS

2nd Heat 1)Travis Senter, Jr. 2)Dustin Gates 3)Eddie Moss, Jr. 4)Stephen Crabtree 5)Justin Lineman 6)Marty Hargroder 7)Matt Ebarb 8)Chip Arnold 9)Brett O'Donnell 10)Walter Arnold

3rd Heat 1)Ryan Smith 2)David Pleaugh 3)Harold Matthews 4)Jesse Hartman 5)Ron Bishop 6)Terri Peters 7)Alex Fisk 8)James Tsokatos 9)Andy Detten 10)Paul Lanzo

4th Heat 1)Jesse Teed 2)Leroy Moore 3)Lex Burritt 4)Tim O'Donnell 5)Michael Dransfield 6)Russ Heider 7)Brian Robinson 8)Eddie Moss 9)Todd Carmichael

B Main 1)Brian Robinson 2)Todd Carmichael 3)Rick Bavregavye 4)Matt Ebarb 5)Brett O'Donnell 6)James Tsokatos 7)Chip Arnold 8)Andy Detten 9)Kevin McCaleb 10)Walter Arnold 11)Eddie Moss 12)Paul Lanzo 13)Alex Fisk 14)Steve Craig 15)Ralph Wren DNS

Have an opinion on this story? Post a message on The Real Racin USA Florida Fan Message Board! or Email KARNACto send a letter to the editor!
---